Everything with bacon you should eat at DMK's BBQ joint
Because our ancestors didn't fight their way up the food chain to eat vegetables (as stated by their chalkboard mission statement), County BBQ -- from the group behind DMK Burger Bar -- is bringing you the best in regional hickory-smoked meats (Texas brisket, KC burnt ends), not to mention a spread of five bacon-centric dishes, including this pork-packed parfait. Swapping out yogurt and granola for layers of bacon, onion and potato, one can only hope that meaty desserts become a trend.
County takes over the former Gennaro's space in Little Italy, with a new plaid exterior that's harder to miss than Manny Ramirez in Taiwan.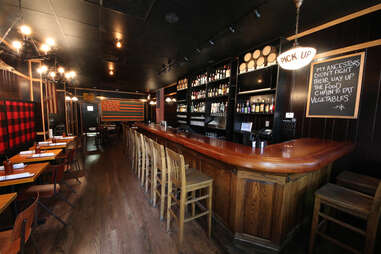 The hunter's lounge interior has flannel paneling (more plaid!), a wide assortment of animal horns, and room for 40 with a 50-seat back patio in the works.
Oh, and about that bacon bar: there's a whole section of the menu that features small, crave-able bites like dates wrapped in bacon or these bacon-sprinkled deviled eggs.
If you're looking to up the bacon payload (and who isn't?), continue on with a plate of smoked thick-cut bacon with firecracker applesauce.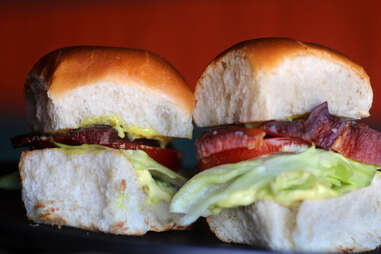 Be sure to leave room to slide a few BLT sliders down your gullet as well. They pretty much count as a salad.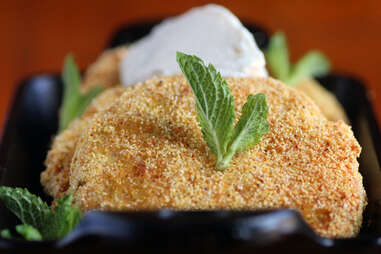 If you must consume non-bacon'd vegetation, at least make sure it's fried, like these green tomatoes with mint and whipped goat cheese.
Okay -- that was enough time spent on veggies. This IS a BBQ joint, after all. After spending four hours in a hickory wood smoker, the St. Louis spare ribs (for which no one chef has the full secret recipe) are ready to be devoured. They are seen here with collard greens and Carolina BBQ sauce.
Wash down your meal with any of 10 draft beers, or raid their well-stocked whiskey selection for a Manhattan or their rotating cocktail of the day.
Since you already downed that bacon parfait for dessert, consider these spoonfuls of cookie dough as an aperitif, or just mom-smacking-you-with-a-spoon delicious.