First cronuts, now this: a new Frankenstein donut dessert from Beavers Coffee and Donuts at their French Market shop and aboard their food truck. The mini donut shop has concocted a line of 16oz donut milkshakes that are customizable with sauces and toppings like Nutella, pecans, and coconut (it's nice to see a donut shop that's open to experimentation, BASKIN-ROBBINS!). Here's how they're made:
The shake starts off with four scoops of Bobtail ice cream in your choice of strawberry, vanilla, or chocolate. Best to keep it simple, since their Cubby Crunch may cause Carlos Marmol flashbacks.
Made from buttermilk batter, Beavers donuts come straight off the conveyor belt and are the freshest you can get without sticking your mouth in a fryer.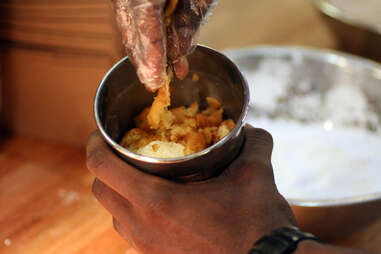 Four mini donuts are crumbled up into the cup...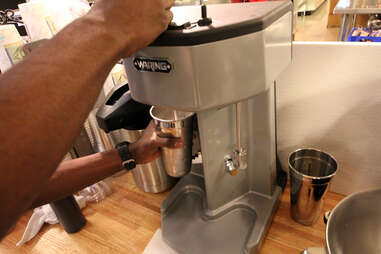 Whole milk is added and as the shake is blended. Feel free to request that Beavers employees sing "Milkshake" by Kelis, as they are contractually obligated to do so if you lay down a beat.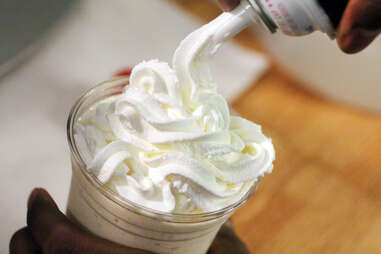 For toppings, expect whipped cream…
... chocolate and caramel sauce…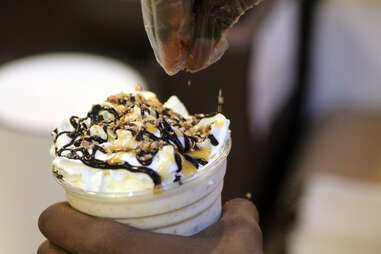 ... and chopped pecans. That is, if you're getting a turtle -- there are also preset flavors like Strawberry Bella and Reese's.
A wide-mouth straw and donut garnish means the milkshake is ready for drinking/eating. The cronut milkshake can't be far behind.