Paid Content For
San Pellegrino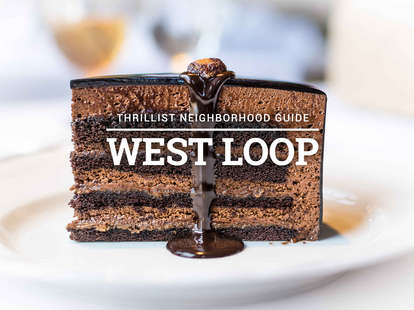 Kailley Lindman/Thrillist
Kailley Lindman/Thrillist
In recent years, the West Loop has attracted many of Chicago's greatest culinary talents, and rightfully acquired the "restaurant row" label. The neighborhood now houses more critically acclaimed restaurants and bars than any other part of the city, which means you'll need some help sorting out the crème de la crème. These 13 eating and drinking spots rise to the top.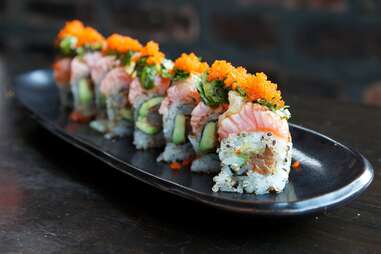 823 W Randolph St
This 2014 Michelin Bib Gourmand recipient's sleek, minimalist aesthetic allows its sushi to do the talking. The tuna truffle nigiri is luxurious and artful, and the maki, ranging from the vegetarian Panko Onion Roll to the spicy Hot Daisy, packs a serious wallop of flavor.

654 W Randolph St
With Executive Chef Mike Sheerin now in charge, the menu is more innovative than ever. The chilled squid noodle dish (yes, noodles of thinly sliced squid) tossed with curried cauliflower, cherries, and toasted peanuts is all the proof you'll need.
116 N Green St
Tucked away at the end of a fairy light-lined alley, this hidden boite is prime for sipping bubbly, slurping oysters, and devouring luxurious cheeses. During the warmer months, its patio is tops; in winter, few things are better than cozying up near the candlelit fireplace.

737 W Randolph St
Sample an assortment of its very own award-winning beers, as well as a few from the deep-cut international and domestic list that spans from Tyranena Hop Whore to Chimay White. Team your suds with smoked chicken wings glazed in your choice of Buffalo, Memphis barbecue, or honey-cinnamon hot sauce and ale-steamed littleneck clams.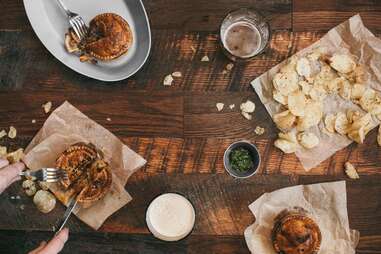 806 W Randolph St
It may reside on Chicago's trendiest street, but this actually laid-back watering hole has just enough polish to entice the upscale set, without upsetting regulars. Snag a seat for a pre- or post-dinner beer and one of the tavern's famous savory pies.

621 W Randolph St
This modern Basque resto keeps the focus on heartily portioned starters and entrees, such as chorizo-stuffed quail and grilled pork collar coated in an orange-chili glaze and paired with grilled butifarra sausage, baby carrots, and pickled ramps.
925 W Randolph St
Expect updated classics inspired by Chicago's bygone era of family-owned Italian-American joints. Think: s relish tray with bagna cauda-stuffed olives, miniature sweet potato cannoli, Calabrian chili-infused rigatoni vodka, and the best damn chocolate layer cake you'll ever have.

1114 W Randolph St
Plan for a wicked case of the meat sweats at this industrial-chic destination for all things encased and cured. The menu evolves with the seasons, but you can always count on a wealth of charcuterie options, meaty entrees, and inventive sausages like a Moroccan number stuffed with lamb merguez.

Best restaurant for a super-fancy occasion: Grace
652 W Randolph
With three Michelin stars, this fancy spot is a must for special celebrations, like commemorating the anniversary of that time you quit Pop-Tarts four years ago (your palate sure has evolved since then). Choose between the meat-free "flora" tasting menu and the meat-heavy "fauna" menu.
809 W Randolph St
From wood oven-roasted pig face to goat empanadas laden with smoked blueberry tapenade to braised beef tongue and Copper River salmon with unagi and goat sausage, Top Chef Season 4 winner Stephanie Izard's coveted creations are so on-point, even the pickiest of eaters will be seduced.

800 W Randolph St
Yes, the rumors are true: the single cheeseburger (which confusingly has two griddled patties) at this trendy diner really is next-level, and worth the inevitable wait to procure. Upgrade it with a couple slabs of thick-cut bacon and a runny fried egg for the proper yolk-and-grease-drenched effect, and revel in triumph -- you just devoured one of the best burgers in America!
564 W Randolph St
Whether you drop by for cocktails and fluke tartare, a tour of the distillery, or simply buy a bottle to go (might we suggest the Amaro?), no visit to the West Loop is complete without a trip to this booze emporium.

955 W Fulton Market
Brought to you by the team behind Alinea and Next, this ultra-swank cocktail lounge pours some of the most intricate sips you'll ever try, often presented in unique, whittled vessels. Be forewarned: most cocktails here will run you about the price of three Chipotle steak burritos, or $25, but between top-shelf ingredients, top-notch service, and bartenders who flirt with molecular gastronomy, they're worth it.
Sign up here for our daily Chicago email and be the first to get all the food/drink/fun in town.
Kailley Lindman is a contributing writer for Thrillist Chicago, as well as a food blogger, bacon enthusiast, and devout user of the Oxford comma. Follow her at @KailleysKitchen.