If you're feeling protein-deficient, there's a place you'll want to meat (!) that's got the cure (!!): West Loop Salumi, a shining salumeria (translation: cured meat shrine), where the fattiest of milk-fed Berkshire pork and meticulously raised Wagyu ages for up to a year, morphing into amazing meat treats available to take home or enjoy without delay on their sidewalk patio.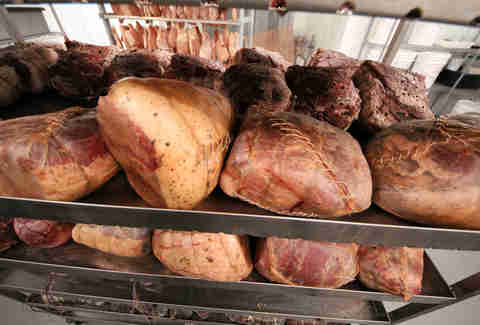 Inside their processing room, porky creations are piled high, like this culatello, which is cut from the leg, seasoned with wine, salt & pepper, and stuffed in a hog bladder before it's aged for 16 months, which is a lot of time to hang out in a hog bladder... but it's well worth it.
Things smell a little funky (but good funky, like Bootsy Collins) as the meat ferments and dries, after which the goods will stay... good for months on your shelf or meat hook.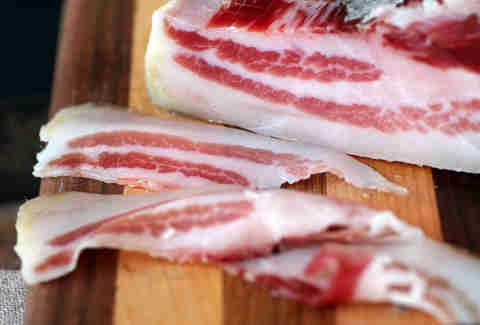 Of course, it's highly unlikely it'll last that long. Just look at this pancetta.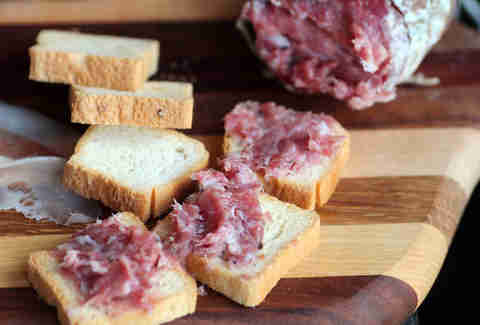 Or this ciauscolo, a lean mix of pork belly, shoulder, and shank that's spreadable, making it a potential replacement for... basically every condiment you own.
If you're craving cow, the bresaola's made from grass-fed beef that's seasoned with juniper, rosemary, garlic, and red wine, so it pairs great with... more wine.
If you'd rather not leave the comfort of your couch, order online from their entire meat catalog, but, to get the full experience, you should really visit the storefront and compliment the owner on this 2009 black swine culatello from Italy that he's been aging like a fine meat wine. He'll be glad to -- wait for it -- meat you! Boom.