Like any delicious, traditional cuisine, Mexican food's foundation is strong enough that a skillful chef can put a new, inventive spin on it without losing what it means to be Mexican food. We tracked down seven mouthwateringly progressive Mexican dishes from cantinas all over Chicago. And to wash them down, we got Tequila Herradura to hook us up with seven cocktails, each paired to a dish by Thrillist's bartender in residence Nick Bennett. 
Coconut Curry Chicken Tamales
Dia de Los Tamales
Other than having one of the best restaurant names ever, this joint throws delicious Indian flavors into a tamale with curry-coconut-braised chicken, spicy peanut sauce, and cilantro. It's two traditional cuisines adding up to make something decidedly new.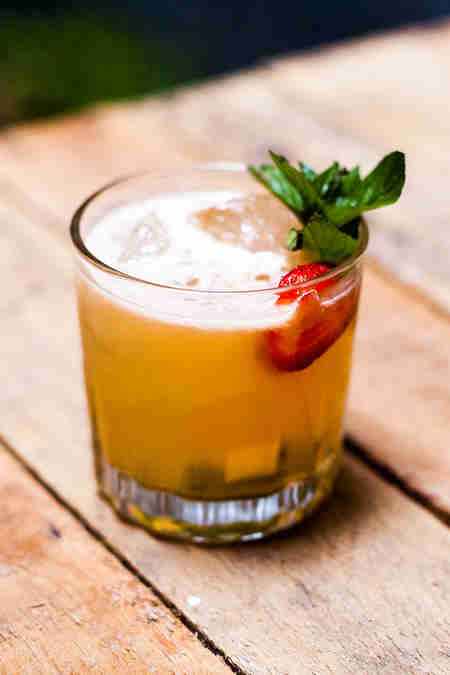 What You're Drinking: Agave Seco
Herradura Silver, Cointreau, Campari, orange juice, grapefruit juice, kiwi, strawberries, peppermint
The Polynesian flavors in the cocktail (kiwi, herbs, etc.) are very ornate, but the bitterness of the Campari will dry things off so that you can really enjoy the rich coconut flavor in the chicken.
Cemita Milanesa
Cemitas Puebla
Your last sandwich probably wasn't something nearly as progressive as this delicious number. The Cemita takes a sesame seed bun and throws in a breaded, butterfly pork chop, avocado, adobo chipotle peppers, fresh Oaxacan cheese and papalo. Take that, every other sandwich.
What You're Drinking: Paloma
Reposado, lime juice, grapefruit soda, salted rim
Because this sandwich is so substantial (seriously, this thing is going to be mad meaty), you'll want something refreshing and easy to drink. And the Paloma's fresh citrusy-ness makes it the perfect choice.
Crispy Fish Tempura Taco
Antique Taco
While a tempura taco has the fusion element, what really kicked this plate into "new" territory was its Sriracha tartar sauce and smoked cabbage with house spices, multiple flavors you've almost definitely never even heard of, let alone tried. Now you've heard, so go try.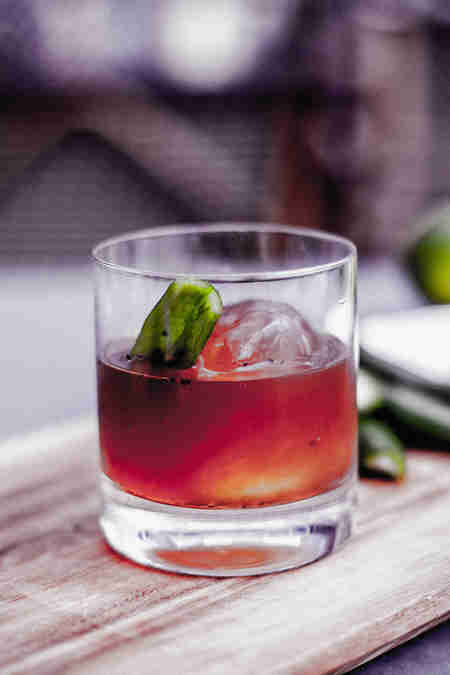 What You're Drinking: Petróleo
Repoasado, lime juice, salt, pepper, Maggi sauce, Worcestershire sauce, Serrano chile
With such unique new flavors (Sriracha tartar sauce) alongside decidedly Asian influence (sesame seeds in the taco), something equally deep like Umami-fueled Maggi sauce will make your drink just as substantial.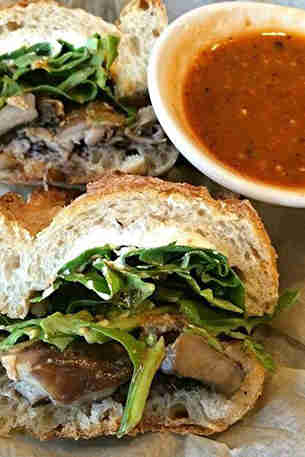 Woodland Mushroom Torta
XOCO by Rick Bayless
Mexican food: a deliciously zesty torta. Modern Mexican food: a deliciously zesty torta with River Valley Ranch mushrooms, chipotle garlic, Prairie Fruits Farm goat cheese, black beans, wild arugula, and 3-chile salsa.
What You're Drinking: Añejo Old Fashioned
Añejo, Angostura bitters, orange, sugar, brandied cherries
At first glance, a neat pour might be good for this dish, because it would accentuate the richness of the mushrooms and goat cheese. But it would also blow out the spiciness of the dish. So you'll want a nice oaky drink that stays under the radar, and for that, we turn to the Añejo Old Fashioned.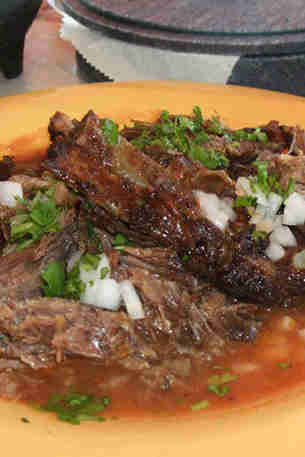 Briria with Salsa de Molcajete
Bririeria Zaragoza
At first glance, the roasted goat with fire-roasted, hand-smashed salsa Molcajete seems like a straight up traditional dish (and certainly holds up as one). But chef/owner Jonathan Zaragoza has joined forces with son Jonathan Zaragoza, Jr. to take things to new levels. They're experimenting with new spices and roasts, and even throwing some new dishes into the mix (like pickled goat tongue tacos with that tried-and-true Molcajete).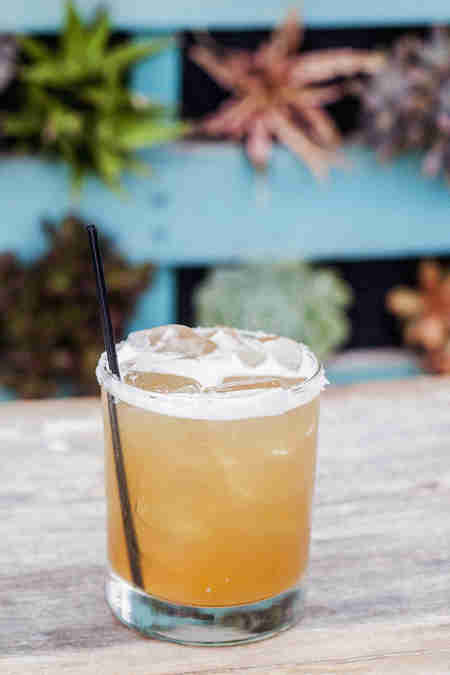 What You're Drinking: Margarita
Reposado, Cointreau, agave nectar, fresh lime juice
Dry and citrus-y, the margarita finds a great home next to all the fire-roasted goodness going on in the dish. But as an added bonus, the salt rim will further invigorate your pallet to pick up all the complex spices in both the goat and the salsa.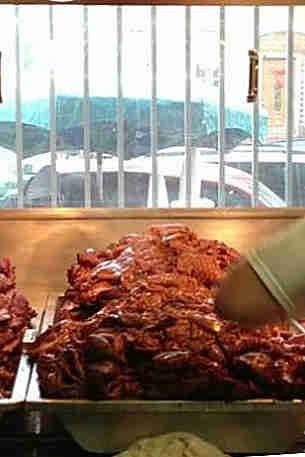 Deep-Fried Brain Tacos
Carnitas Don Pedro
This tiny, hole-in-the-wall joint serves up buffet style Mexican food that keeps the line stretching out the door. And while obviously the deep-fried brain tacos they whip up fit our "modern" theme, the refreshing Piquant Cactus salad keeps traditional, desert-inspired cuisine in the mix as well.
What You're Drinking: Herradura Silver Neat
Herradura Silver, straight up
There's no beating around the bush on this one. You're ordering deep-friend brain tacos; you want to taste the brain. So order a neat pour of Herradura Silver and support this dish in the simplest way possible.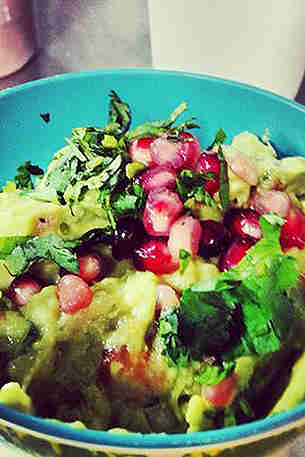 Pomegranate Guacamole
L'Patron Tacos
While we couldn't in good faith not recommend the stellar tacos at this joint (hand-battered tilapia, yo!), the most modern spin here sits in the first course. Order up a house bowl of guac with pomegranate and cranberry and you'll see why these sassy fruits deserve way more than a spot in your drink.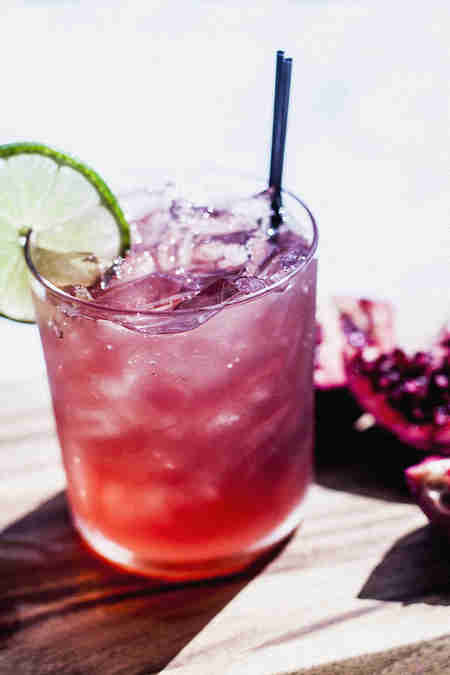 What You're Drinking: Brisa
Herradura Silver, lemonade, pomegranate juice, lime
Speaking of your drink, though, adding some pomegranate in there for good measure really can't hurt. But the tartness of the lemon-lime will go a long way toward pushing the guac's fruity notes to the foreground as well.