Officially the only worthwhile fake February holiday (sorry, Plum Pudding Day), National Paczki Day -- Chicago's most Polish donut-y celebration on record -- goes down this February 17th, which means it's just about time to stock up. Here are the eight best places to do that in Chicago, and when.
Note: Some of these are traditional and some of them aren't, but all of them are deep-fried and packed with sugar and lard. And really, that's all that matters, isn't it?
Old Town, Jefferson Park, French Market
Available: Through Feb 18th
You can buy Delightful's basic paczkis year-round, but between Feb 2nd and Feb 18th it's rolling out a series of six specialty gourmet options, including Jameson whiskey chocolate, PB & J, and passion fruit jelly.

Lakeview
Available: Feb 12th-17th
This North Side favorite for all things sweet, frosting-coated, and jelly-filled is breaking out the big guns with 14 (!) paczki options for Mardi Gras. Get your fill of everything from plum-injected to fresh-strawberry-stuffed, and pick up a house-baked King's Cake while you're at it. Pro tip: click here to place your order in advance.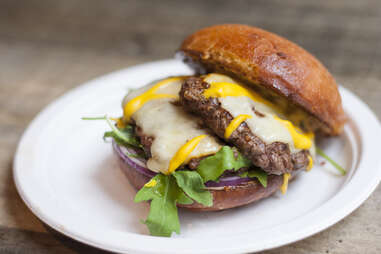 Lakeview
Available: Feb 17th
Available only on Feb 17th, DMK's heart-stopping Mardi Gras Burger balances two 2.5oz, grass-fed beef patties spiked with Cajun spices and topped with Swiss cheese, Creole ketchup, peppery arugula, red onion, and mustard -- all served on a paczki bun (wuuuuuuut??).

Wicker Park
Available: Feb 16th-17th
Typically known for its artistic, fondant-covered cakes shaped like everything from sushi rolls to burgers to The Incredible Hulk, this Division St staple has been satisfying Chicago's collective sweet tooth for the better part of a century. This year, Chef Peter Rios is baking up seven delicious types of paczki, including vanilla bean custard, raspberry rose, and blueberry lemon. Get them on Feb 16th and 17th only.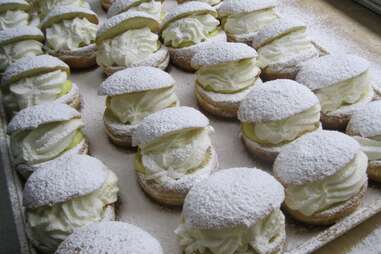 Evanston
Available: Feb 10th-Feb 17th
This North Shore bakery takes its paczki so seriously that it plays host to an annual paczki-eating contest (held on Valentine's Day this year) benefitting Phil's Friends, a non-profit for cancer support, in addition to its already off-the-chart sales around National Paczki Day. Indulge in six regular flavors like prune, apricot, and custard, as well as three specialty varieties like praline chocolate mousse, starting today.

Garfield Ridge
Available: Feb 12th-17th
Weber's will offer twelve different kinds of paczki for Paczki Day and yes, Paczki Weekend (2/12-2/15). Varieties range from the classic and jelly-filled to the creative, like a poppyseed number topped with white fondant and apple-cinnamon confection dusted in cinnamon and sugar. All paczki are sold in units of four (one kind only per unit), so plan your purchases accordingly.
Lakeview
Available: Feb 14th-17th
Also in on the paczki-burger game is Rockit Chef Amanda Downing, whose version involves a flavorful ground duck and pork patty, tart cherry salsa (a play on traditional jelly filling), crispy shallots, and obviously, a paczki bun (wuuuuuuuuut???? Part 2) coated in a subtly sweet rum- and orange-zest icing. Get yours with a side of Old Bay fries Feb 14th-17th.

Andersonville
Available: Feb 12th-17th
This old-school bakery takes a break from cardamom cakes and other Swedish delights to bust out more than a dozen flavors of paczki this year. Expect to find the usual suspects, as well as pineapple and cherry cheese with fudge renditions.
Kailley Lindman is a contributing writer for Thrillist Chicago, as well as a food blogger, bacon enthusiast, and devout user of the Oxford comma. Follow her at @KailleysKitchen.