Because there's nothing quite like a good old-fashioned fight, it's Rivalry Week. Keep tabs on simmering feuds across the country right here.
Chicagoans love to eat. Chicagoans also love to talk about being better than New York. Therefore, as a Chicagoan, I loved writing about why the experience of eating in Chicago far exceeds that of eating in New York. To wit:
You don't have to choose between eating well and paying rent
Saying that Chicago is a cheaper place to live than NYC isn't exactly breaking revolutionary ground, but that shit still matters. Not only will you have more disposable income to spend on food, but that money will go further. Chicago is simply better when it comes to having some of its greatest food experiences thoroughly within the reach of the everyman.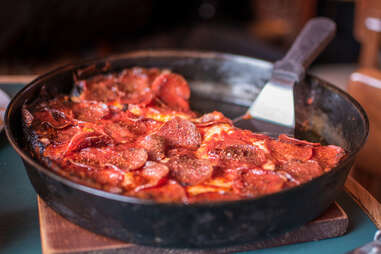 Chicago is a beacon of pizza enlightenment
Oh what, another New Yorker taking shots at deep dish pizza? Yawn. I have not come to rehash the old "which is better" pizza argument, because it misses the point. New Yorkers are so weird and rigid about what constitutes "pizza" that only in a more open, progressive city like Chicago could such a wondrous invention have thrived. Chicagoans welcome pizzas of all shapes and sizes, because we're open to new ideas and experiences. As long as that idea isn't putting ketchup on a hot dog, which is an abomination against all that is good and right in the world

We're into experimenting
That open mindedness doesn't just apply to pizza. Chicago chefs are constantly at the forefront of pushing the envelope (and possibly making that envelope edible -- RIP Homaro Cantu). From Charlie Trotter (also RIP) to Grant Achatz, taking big, bold risks is simply more a part of Chicago's culinary DNA. Maybe the cheaper rent allows more freedom?

It's colder here
This may not sound like a good thing, but hear me out. More cold means more time spent with your torso hidden under bulky clothing and puffy coats, which means more gorging yourself irresponsibly in a judgement-free environment.

After-dinner smells
Chocolate factory cocoa clouds > festering garbage.
Michelin-starred BYOBs are becoming commonplace
And I'm not talking about the "you can bring a bottle in and we'll charge you $150 corkage" kind of BYOB. From the madness of Schwa and El Ideas to the welcoming refinement of Goosefoot and 42 Grams, you can dine in some of Chicago's very best restaurants without suffering the indignities of outrageous booze markups. Granted, you're still going to drop some serious cash at these places, but given the caliber of meal you'll experience, they still feel like a bargain.

New York can't make Mexican food for shit
This isn't to say there is zero adequate Mexican food in New York City, but I've tried enough places that were presented to me as "pretty good" by New Yorkers with otherwise decent taste that the baseline level of Mexican cookery in New York City leaves MUCH to be desired. If you tried serving some of these tacos in Chicago, you wouldn't stay open more than three months. Don't believe me? Take it from a former Chicagoan who lives there.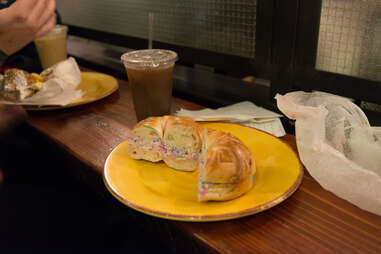 The NYC bagel thing is a big fat myth
I don't get it. I like bagels and all. I have been to several bagel places presented to me as among the best in New York City. I enjoyed my bagels there, even if they were covered in a borderline disgusting amount of cream cheese. (Too much pizza cheese = good. Too much cream cheese = bad.) But so many transplanted New Yorkers piss and moan about how they can't get a decent bagel wherever they happen to have relocated. I don't understand the hype. I think they're just deluding themselves. Like when they all believed 70-year-old Phil Jackson was going to work really hard to rebuild the Knicks.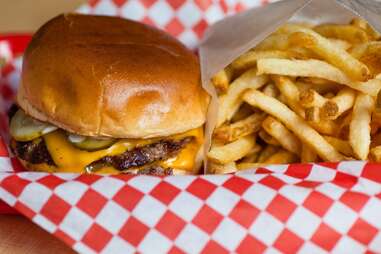 We have the Au Cheval burger, and they don't
All I'll say is, I have food-savvy coworkers from NYC who thoroughly enjoy trying new Chicago joints when they come to visit. Once they tried Au Cheval, however, it has been a mandatory stop for every visit. That should tell you something.

It's less crowded here
I'll admit it seems odd to bring up crowds right after pumping up a burger joint that routinely draws 2.5-hour waits. But that's for a life-changing burger. New Yorkers are STILL lining up for a Dr. Moreau nightmare pastry that hasn't been cool since June 2013. By and large, there is less of a wait time separating you from delicious food here.

Vienna Beef. Just… Vienna Beef.
A hot dog is not a hot dog without it. Accept no substitutes.

Midwest friendliness
If you find yourself encountering a particularly warm, friendly server in NYC, he's probably a Chicago transplant. And he's probably going to move back here within a year.
Sign up here for our daily Chicago email and be the first to get all the food/drink/fun in town.
Deputy Editor Matt Lynch hopes there is no retribution from his NYC-based colleagues for this. Follow him @MLynchChi.