Bagel-inspired wings and boozy bubble tea from the Ruxbin folks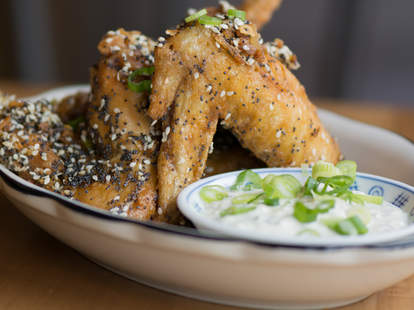 Tucked away in an unsuspecting corner of Ashland (not on Mott, which is in NYC) with no signage to speak of, Mott St is the second outpost from the folks who brought you the acclaimed, constantly crowded BYOB Ruxbin, where the playful, Asian street food-influenced menu's ready to bring you tastiness like crab brain fried rice and these bagel-riffing Everything Wings, coated in a soy and chili glaze, tossed with sesame, poppy seeds & fried shallots, and paired with tzatziki for dipping.
The exposed concrete and hand-built wooden storage shelves give the whole space a workshop feel, which was also Al Borland's fantasy every time Heidi did her bit on Tool Time.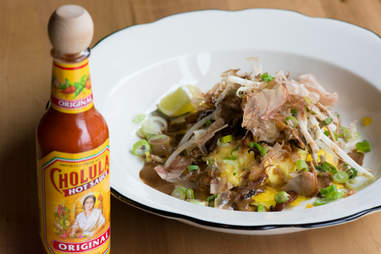 You, meanwhile, will want to go to work on kimchi Oaxaca spring rolls served with chimichurri creme fraiche and this breakfast-y concoction made famous by '49ers (the original gold-rushing ones, not the Harbaugh-led ones): the Hangtown Fry, which has scrambled eggs with mushrooms, sautéed oysters, and hoisin sauce over a crispy noodle pancake.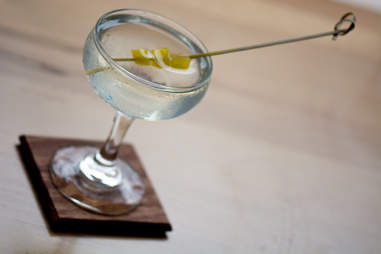 Oh, and unlike Ruxbin, they're providing the booze! Here's Mott's interpretation of a gin martini, the Extra Mart, which is mixed with dashi bitters and kimchi water and garnished with slices of pickled watermelon.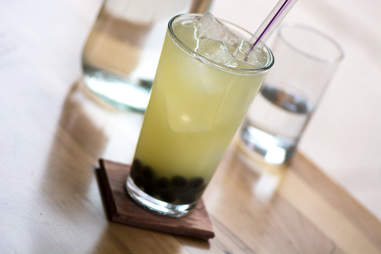 This cloudy tonic is a Solstice Storm made with tequila, cucumber green tea, bird's eye chili, lime ginger beer, and boba, the tapioca balls often found in bubble tea or in the mouths of sarlacci on Tatooine.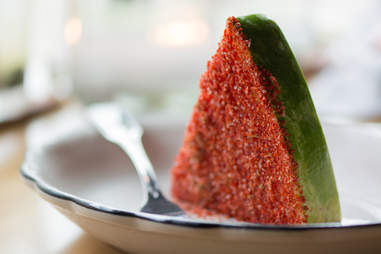 Put the exclamation point on your meal with a chocolate-coated banana with Szechuan peppercorn peanuts (your move, Bluth family), or this watermelon wedge dredged in lime juice and chili salt, which, much like those wings, will taste like just about everything.