Housed in a 100yr-old former auto body shop, Chop Shop (ah, we see what they did there... ) brings the total package to Wicker Park's six corners with a full-scale butcher shop, bar, restaurant, and event space. But before you enter the 130-seat dining area, you'll be greeted by the glass deli case with a spread of chops, sausages, and sides, and you can even talk shop with the butcher (though it turns out you can't get a good look at a T-bone by sticking your head up a butcher's ass).
The dinner menu from Chef Joshua Marrelli (Urban Union, Epic) is unsurprisingly meat-heavy, case-in-point this bone-in Berkshire pork chop with roasted parsnips & quince butter, shaved Bartlett pears, and a bourbon-mustard pork jus.
The self-titled Chop Shop burger (with sea salt fries) comes with aged Windermere cheddar, applewood-smoked bacon, charred red onions, and "dream sauce", which blends a steak sauce with mayo and Hakeem's post moves.
Found on the afternoon deli menu, the porchetta (pork loin wrapped in pork belly and seasoned with fennel seed, rosemary, sage, and citrus peel) is available not only in sandwich form, but also sliced in bulk for your take-home pork consumption.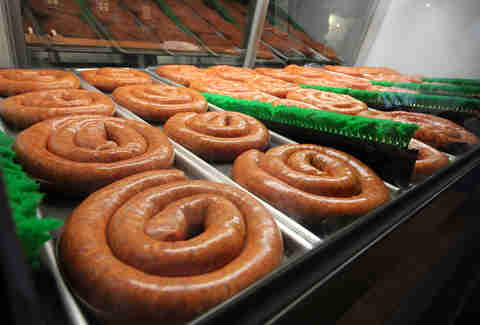 The butchery offers customizable sandwiches made with oven-roasted turkey, signature meatballs or Italian sausage ranging from mild to extra hot, plus hard cheeses and rare meats imported straight from The Boot.
The catwalked space continues to sprawl with an upstairs marble-topped bar that has chairs made from recycled Coke bottles, which runs adjacent to an outdoor patio with room for 70.
The drink menu, curated by mixologist Dan De Los Monteros (The Aviary, The Bedford) offers riffs on classics like this Peach Please, a Southern-inspired cocktail with bourbon, peach liqueur, Punt e Mes, aromatic bitters, and ginger beer that also doubles as Mario's catchphrase when throwing sass at the Princess.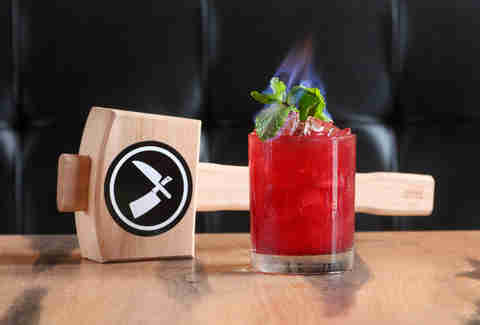 Like Special Agent Johnny Utah, the Sinister Minister is a real blue-flame special thanks to the 110-proof Chartreuse sprayed on a sprig of mint... that is then lit ablaze.
The 6,000sqft event venue, the 1st Ward (so named for its jurisdiction), is capable of hosting everything from music acts and artistic performances to private dinners and one-off events like Dose Market. Or if you can't wait until you get home to devour that porchetta, you might be able to sneak in and find yourself a quiet nook.