Just as the body is a vehicle for the soul (as noted by prophet Damian Marley), so too are Dimo's pizza crusts the vehicle for just about any munch-worthy combination you can imagine -- walk in on the right day and you might find sloppy joes, braised lamb, or elotes awaiting you in conveniently foldable slice form. Now the Six Corners will be saturated with the likes of mac & cheese pizza (which, thankfully, never leaves the menu) courtesy of this pizza laboratory which, like most fun experiments, will be going well into in the wee hours of the morning.
The space is nearly triple the size of the Lakeview location, with plenty of new additions (a stage with speakers, a pizza tricycle handing out samples), but the innovative pizza spirit remains unchanged, with sexy slices wooing you from behind the glass.
Chicken & waffles are already an American classic that came from combining two delicious foods, so the next logical step is chicken n' waffles n' pizza (breaded chicken, melted butter, mini waffle bites). And yes, of course, it's topped with maple syrup.
If you're tired of going to the effort of mixing ranch and BBQ sauce in the plastic dipping cup (and it's a lot of effort), you've found your huckleberry in this Sweet Baby Ray's BBQ chicken with cheddar, bacon, and ranch.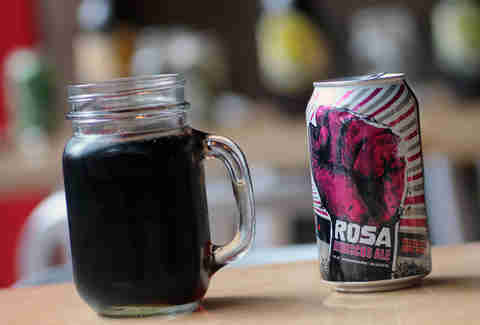 Another point in favor of the Wicker Park location are eight craft beers on tap (including Deschutes Chainbreaker, Dortmunder Gold, and Ballast Point Sculpin IPA) to go along with a selection of canned seasonals like Revolution Rosa Hibiscus Ale, or, if you have to be up early (lame), a mason jar of Gale's Root Beer.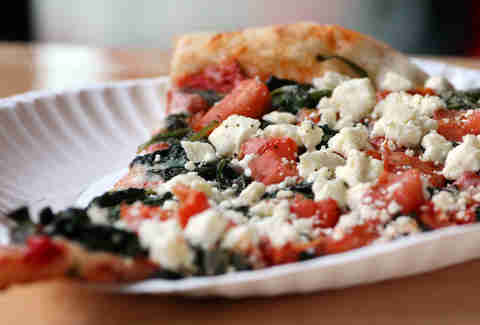 Back to pizza! The titular Dimo Florentine comes with sautéed spinach, chopped tomatoes, and crumbled feta cheese. If that's not salad-y enough, they've also constructed a salad bar sporting 20+ ingredients. Including steak, which makes the best salads.
But it makes even better pizza! Case in point: this BBQ steak and fries, featuring marinated beef and crinkle-cut fries, so it'll fulfill basically every craving you could possibly have if you've been spending time with any members of the Marley family.