It's torta time at Rick Bayless' newest XOCO location
Sean Cooley
Sean Cooley
The second location of XOCO -- the popular Mexican street food spot from Rick Bayless -- is now open in Wicker Park.
They've brought over the same spread of tortas, soups, and snacks as the original, and have added both brunch & a bar for all-day fiesta-ing (that's how you conjugate verbs in Spanish, right?). Have a look at what's in store, below:
Unlike the quick service, get-in/get-out utility of the River North spot, the new XOCO is a full-service sit down restaurant with 75 seats inside, and another 30 out on the patio.
The bar offers 17 drafts, three batch cocktails (margaritas, palomas), and large format beers. It may be taking over the former home of Salud Tequila Lounge, but don't expect to be ripping shots here.
The guacamole bar is fully equipped with customizable toppings, like smoky bacon, chicharron, spicy roasted poblano peppers, and queso fresco. Choosing just two will be nigh impossible.
Lead off the torta lineup with the Milanesa -- crispy Gunthorp Farms chicken, Jack cheese, pickled jalapeños, and red onions -- brought from the griddle onto panini-pressed bread.
Served on custom-baked French bread from Labriola, the wood-fired woodland mushroom torta comes in a chipotle/garlic mojo marinade w/ goat cheese, black beans, and three-chile salsa.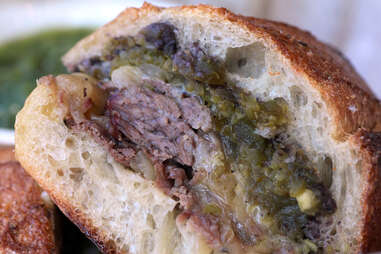 This Pepito comes up grande with braised short ribs, caramelized onions, and Jack cheese.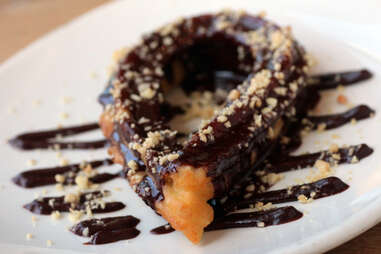 The menu also spans snacks (queso fundido, Oaxan-style peanuts), brunch (pork belly chilaquiles, French toast with bacon/pecan sprinkles), and a variety of churros doused in your choice of pistachios, hazelnuts, or chocolate ground from roasted cacao beans.
Sean Cooley is Thrillist's Chicago Editor and still disapproves of Ben Affleck as the new Batman. Follow him @SeanCooley.