According to the New York Times, an estimated 68.5 million fans attended Major League Baseball games throughout the 2019 season. That's a whole lot of foot traffic. And while America's pastime is undoubtedly deeply embedded in the hearts of millions—this writer included—it's safe to venture that a good portion of that 68.5 million didn't show up for the balls and strikes alone. That's right, we're talking about the Big Show's best supporting actor: stadium snacks.
Here in Chicago, the only thing we take more seriously than our food is our sports—a fact clearly evidenced by the mouthwatering innovations dreamed up annually by our many concession stands' culinary masterminds. Wrigley Field, for one, runs on these creations, whether it's fistfulls of Garrett Popcorn, tiny batting helmets brimming with fast-melting soft serve ice cream, shatterproof pints of thirst-quenching craft beer, or gut-busting sandwiches teeming with tender beef and giardiniera. So slip on your best oversized jersey, load up on napkins, and get ready to feast—here are the absolute best things to eat and drink in the Friendly Confines this season. Go, Cubs, Go.
The Twisted Tater
Sheffield Corner
What's better than fried potatoes? Fried potatoes on a stick, that's what. Let the folks at Sheffield Corner introduce you to this brand-new Wrigley addition, a crispy spud spiraled around a sturdy skewer and accompanied by a side of tangy dill pickle dip.
Sheffield Corner
Another newcomer, this fried chicken wonder kicks it up a notch with a hefty dousing of Nashville-style hot sauce. Throw in a scoop of creamy coleslaw and a couple of tart and sweet bread and butter pickle chips before stuffing the whole mess into a toasted brioche bun and you've got yourself one solid sandwich.
Sheffield Corner
Hovering somewhere between a classed-up Italian beef and a barbecue sandwich fit for the pitmaster gods, this Chicago original pairs slow-smoked Lillie's Q brisket dipped in barbecue au jus with fiery giardiniera and a plump hoagie roll. Perfection? Quite possibly.
Maxwell Street Style Pork Chop Sandwich
Sheffield Corner
Harkening back to the Maxwell Street Market snacks of yore, this hearty handheld revolves around a seasoned pork cutlet layered with caramelized onions, dressed with mustard, and served on a warm and toasty bun.
Upper Deck Classics & Pizza Stand
The square-cut slices that dominated every midwesterner's elementary school sleepovers are back at it at Wrigley this year, dishing up piping hot slices of plain, pepperoni, and more with a side of nostalgia. Pizza might not be a quintessential baseball food, but it's sure hard to resist.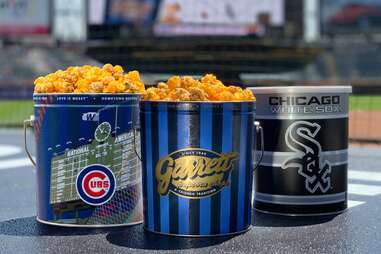 Multiple locations
Cracker Jacks? Don't know him. In Chicago, it's all about buckets upon buckets of Garrett's very best. And this year, you can once again get your fill of freshly popped deliciousness from a host of stands around the park.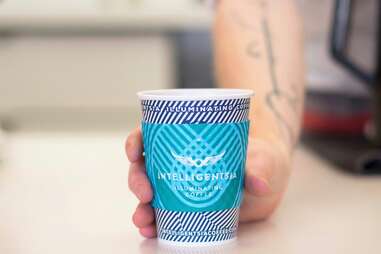 Multiple locations
Coffee? At a ball game? All we can say is, don't knock until it's 45 degrees in late April, the wind's kicking up from the lake something fierce, and you're staring down extra innings on a school night. Grab a cup of locally roasted greatness courtesy of Chicago legend Intelligentsia and thank us later.
Multiple locations
Wine in a plastic carafe is a game-changer when it comes to day drinking your way through a midsummer heater. Thankfully, Terlato Wines is on hand to supply the good stuff this year with selections from their impressive and wide-reaching portfolio up for grabs at several different concession stands.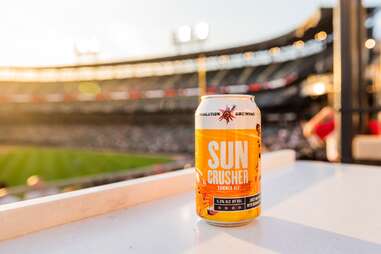 Multiple locations
It's only fitting that a ballpark as iconically Chicago as Wrigley would pour the best damn beer the midwest has to offer. Scope out the good stuff by way of Goose Island, Half Acre, 3 Floyds, and Bell's on tap and in cans all over the park, or stop by the craft beer and cocktail bar in section 132 to sample rotating seasonal suds from Goose Island, Maplewood, Spiteful, Moody Tongue, BuckleDown, Revolution, and Haymarket.
Bleacher Platform 14
Chicago suffered an almost unimaginable loss when Hot Doug's closed up shop back in 2014, but a year later the beloved hot dog institution established this well-trodden outpost at Wrigley, where the Cubs-inspired takes on encased meat wonders rotate on the regular. You're welcome.
Meredith Heil is a Senior Cities Editor at Thrillist. She's originally from St. Louis, now lives in Chicago, and in between has been to all 50 states (that's boots on the ground, no airport BS). She enjoys all things cocktails, crosswords, and women's soccer. Challenge her to a game of Hoop Shot at @mereditto.