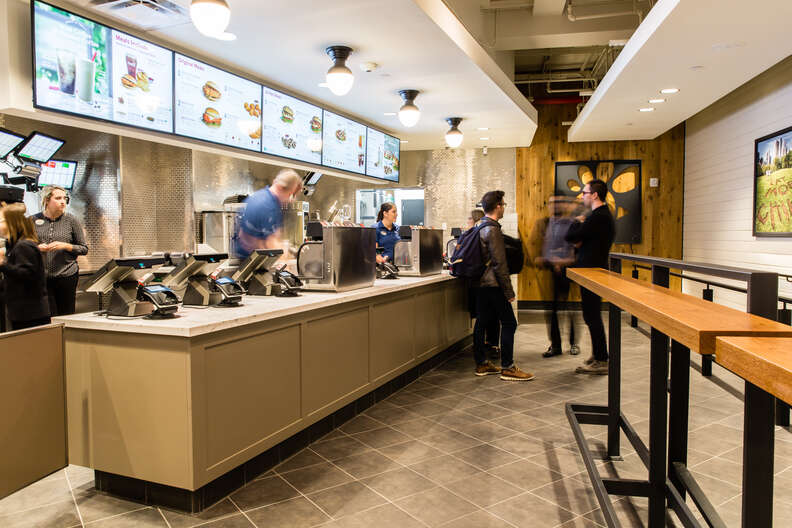 Cole Saladino/Thrillist
Cole Saladino/Thrillist
When Chick-fil-A opened its first New York City outpost in the relative seclusion of New York University's Weinstein Food Court, it seemed at once to be flying under the radar and too close to the sun. Hidden from street view and accessible via a nondescript entrance, the controversial chicken hawkers had landed in one of the most progressive neighborhoods in the world -- Greenwich Village -- and in an ostensibly liberal bastion of higher education. Now, the chain with over 2200 restaurants nationwide is opening its fourth Manhattan location at 50 East 42nd Street.
So why the modest premier? Many New Yorkers thought that a business whose now-CEO once said he was "guilty as charged" when asked if he opposed marriage for same-sex couples had no business operating in a city considered the birthplace of the modern LGBTQ-rights movement after the 1969 Stonewall riots.
The Cathy family that has run the Georgia-born business since its inception also has deep ties to the Christian conservative movement, which some also thought stood at odds with New York's more libertine ethos. You can't even get their nuggets on Sunday.
This first shop, and a subsequent stand-alone location taking up two floors of a building with huge, naked windows near Bryant Park, attracted protesters who heckled customers. Before long, another Chick-fil-A hatched, a stone's throw from Rockefeller Center. By then, even Mayor Bill de Blasio had had enough, claiming at an unrelated press conference that he'd boycott the chain.
Now, after the success of those NYC locations, the country's eighth-largest fast-food chain by sales is set to open its third stand-alone restaurant in the city (not counting the express location at NYU, whose dining services website still reads, "Find their famous chicken sandwich and maybe you'll see the Chick-fil-A cow!"). The location near Grand Central Terminal is expected to be their busiest in the nation. If you're wondering why people in deep-blue New York City are unfazed by the company's past anti-LGBTQ stances, you're not alone. Mostly, it seems, their desire for chicken biscuits has overruled their professed ethics.
Some thought Chick-fil-A stood at odds with New York's more libertine ethos.
On a recent afternoon, hungry Midtown diners packed into Chick-fil-A's Sixth Avenue location near Rockefeller Center. Among them was a conflicted chicken enthusiast who declined to give me his name. "As a gay man, it's always an internal fight," he said. "But the chicken is so good." He boycotted the chain for several years, "then started going back" after major wins like the national legalization of gay marriage.
Like a handful of other customers I spoke with, he said at some point you have to separate the words of some business owners with the products they offer if you are to get through the day.
Former protesters are not impressed
Animal liberation and LGBTQ rights group Collectively Free organized a "kiss-in" when Chick-fil-A's first location opened at Sixth Avenue and 37th Street.
Raffi Ciavatta, a leader with the group, said they do not "have the capacity right now" to protest the new restaurant with other campaigns going on, including traveling down to North Carolina to demonstrate an industrial pig farm they said sprays feces into neighboring communities.
"New York is considered the birthplace of LGBTQ rights and is a strong voice for animals as well," said Ciavatta, 33. "It deserves better than allowing a homophobic, transphobic and speciesist company to make money from violence. And now they're opening another store."
Ciavatta, who is transgender, said the group was also "disappointed" there wasn't more of a sustained boycott. Case in point: the customer Ciavatta recalls who told protesters at restaurant, "I am not homophobic, I'm not racist. I'm just here for the chicken."
"As a gay man, it's always an internal fight. But the chicken is so good."
"I'm just baffled by folks," Ciavatta said. "People tend to compartmentalize things in order to be able to justify going to these places, which is very disappointing to me."
The opening of the new location also comes at a time when New Yorkers are facing existential concerns many would not have envisioned in 2015, including a not-entirely-far-fetched nuclear war with North Korea, which now potentially has the missile capacity to obliterate the city.
Brent Sangiuliano, 27, stopped by the Rockefeller Center location while some of his coworkers went in for lunch. He said he took umbrage with CEO Dan Cathy's views on LGBTQ rights, which include the 2012 statement that "we're inviting God's judgment on our nation when we shake our fist at him and say we know better than you as to what constitutes a marriage."
"They've got tasty chicken, though," the Midtown worker said, adding that he "didn't want to boycott a business that may be employing LGBT people."
Chick-fil-A is trying to shake its reputation
While the Manhattan eateries have thrived, students at Fordham University in the Bronx last year successfully pressured their administration to decline an offer to open a location on the campus.
"If they want to bring in Chick-fil-A, they can bring in Chick-fil-A," Fordham student Renata Francesco told The Fordham Observer. "But we're not going to partner with an institution, a corporation that has so strongly supported other institutions that work to destabilize and demolish movements for queer equity."
Cathy has shied away from commenting on LGBTQ issues over the past several years, and the company has worked to distance itself from the family's religious beliefs, which do run deep. Cathy's father, S. Truett Cathy, opened the first location in 1967 in Atlanta "and led a life that was centered on biblical principles and family," according to the company's website.
Dan Cathy said during a rare 2014 interview with USA Today that he regretted the comments. "All of us become more wise as time goes by," Cathy told the paper. "We sincerely care about all people." The CEO added that the company was focused on "urbanization," hinting at its eventual expansion into the city.
"People tend to compartmentalize things in order to be able to justify going to these places."
Yet Chick-fil-A's growth in New York isn't slowing
The image makeover has seemed to pay off. Chick-fil-A is opening a new store in the country "nearly every week," and raked in more than $9 billion in revenue in 2017.
And it's set to open a behemoth five-story, 12,000-square-foot location in the Financial District later this year.
"We are excited to become a part of new neighborhoods in Midtown and the Financial District this year," company spokeswoman Amanda Hannah told me via email. "In addition to offering great food and service, these two restaurants will also look for ways to give back to their local communities (currently we partner with New York Common Pantry to donate food multiple times per week to serve New York's homeless community.)"
The image makeover has seemed to pay off.
The new 6,263-square-foot franchise location at East 42nd Street and Madison Avenue will employ more than 200 people, per the company's website, and be owned by Ellie Kim, a first-generation Korean immigrant.
Their upcoming FiDi location near the intersection of Fulton Street and Broadway promises more grandeur, with floor-to-ceiling windows and "a rooftop terrace that offers unimpeded views of Freedom Tower."
Kai Dubois, 43, waited in a car outside the Rockefeller Center Chick-fil-A while his mother went in to grab them a couple sandwiches.
Dubois, a longtime activist, said "a lot of CEOs are bad in general," and that it would be hard to get large swaths of the population to boycott all those businesses. "It takes publicity, public awareness," he added. "Unless that happens, people are living their lives."
It's not really clear what additional press could derail Chick-fil-A's further expansion into the city. Ciavatta expressed hope that people would chose to eat at more mom-and-pop restaurants, even if they served meat.
"There's just so many more options than allowing Chick-fil-A to get into New York and just bring all this loaded history with them," Ciavatta said. "I'm saying this as a vegan -- support your local chicken place, if that's what you want to do."
Sign up here for our daily NYC email and be the first to get all the food/drink/fun New York has to offer.
Ben Fractenberg is a Thrillist contributor.