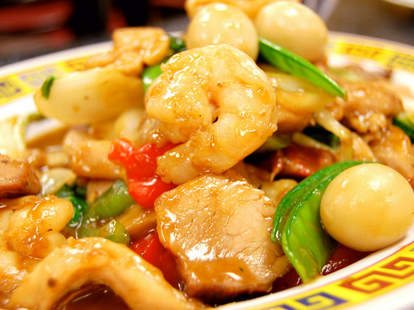 Hybrids can yield interesting results: mixing music genres is all the rage, Priuses save gas, and a cockapoodle is cute as can be, as long you mean the noun, not the verb. Yielding Chinese food from Peru, Chifa Du Kang.
From a family with four similar spots in Lima, CDK's a "chifa" (slang for Chinese food joint) that plates Peruvianized fusion Chinese -- meaning chunkier meats, crisp al dente veggies, and sauces with unique flavors -- in an inconspicuous spot on Bird Road done up with Chinese wall hangings, murals of Machu Picchu, miniature dragon boats, and a jade Buddha with an overhanging belly and a walking stick, which he's clearly not putting to much use. The expansive menu kicks off with apps like a meal-sized bowl of meaty wonton soup loaded with extras like shrimp, thick slices of roasted pork, and whole quail eggs; "tortillas" (actually, more like omlettes) with bits of chicken, shrimp, minced peppers, and scallions; and Chicharron de Pollo with lemon sauce, which the menu calls "deep-fried chicken balls" -- yay, limited understanding of English! Bigger plates mean specialties beloved in Lima, like Pescado 5 Sabores (filet fried in spiced flour, then smothered in red sweet sauce, pineapple, turnip, and veggies), Tay Pa Du Kang (roasted pork, shrimp, veggies, and quail eggs w/ mild brown ginger sauce), and Lomo Saltado: beef strips sauteed with onions, peppers, tomatoes, and tossed in a soy lemon sauce that's salty, and probably shouldn't be telling jokes around the kids.
For refreshments it's Peruvian soda faves like Inca Kola (not-too-sweet bubblegum flavor) and Red Kola (candy-ish), plus post-dinner South American treats like Dona Pepa (chocolate-filled cookie covered in rainbow sprinkles) and a chocolate cube with minced peanuts inside called Sublime, also how you feel when you look into the eyes of an unbearably sexy adorable little poodle.