Breakfast is often a solitary task -- standard fare hastily scarfed down as the day dawns. Conversely, the beauty of brunch is that it's a communal affair, inviting family and friends to sit together and linger a little longer over thoughtfully prepared dishes and steaming mugs of coffee. These days, Clevelanders can pop into most any neighborhood and find a solid brunch spot, or 10. To help you pick from all the great restaurants in Cleveland serving a Bloody Mary and a plate of bacon, we've rounded up the best brunches and grouped them by neighborhood. Pour yourself a mimosa and get to it.
Cleveland Heights
Luna Bakery Cafe
Light-yet-satisfying brunch fare at one of Cleveland's best bakeries
Offering excellent bakery treats all week long (is there anything more edifying after a crappy day than macarons?), Luna's a great place to nip into for a quick croissant and hot cup of coffee on the way to work. Come the weekend, it's an even better place to relax over the newspaper with a frothy latte and house-made crepe, oozing with rich fillings such as fresh mozzarella and pesto or something a bit lighter like Nutella and bananas.
Gigi's on Fairmount
French-inspired brunch in a glittering neighborhood bistro
Where better to wake up on a weekend morning than in Paris? OK, so while it's not Paris exactly, Gigi's on Fairmount is about as close as you can get to the City of Lights right here in Cleveland. With a glamorous, yet inviting, interior and an absolutely charming patio, the restaurant promises an A+ experience no matter where you settle in. Vegetarian, vegan, and gluten-free options (plus plenty of standard dishes!) mean there's something for everyone. Sweet enthusiasts would be wise to order the uber-popular brioche French toast with creme brulee dredge, fresh berries, house vanilla whipped cream, and warm maple syrup. Oui oui.
Tremont
Dante Next Door
A Dante-quality experience at an adjacent, more casual brunch spot
From the city to the 'burbs, mouthwatering pastas to tantalizing sushi, Cleveland chef and restaurateur Dante Boccuzzi has diners of all dispositions covered. So it was a welcome addition when Dante Next Door opened right next to its flagship restaurant in 2014. Offering brunch and lunch service only, the restaurant has fantastic morning-to-mid-afternoon dishes such as orange-mascarpone cheese-stuffed French toast and "everything bagel and lox" pizza with house-cured salmon, hard-boiled egg, capers, red onions, cream cheese, and dill. What's better than a bagel on a Sunday morning? A bagel pizza, of course.
Lucky's Cafe
Stick-to-your-ribs comfort food at a popular weekend hangout
Set in a quaint old house, Lucky's is crazy adorable and more importantly, crazy delicious. Pop in for fantastic coffees and tempting pastries to go, or just sit and linger over one of the best brunch dishes like Cheddar scallion biscuits with scrambled eggs and sausage gravy, or lemon waffles with warm blueberry compote, honey-infused whipped cream, and house-made caramel sauce.
Trio
Contemporary American fare in the former home of Bac Asian
Since opening their doors in 2018, Trio has amassed an enthusiastic following with a creative, modern American menu served in an upscale, yet approachable, setting. After making a name for themselves with 111 Bistro in Medina, Meghan Pender and Anthony Scolaro set their sights up north, and we're certainly glad they did. Amidst a sea of predictable brunch fare, Trio offers adventurous diners exciting tastes of the unfamiliar. For instance, the okonomiyaki features a Napa pancake, soft egg, umami mayo, tamarind jus, bonito, green onion, and furikake. Or try the bread pudding with seared foie gras, rhubarb sauce, and candied walnuts.
Urban Farmer
Swanky downtown steakhouse with equal emphasis on its superb brunch
There's nothing quite like a good steak, but then again, good steaks don't come cheap. To get the Urban Farmer experience without the steakhouse prices, weekend brunch is a sound option. Star dishes include the honey biscuit with fried egg, sausage gravy, crispy chicken leg, and lemon marmalade, as well as grilled flat iron steak and eggs with sausage gravy. Whatever you order, make sure it comes with one of the not-to-be-missed pillow-soft, house-made English muffins.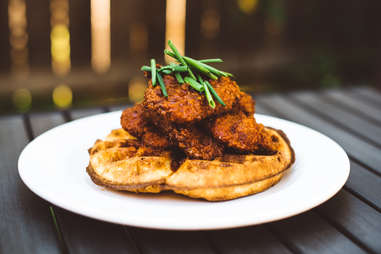 Gordon Square
Spice Kitchen & Bar
Local ingredients, an in-house baker, and from-scratch cooking
Proving that farm-to-table fare is equally delicious in the light of day, Spice does an excellent job translating its local, sustainable concept into a truly excellent weekend brunch. Featuring warm beignets, fluffy omelets, and one of the city's more impressive cocktail programs, Spice's brunch is easily the best in the area.
Astoria Café & Market
Browse the artisanal market while you await a tantalizing brunch in the café
Astoria Café is a beautiful place to dine in the evening hours, but don't miss their Sunday brunch by the light of day either. This marketplace's always eclectic, never disappointing menu boasts dishes that are way outside the typical brunch box -- for instance, try the gyro omelette with seasoned lamb, red onion, herb-roasted tomatoes and tzatziki. Or convince your dining companions to get communal and order a brunch board with quail eggs, double-smoked bacon, rosemary ham, breakfast sausage, Ohio maple syrup pearls, strawberry preserves, fresh fruit, lemon chevre, Ossau-Iraty cheese, and biscuit crackers. A taste of all that's good with the world.
Lakewood
Pier W
Deluxe brunch buffet along Lake Erie perfect for special occasions
As we said before, some brunches are best enjoyed in sunglasses and sweatpants while nursing last night's hangover, while others should be saved for truly special occasions. Wholly representing the latter, Pier W's ultra-fancy brunch offers everything from a carving station to a raw bar, plus truly spectacular views of our glittering Great Lake. Put yourself together for this one.
Dinerbar on Clifton
Classic diner faves and more in this sleek and stylish spot
Fancy brunches may have their place, but sometimes you just can't beat a plate of solid diner food to start your day right. Happily, Dinerbar on Clifton dishes up all of your classic diner favorites (pancakes, club sandwiches, eggs, home fries & toast), in addition to some more creative twists on standard dishes (s'mores pancakes, parmesan & truffle fries). The food, plus a retro-meets-modern decor, attracts patrons of all ages to this bustling spot. Don't pass up a selection from the ultra-tempting dessert case, featuring everything from classic carrot cake to newly trendy hummingbird cake.
Landmark
A smokehouse-centric menu on the east side of Lakewood
For a time, the eastern end of Lakewood had relatively little to offer in the way of walkable shops and restaurants. That's no longer the case, thanks to a boom of recent development in the area. One noteworthy new addition is Landmark, a smokehouse, kitchen, and bar featuring high-quality food in a contemporary, relaxed setting. Stop by for bruch to enjoy stellar dishes such as the hash with Montreal smoked meat, poached eggs, poblano pepper, onion, and potato, or the mac & cheese with smoked gouda, Cheddar, chives, and panko bread crumbs -- plus chicken or BBQ pulled pork, if you like.
Cuyahoga Falls
The Blue Door Cafe & Bakery
European fare in the heart of Cuyahoga Valley National Park
For some Clevelanders, a trip out to Cuyahoga Falls can be quite the trek, albeit a very worthwhile one -- especially in the fall when the national park's vibrant trees demonstrate Ohio's autumn season at its very best. While you're out there, do NOT miss The Blue Door's lovely brunch, featuring European-inspired dishes like a croque-madame with rosemary ham, béchamel sauce, Swiss, mustard, and an organic free-range egg; or the wild foraged mushroom crepe with ramps, French white asparagus, and aged balsamic with four types of fancy mushrooms.
Ohio City
Town Hall
Fresh, healthy fare in this around-the-clock hotspot
Morning, noon, or night, Town Hall, primely located along Ohio City's main drag, is a place to see and be seen. That aside, the non-GMO menu at this local hotspot is often healthy and consistently delicious. Stop by to enjoy one of the best brunches among a sea of OHC options, featuring dishes such as The Full Monty: a complete, organic breakfast including root veg and lardon hash, poached egg, sweet potato puree, caramelized brussels, maple, sorghum, blueberry glazed thick-cut bacon and spinach. If the weekend has left you feeling more hungover than healthy, try the Southern Comfort: buttermilk biscuits, house sausage gravy, poached egg, and rosemary potatoes.
Jack Flaps
An over-the-top, decadent menu packed with sweet & savory indulgences
Playful takes on pancakes, waffles, and French toast are the backbone of this ultra-creative breakfast menu. If your tastes lean sweet, try the Fat Elvis waffle with peanut butter whip, banana, and bacon praline. Savory seekers should try the Real F'ing Breakfast Burrito with adobo-braised beef, hash, scrambled egg, manchego, smoked tomato salsa, and crema.
Le Petit Triangle Café
Warm, inviting French bistro with creative takes on a Parisian-inspired brunch
There is perhaps nowhere in Cleveland that more closely resembles a classic French café than Le Petit Triangle. From the black-and-white checkered floors, to the sidewalk patio (that you'll probably want to avoid this winter), to the front-of-house open kitchen, this spot perfectly mirrors everything there is to love about a good Parisian bistro. And then, of course, there's the excellent food: Tuck into a croque Norvegien with egg-dipped challah, smoked salmon, spinach, Boursin, and bechamel, or try the shakshuka with piperade, onion, tomato, feta, grilled pugliese, and baked eggs. Be sure to save room for dessert -- you're definitely going to want to dive into one of the café's made-to-order crepes.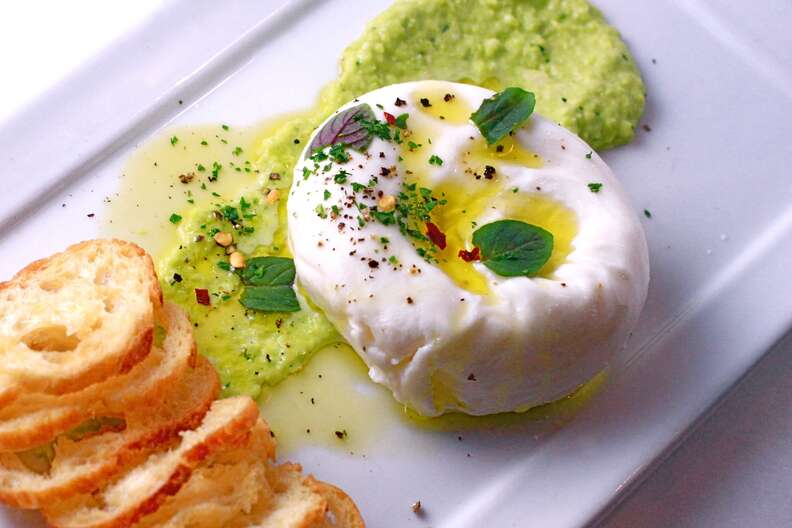 Shaker Square
Fire Food and Drink
Farm-to-table brunch prepared in an open kitchen
This Shaker Square mainstay has stood the test of time thanks to chef Doug Katz by turning out consistently great food in a sleek, comfortable setting. Fire's extensive menu keenly focuses on high-quality, locally sourced ingredients. Its reasonably priced weekend brunch is the perfect opportunity to roll up your sleeves and dig in. We'll take one of those sticky buns, please.
Old Brooklyn
Sabor Miami Cafe & Gallery
A Latin menu as vibrant and playful as the gallery itself
With a number of notable openings over the past few years, including Lilly Chocolates and Old Brooklyn Cheese Co., Old Brooklyn just keeps getting better. Add to that list Sabor Miami Cafe, a vibrant, Latin restaurant and gallery in the heart of this beloved Cleveland neighborhood. Indulge in a plate of decadent pancakes, including pineapple upside down, cinnamon roll, and lime Key West, or opt for more traditional fare, including a Cuban sandwich or tortillas rancheras.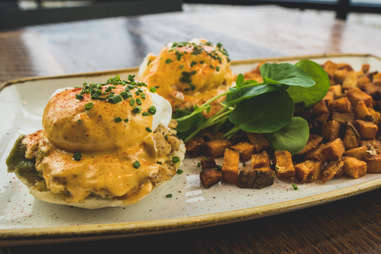 The Flats
Alley Cat Oyster Bar
Fresh seafood and plenty more served in a picturesque setting along the water
Cleveland's temps are finally warming up, and patios across town are coming back to life. There's perhaps no better place to enjoy some al fresco dining than along the Cuyahoga River in The Flats. Fortunately, one of the best brunches in town can be found at Alley Cat Oyster Bar, one of chef and restaurateur Zack Bruell's 12+ establishments. If seafood's your jam (and it certainly should be here) try the lobster omelet with herbs, fontina, and shaved fennel. Or, for something less fishy, opt for the extravagant peanut butter and banana French toast. Don't mind if we do.
Sign up here for our daily Cleveland email and be the first to get all the food/drink/fun in town.
Beth Phillips Synk is a Cleveland-area writer who welcomes any excuse to add Champagne to her morning glass of OJ.