Carissa Russell/Thrillist
Carissa Russell/Thrillist
Editor's Note: This story is the seventh entry in Thrillist's Burger Quest, Kevin Alexander's slightly insane yearlong mission to find America's best cheeseburger. Follow along @ThrillistBurgerQuest, and use #ThrillistBurgerQuest to let Kevin know places he needs to hit.
I came to Cleveland the night before the biggest parade in the history of the city. This was not intentional -- I had booked this trip several months before, and yet every single person I saw naturally assumed I was there for the parade. The maid in my hotel room left a note: "Enjoy the parade!" Every restaurant I entered was packed with people reveling as if it were a weekend. I had to move my car before 8am to get it out before the parade went down. It was an absolute madhouse.
But I was there for the burgers. Cleveland has a reputation as a burger city, and so I talked with chefs and local writers and others I knew who grew up in and around the Cleve to break down the tightest list possible. In case you're new to my rankings (what the hell have you been doing?!?), here are some guidelines: if the restaurant had multiple burgers, I tried to order the closest to a classic cheeseburger, and if it came with options, I always picked American cheese and grilled onions.
Because I spent less than 24 hours there, I was only able to go to nine spots, but from what I saw, the basketball team isn't the only thing Cleveland should be celebrating.
9. "Say Cheese" Burger with American
This mini chain, with seven spots in and around the Cleveland area, was packed when I popped in. And you can see why: it has a long list of all sorts of fancified burgers with tricks and fireworks and bells on top of the whistles. So they were a little bummed out when I just ordered the basic cheeseburger (I'm just kidding, they literally couldn't have cared).

The burger was solid, but had some minor issues -- the toasted brioche sesame bun was a little dry on the inside, and the Ohio-raised, premium grass-fed beef was slightly overdone -- but other than that, it was a solid middle-ground burger and a good kicking-off point.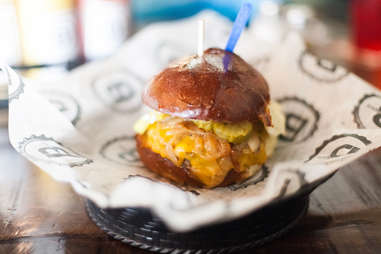 8. Thin Lizzy
I'd never had the B Spot burgers before, but I'd heard the deafening hype all the way in California, and so I was eager to get in here. And there's a lot to like with the Thin Lizzy -- the griddled onions had good buttery flavor, the mayo and cheese are offset nicely by the dill pickle, the burger has a good, slightly peppery flavor, etc.

The only major issue for me was the bun, which was dry and bulky and sort of stood in the way of the flavor of the rest of the burger. Because so much of my bite consisted of bun, the other flavors had to play second fiddle, and yes, that was a music reference because of the name Thin Lizzy. *Takes deep, satisfied bow*
7. Cheeseburger
One of my favorite things about Hoopples, even before I got there, was reading the very casual history on its website. Towards the end, it starts listing off some of the "bests" lists it's made, and the first one reads like this: "One of Cleveland's best burgers thrillist (Thrillist?)"

So yes, clearly Hoopples was already very familiar with the Thrillist name when I barged in on that Tuesday night and got a cheeseburger. Made with its "special blend" of meat, the burger is simple and easy and good. It tastes like a burger your dad would make you when you got home from basketball practice, if your dad wasn't out drinking and watching the Browns at Hoopples. But hey, can you blame him?
6. Ohio Beef Burger
This was the first place I hit after getting into town, and it's right Downtown on that pedestrian strip, so it was basically like hitting up Bourbon Street on the night of Mardi Gras. But inside Greenhouse was a little more chill oasis, strewn with old vintage bikes haphazardly strewn about.

I got the Ohio Beef Burger. The medium-sized patty had great char, and was especially juicy for a medium. Good peppery taste, solid aioli, and a good griddle on the top bun. One issue was that the bottom bun became immediately soggy with the juices running out when I took my first bite, and by the third bite it was so soggy as to be unusable. I put Greenhouse in the category of a lot of potential, especially once they sort out how to ensure you can get through a burger cooked medium with an entire bun intact.

5. Ohio Beef Burger
You probably think I made some sort of mistake in the name of the burger, because I have the same name two times in a row. WELL, YOU'RE THE ONE WHO IS WRONG, OK? Both Greenhouse and Bar Cento have taken to touting the state the meat comes from in their burgers, and weirdly enough, both burgers sit in very similar places in my mind.

Bar Cento's version doesn't have a lot of bells and whistles: just a delicious house-made bun (honestly, I could've eaten the griddled bun as an appetizer), caramelized onions tucked under port salut cheese, and lettuce and tomato. There's no special aioli or weird mustard concoction, and for the most part, it doesn't need it. The meat is juicy, and the grilled onions seem like they were marinated, and have the proper amount of tang. I wish the meat had a little bit more of a griddle, but otherwise, I could dance with this burger date again.
4. Half Pound Burger with American
I love this place. Literally around the side of the fancier Johnny's Downtown, JLB was a perfect scene when I popped in, mostly because several boozed-up locals were happily gathered around the jukebox doing a "Thunder Road" singalong.

The burger is simple and delicious, tasting just like a really, really well-done backyard burger. There are no tricks here, it's just really good meat cooked skillfully on a soft, well-griddled bun that never got soggy. I could've spent the night there, regaling those Boss fans with stories of how fellow Thrillist writer Wil Fulton actually knows Bruce Springsteen's daughter, but it gets weird when you bring it up in public. Oh, oops.
3. Heckburger with American and grilled onions
This burger is a great burger. The meat is juicy and griddled, and you can taste from the way it crumbles into your mouth that it was hand-packed. Good char on the edges meshes well with the American cheese. The griddled onions are perfectly buttery. The whole thing, in fact, could've been a home run of sorts. But for the bun.

They don't cook the buns at Heck's. Yes, the bun is surprisingly airy and light, and it did an admirable job holding up to the burger, but come on. Eventually it has to get soggy. You're a great burger joint. JUST TOAST YOUR BUN A LITTLE BIT, AND GIVE IT A CHANCE, PLEASE...
2. Double cheeseburger with mustard and mayo
"Lebron loves this place."
"This is Lebron's favorite burger place in the world."
"If you tell Lebron you like Swensons, he will hold you like a giant baby and rock you to sleep during the parade."

Two of the three statements above are things people told me all the time in Cleveland. Swensons is a drive-in place, where they come to your car and take your order and then attach a metal tray to your window when the order comes out, so you can continue to listen to your Pelican Brief book on tape while enjoying the burger. Truth be told, I almost didn't go here. It was out of my way, and I didn't really have much faith that a local fast food joint could really bring it.

I should've never doubted Lebron: the thin patty doesn't have a lot of char, but it doesn't need it. The meat is simple and flavorful, the bun is perfectly toasted and crispy on the outside but soft in the middle, the acid from the mustard and the creaminess of the mayo give it a little zip, and it's just a fantastic experience all the way around. Plus, I was at the part where Gray Grantham and Darby Shaw really start to trust each other in The Pelican Brief.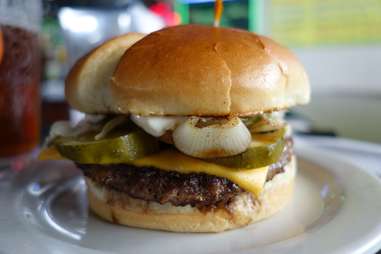 1. The Little Guy
When I walked in, there were two other people at the bar. It was about 1pm on a Wednesday, and 20 minutes away, 1.3 million people were celebrating like mad in Downtown Cleveland. But here in Stevenson's, we were doing our own kind of celebrating.

Everything about the place makes either no sense, or so much sense. It is completely carpeted. An old-school '90s TV sat in the back. A handwritten sign mentions a $4 fried bologna special. And yet the Little Guy (the one-patty version of the "Big Guy" burger) came out so well constructed, it felt fake, as if they'd brought in a fancy guest chef and no one told me. Everything about it was right: the soft split-top bun, toasted nicely; shredded lettuce and pickles to help catch the "special sauce"; the burger with just the right amount of crusty griddle. The burger gods have spoken and they're telling you to go immediately to this nondescript sports bar next to a gas station, or face eternal shame and embarrassment.
Sign up here for our daily Cleveland email and be the first to get all the food/drink/fun in town.
Kevin Alexander is Thrillist's National Writer-at-large and is probably best friends with Lebron by the time you read this. See pictures of him boat-shopping with Lebron @Kalexander03.