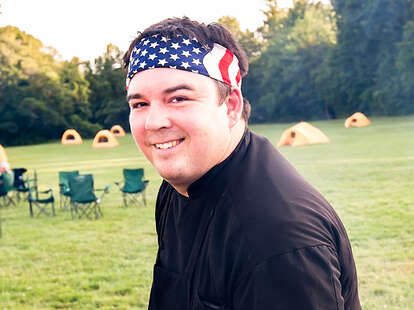 Courtesy of Spice Kitchen & Bar
Courtesy of Spice Kitchen & Bar
Editor's Note: This article is part two of Thrillist Cleveland's year-end look at the best of our city's local food and drink scene in 2016. In addition to our annual Best New Restaurants award, this year, we're spotlighting the men and women behind the dishes we love to tell you to eat. You can also check out our picks for the rest of America's 2016 Best Chefs, and then catch up on our Best New Restaurants.
Nowadays, with a successful restaurant, catering company, and farm to their name, it can be hard to imagine Spice Kitchen & Bar's humble beginnings, in a basement in Parma. But Josh Woo, director of culinary operations, remembers those days well. And that makes Spice's substantial growth in recent years that much more satisfying.
Woo has been a big part of that expansion, cooking up creative dishes that truly embody the farm-to-table, no-waste concept by utilizing the produce grown and meat raised on Spice Acres, the restaurant-owned farm a mere 21 miles down the road from Spice Kitchen. It's what makes him our pick for Thrillist Cleveland's Chef of the Year.
Growing up in the Virginia countryside, Woo took an interest in cooking from a young age, often helping his Chinese-Puerto Rican father with traditional Chinese dishes and his mother with Southern comforts. After high school, he moved to Wilmington, N.C., and spent several years cooking for various restaurants in the area, including Port Land Grill. The head chef there became his mentor, and encouraged Woo to attend culinary school in order to learn the business side of being a chef.
"You take culinary classes, of course, but the financial side is also really important," Woo says. "I've known plenty of people who are way better chefs than me, but they can't manage their food costs and it doesn't work."
Woo scraped up enough money to enroll in Johnson & Wales advanced standing culinary program in Charleston, S.C. He was only there a few weeks when he learned that the room he was renting was an illegal sublet, and ended up with no place to live. Luckily, Ben Bebenroth, his new friend, fellow classmate, and the future Chef, Farmer, and Founder of Spice, stepped in.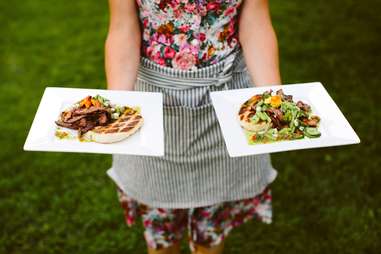 "Ben's parents had bought a house in the area and he was staying there with his sister and brother," Woo says. "I was facing having to quit school and move back home when Ben offered that I could stay at his place for a while. So I ended up sleeping on his couch for a month or so until I found a place to live."
Woo and Bebenroth remained friends throughout culinary school, but moved back to their respective homes in Wilmington and Cleveland after graduation. Both spent some time bopping around, looking for their next step. Not long after, Woo got a call from Bebenroth -- he was starting a catering company in Cleveland, and would Woo like to move up for the summer and see what happens? So he did.
"We were living in his grandma's house [in Parma]: me in the attic, Ben, his wife Jackie, and daughter on the first floor, and one of Jackie's friends in the basement. We also split the basement as our kitchen, so we were catering 200 person weddings out of it. But it was awesome, we wanted to do everything from scratch, buy locally, and we stuck with it," he says.
As summer wound down, they realized that they couldn't keep the business afloat. They were nearly out of money and had nothing booked going into winter. So the small team disbanded, and Woo moved back to Wilmington to be with his girlfriend (and future wife), Janna.
Woo spent several more years there and helped open a few restaurants. He desperately wanted to ramp up the local food scene, but faced an uphill battle. The locavore concept was difficult to push on the residents in this relatively small southern town. Meanwhile in Cleveland, Bebenroth revived his catering business and founded his restaurant, Spice Kitchen & Bar, in 2012. In the winter of 2013, Bebenroth reached out to Woo again. He was looking for a Chef and Operations Manager, was scouting farms, and wouldn't he like to help expand the business?
"When he called, it was three months before my wedding. I said, 'Dude, I can't even talk to her about moving to Cleveland right now. My wedding's coming up in three months, if you still need a chef after that give me a call.' So we got married, Ben came to the wedding, and a few weeks later he called and said, 'I'm still looking. Can I fly you guys up and give you a tour?'"
So the newlyweds travelled up to Cleveland and liked what they saw. A few months later, in July 2014, Woo moved back to Cleveland to take the job -- he was the Director of Culinary Operations at Spice. He's brought some unique skills and ideas to help keep the restaurant fresh, four years after it first opened.
"The menu definitely took more of an Asian influence after I arrived," he says. "I'm all for everyone on our staff contributing, having opinions on dishes, and being a part of the team. I also think there's a lot of financial planning that I've helped implement, so we're tracking our costs a little better and being able to plan and forecast from the business side of things."
After spending so much time in kitchens that ordered whatever food they wanted to cook, Woo says it's been somewhat of a challenge to transition into the farm-to-table concept, but he wouldn't have it any other way.
"We truly are farm-to-table," he says. "I know that's a worn out phrase, but we're actually planting and growing a lot of the stuff we're using on our menu. Normally, you would see a carrot in the walk-in that's gone bad and it's like, oh, time to get more carrots. Here, we're like, well we planted that carrot a year ago and the Farm Manager grew it, harvested it, washed it, sent it in, we prepped it and we let it go bad. Seeing that really makes you think. That's what we offer that a lot of places don't: at any point in time you can drive down to the farm and see what's going to be on the menu this week and know exactly where it's coming from. It is the height of being connected to your food."
In an up-and-coming culinary hub like Cleveland, that intimacy Woo's been pushing his whole career has found an audience willing to listen. With programs like 2016's 'Plated Landscapes' dinner series, where multi-course meals were served on the farm and diners could help pick the ingredients, Spice is always working to close the chasm between the diner and their dinner plate.
Josh says he gives thanks and credit to everyone around him for his accomplishments.
"My wife has been awesome throughout all of this. She was a big part of the move up here and she's been real supportive of everything," he says. "Everyone throughout the whole Spice organization has been really good too. The opportunity to be a part of this team and actually see the business thriving after being a part of its beginnings in a basement where we were just going through the grind has been amazing. I'm truly optimistic about where we're headed next."
Sign up here for our daily Cleveland email and be the first to get all the food/drink/fun in town.
Beth Phillips is a Cleveland area writer who would happily eat Spice's mushroom beignets at every meal, every day. You can follow her on Twitter @CraveableCLE.