Italian food: it's not always the gut-busting soup, salad, and breadsticks followed by a heaping plate of pasta you likely remember eating as a kid. (Although, sometimes, that hits the spot too.) From Old-World classics to new-school interpretations, Clevelanders have a bevy of Italian dining options all over town these days. From ultra-fancy to stretchy-pants-casual, we've rounded up 12 of the best Italian restaurants in town.
Little Italy
In our humble opinion, the very best kind of Italian food features high-quality seasonal ingredients served simply. With dishes such as cherry-peach compote topping creamy burrata, rosemary crostini, and fettuccini with pancetta carbonara and a poached egg dished up in an intimate, white-tablecloth setting, Nora executes this principle to a very elegant T.
Ohio City
Red-sauce fanatics flock to this informal neighborhood spot for hearty portions of Italian classics you can't stop digging your fork into. Don't miss Bruno's homemade lasagna, which is exactly like your grandma used to make. Unless your grandma isn't Italian; then it's probably way better.
Cleveland Heights
With a snug interior styled after an Italian cafe and a reclusive patio that's equally enticing, Marotta's could draw diners on its atmosphere alone. But with its array of homemade pastas and some of the very best pizza in Cleveland, food is most definitely Marotta's main attraction. When an empty table is hard to come by in this no-reservations spot (which is most of the time), you'd be wise to grab a pizza to-go and enjoy it at the equally excellent Wine Spot, just a few doors down the road.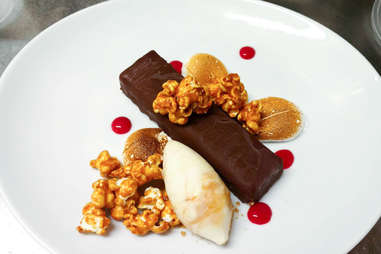 Beachwood
This special-occasion restaurant offers excellent service and decadent Italian dishes served in an upscale setting (who isn't into glistening chandeliers and a wall of wines?). If you're feeling imaginative, start your meal with the Chefs Collection of Interesting Things, described as "house-made terrines and pates, whipped ricotta, and an assortment of eclectic garniture of a fanciful nature." (Yes, really.) Don't even think about skipping Giovanni's truly sublime house-made desserts.
Fulton Rd
We know 2016's glorious patio days are numbered, but if you're going to enjoy one last alfresco meal in Cleveland, let it be at Johnny's lush backyard garden. This longstanding Fulton Rd destination dishes out some damn fine Northern Italian cuisine, including potato gnocchi with sautéed shrimp, broccoli, and cream, as well as an ever-classic surf & turf.
Strongsville
With a number of local restaurants to his name, chef Dante Boccuzzi is seemingly everywhere these days -- including the 'burbs. Although, of course, you can't go wrong with any of his spots, D.C. Pasta throws a bone to suburbanites who are seeking a dining experience that's more Downtown than strip mall. Although the menu changes regularly, don't miss the linguine alla carbonara with truffle, a popular mainstay on D.C. Pasta's menu since it first opened.
Moreland Hills
With a modern-industrial setting that feels like a cleaned-up, hip version of a classic joint, Flour offers creative new takes on Italian cuisine alongside old-school dishes. For instance, diners can dig into a "Big A$$ Meatball" with whipped ricotta, Sicilian provolone, and sage, or stick to a tried-and-true favorite like tagliatelle Bolognese. No matter which route you take, it's bound to be delicious.
The Flats
Two words: lobster gnocchi. Well, OK, there's far more to this glamorous Italian restaurant in the heart of the new Flats, including an excellent wine list and some of the area's best food, but it's certainly a dish that's not to be missed. Pair your pasta with a hunk of fresh bread, a bowl of warm olives, and a glass or two of rich Italian red wine, and you have yourself one outstandingly indulgent meal.
Rocky River
In today's plastic world, it's true that cash-only restaurants can be a real pain in the rear. But trust us, Stino da Napoli is well worth the minor inconvenience of a pre-dinner trip to the ATM. This warm and welcoming spot in Rocky River's adorable Downtown strip serves up mouthwatering Italian classics such as a bright caprese salad and lush linguine with clams.
Lakewood
You don't have to be dressed to the nines to dine at Pepper's -- just be sure to bring your appetite. This Lakewood favorite serves the kind of casual Italian food you probably remember digging into as a child, including chicken Parmesan and meat & cheese ravioli hiding under house-made tomato sauce. In fact, we suggest you wear loose-fitting pants for this nostalgic trip down memory lane.
Downtown
The fourth restaurant in chef Zack Bruell's local enterprise, Chinato serves upscale Italian food in the heart of Cleveland's bustling East 4th Street district. Dishes such as smoked whole chicken with radish salad and truffle glaze and the stuffed swordfish with olive paste take the best of several Italian regions and meld them all into one delicious spot.
Little Italy
Competition is everywhere in Cleveland's Little Italy, yet Michelangelo's quietly sets itself apart from the rest with its fine food served in a sophisticated setting, replete with a fireplace and overstuffed leather chairs. Do not miss the sacchetti al tartufo: ricotta- and black truffle-stuffed pasta with black truffle cream sauce. Once in a while, we all deserve a dish as luxurious as this.
Sign up here for our daily Cleveland email and be the first to get all the food/drink/fun in town.
Beth Phillips is a Cleveland-area writer who wishes she has a giant pillow of gnocchi to rest her head on at night. You can follow her on Twitter @CraveableCLE.