10. Battery Park
Essential restaurants: CHA Spirits & Pizza Kitchen, Graffiti: A Social Kitchen
Considering its close proximity to Lake Erie and Edgewater Park, it only makes sense that Battery Park would be a destination neighborhood. Following years of decline, this former battery plant site has recently been transformed into the largest housing development in the city of Cleveland. Of course, that means residents and visitors need some great dining options and the neighborhood has delivered, with several restaurants serving delicious, unpretentious grub.
9. The Flats
Essential restaurants: Lago, Alley Cat Oyster Bar, Bold Food and Drink
Let's face it: the Flats are so damn cool these days. Although the area was dealt a blow with the shuttering of Crop Rocks, Crop Sticks, and On Air a few months ago, we're confident the Flats will remain the place to be for some time to come. If you haven't checked the area out yet, get there soon -- the Flat's many excellent restaurants are best enjoyed with a little sunshine on your face and a cold drink in hand. For a few hours, it's just like vacation in Cleveland, and there's nowhere else we'd rather be.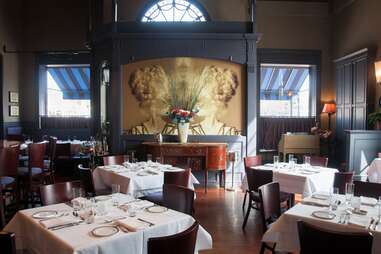 8. Shaker Square/Larchmere
Essential restaurants: Fire Food and Drink, Edwins Leadership & Restaurant, Felice Urban Cafe
On a special occasion, you can't go far wrong by making a reservation at Fire, a farm-to-table mainstay in posh Shaker Heights, or Edwin's, for French fine dining and a cheese board so beautiful you're going to want to cry (or maybe that's just us). On a more relaxed evening, artsy Larchmere is just a hop, skip, and a jump away, featuring warm, welcoming neighborhood hangouts such Felice Cafe.
7. Lakewood
Essential restaurants: Deagan's Kitchen & Bar, Barroco Grill, Pier W, Salt + a restaurant
Walkable, affordable, and full of creative types, Lakewood is one Cleveland suburb that's anything but basic. Anchored by Detroit Rd establishments such as Deagan's, a gastropub with an emphasis on craft beer and quality food, and peppered with innovative newcomers such as Salt, featuring imaginative small plates and craft cocktails, there's something for all tastes and budgets in our number seven pick.
6. Cedar Lee
Essential restaurants: Marotta's, The Wine Spot, Taste, Anatolia Cafe
Everything west-siders have to love about Lakewood is equally true of the east side's Cleveland Heights. Stroll through the Cedar Lee neighborhood to enjoy a bevy of excellent dining options, including Marotta's for from-scratch Italian, Taste for upscale American, Anatolia for Turkish delights, as well as The Wine Spot for plenty of wine and beer to wash it all down.
5. University Circle
Essential restaurants: Trentina, L'Albatros Brasserie, Coquette Patisserie
Featuring one of the most visited art museums in the world and home to the internationally renowned Cleveland Orchestra, University Circle is absolutely enchanting. Luckily, many of the area's restaurants are sure to charm as well. Trentina's Menu Bianco is a dining experience to end all dining experiences, while Coquette is certainly the spot to indulge in fresh oysters, delicate French macarons, and happy glasses of bubbly. Oh la la, indeed.
4. Gordon Square
Essential restaurants: Spice Kitchen & Bar, Toast, Banter, Sweet Moses Soda Fountain & Treat Shop
Gordon Square Arts District has brought a new vibrancy to Cleveland's dynamic arts scene. And if food is art, then that's no exception either. While Spice's truly excellent seasonal menu and Toast's revitalized farm fare will have you leaving feeling pleasantly satisfied, Banter's loaded poutine and Sweet Moses' over-the-top ice cream creations will have you happily rolling out the door. No matter what you come for, our number four spot is sure to deliver deliciously.
3. East Fourth
Essential restaurants: Lola Bistro, Greenhouse Tavern, Butcher & the Brewer, Mabel's BBQ
Walking down East Fourth St early in the evening, you can't help but feel proud to be living in a city as great as Cleveland. And not only is the street itself totally intoxicating, its restaurants have the substance to match all that style. Michael Symon's Lola and Mabel's, Jonathon Sawyer's Greenhouse, and the relatively new Butcher & the Brewer are just a handful of spots worth dipping into before seeing comedy at Pickwick & Frolic or a show at the House of Blues.
2. Tremont
Essential restaurants: Lucky's Cafe, Ginko, Sokolowski's University Inn, Fat Cats
Although hip new neighborhoods seem to be popping up all over Cleveland these days, Tremont was a pioneer of this revitalization trend. Within its main parameters, it's hard to walk a few feet without stumbling upon a restaurant or bar that's just beckoning you inside. Featuring an excellent mix of casual but oh-so-delicious options such as Lucky's and Sokolowski's, mid-range spots such as Fat Cats, and special occasion indulgences like Ginko, Tremont is one neighborhood that's fit for any kind of day or night.
1. Ohio City
Essential restaurants: The Flying Fig, Le Petit Triangle Cafe, Momocho, Herb'n Twine, The Black Pig
As the unofficial brewery district of Cleveland, and considering most everyone's deep love for craft beer, Ohio City is absolutely booming these days. But visitors flock to the area for far more than the highly regarded brews. Like food! Long standing favorites like The Flying Fig happily make room for tempting newcomers like Herb'n Twine. Hearty booze, delicious food, and a whole lot of neighborhood love. What's not to dig about our number one spot?
Sign up here for our daily Cleveland email and be the first to get all the food/drink/fun in town.
Beth Phillips is a Cleveland-area writer who, unlike in the case of our Presidential Election, had a hard time picking a winner for this list. So many great candidates! You can follow her on Twitter @CraveableCLE.