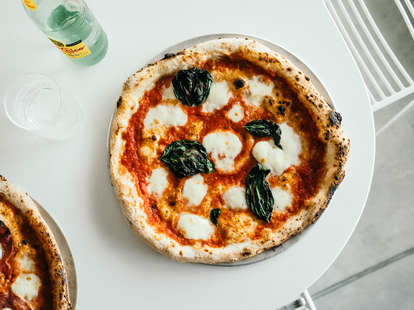 Harlow's Pizza

| Peter Larson
Harlow's Pizza

| Peter Larson
Cleveland began its transformation into a food destination several years ago, with some of the best restaurants in town actually opening just last year in 2016. These days, there's no shortage of truly excellent eats to be found most anywhere across the 216 (and 440...), and from Lola's hip brand of swankiness to Swenson's sweatpants-appropriate casual, everyone has their tried and true favorites. That said, 2017's food offerings were nothing to sneeze at either, and there are plenty of new arrivals deserving of a spot on your go-to list; here are our five favorite places to open this year.
Downtown
A hip, industrial brewery serving fresh, local pub food
Arguably, when it comes to Cleveland breweries, we're quickly nearing the point of saturation. However, Noble Beast truly shines for its pairing of excellent beers by Shaun Yasaki (the former opening brewer at Platform Beer) and locally sourced pub food by James Redford (formerly of Spice Kitchen & Bar). With Spice's allegiance to local ingredients now deeply ingrained in Redford, Noble Beast's kitchen utilizes local produce, meats, dairy and even condiments. Menu standouts include the veggie sandwich with Cheddar, garlic aioli and almond butter, as well as the zucchini Parmesan fritters with buttermilk ranch -- and if you're a diehard carnivore, there's also a smoked kielbasa corn dog that's a must-try.
The Flats
Handcrafted beers and elevated bar food served along the river
Considering its prime location alongside the Cuyahoga River, it was a total shame when the Watermark restaurant closed its doors in 2003. Thanks in part to the recent revitalization of The Flats, the historical building reopened its doors as Collision Bend Brewing Company back in April. Beyond its picturesque setting, this latest venture from Cleveland chef and restaurateur Zack Bruell offers consistently good food alongside its handcrafted beers -- highlights off the food menu include flavorful lamb tamales with salsa verde, and salty-spicy salami & green olive pizza. Whether you're stopping in for a few drinks or a full-on meal, don't miss the completely moreish Collision Bend popcorn with bacon fat, Mexican pepper, lime zest and pecorino. We'll take another handful, please.
Lakewood
A simple Neapolitan stand-out amid a sea of new pizza joints
As the newest restaurant on this list, opening only a few short weeks ago, Harlow's Pizza is quickly gaining a loyal following for its ultra-simple menu of five different wood-fired pizzas and a handful of drinks. Using a Pavesi oven imported from Italy, owners Emily Flamos and John Sweeney are cooking up the type of pies they learned how to make during travels to Naples. In a city seemingly bursting with new pizza joints, Harlow's sets itself apart from the crowd as the perfect example of letting high-quality ingredients speak for themselves. Don't miss the classic margherita, with San Marzano tomatoes, mozzarella, extra-virgin olive oil, fresh basil, and sea salt.
Willoughby
New American kitchen and cocktail bar in downtown Willoughby
Cleveland's foodies may not flock to downtown Willoughby on the regular, but it's certainly worth the trek to check out Hook & Hoof. Since its opening in April, the restaurant has been turning out top-notch New American food like lamb belly meatballs and caramelized scallops with black truffle pate. The scratch kitchen, helmed by hometown chefs Chaz Bloom and Hunter Toth, works with seasonal ingredients from local suppliers such as Green City Growers and Tom's Foolery. An extensive yet thoughtful cocktail list of originals and classics offers the perfect boozy companions to any dish you desire -- try the Black Flag, with bourbon, brandied Amarena syrup, and Aztec chocolate bitters. We dare you to order just one.
Downtown
Top-quality steaks and seafood in a glamorous old bank
Speaking of revitalized historical buildings, you really can't find a more spectacular example than Marble Room. Situated in the lobby of the old National City Bank, this restaurant features floor-to-ceiling marble columns, intricate green and gold carpeting, and plushly upholstered furniture. The over-the-top menu matches this restaurant's completely decadent interior, featuring all of the pricey steak house classics (like long-bone tomahawks and Kobe strip loin cooked tableside) along with a raw bar menu. If you're in the mood for something unique, check out the surf-and-turf sushi roll with wagyu tataki, lobster, avocado and kimchi purée or the Hudson Valley foie gras with funnel cake and seasonal jam. Marble Room is undoubtedly the place to knock the socks off of your out of town visitors.
Sign up here for our daily Cleveland email and be the first to get all the food/drink/fun in town.
Beth Phillips Synk is a Cleveland-area writer who is certain there's never such thing as too many pizza shops or craft breweries in Cleveland. You can follow her on Twitter @CraveableCLE.