Traveling as a native Clevelander involves a fair bit of culture shock: People will ask about your accent, and topics of conversation are limited to our sports teams, chronically bad weather, and the Rock & Roll Hall of Fame. The worst part, though, is that there are still parts of this country where pierogies do not exist.
Outside the region lovingly referred to as the "Pierogi Pocket," I've had to explain these beauties to people ad nauseam -- they're essentially dumplings made with unleavened dough and stuffed with all sorts of fillings, the most common being potato, sauerkraut, cheese, or meat. Whether you boil or sauté them (there is a correct answer), get them fresh or frozen, prefer them sweet or savory, eating a pierogi is like taking a bite of home for anyone of Eastern European descent, however far removed.
Celebrate on National Pierogi Day (October 8), at the Pierogi Dash, a 5K race through the streets of Slavic Village, or enjoy them any day of the week -- here's where to find the most perfect pierogies Cleveland has to offer.
Gordon Square
Recently, this Cleveland Hustles TV show winner overhauled its menu to create the best fusion concept since the sushi burger. It's the "Polish Taco," a Perla potato pierogi deep-fried, sliced in half, and stuffed with chorizo, black bean, or kielbasa. They "weren't trying to reinvent the wheel," general manager Rob Dorsey says, but after choosing chorizo from La Plaza, mixing up a chipotle Tabasco sauce, fresh pico, and an avocado/cilantro/goat cheese spread, they were in business and people came in droves to try it. Appropriately, they're are available only on "Taco Tuesday."

For every day of the week, it's all about what's on top of the pierogi vs. the filling. Choose from pimento cheese, corned beef, Cleveland Kraut, chicken paprikash, and Red Lotus chipotle sour cream, along with signature pierogi dishes concocted by Chef Dubyoski.
Tremont
These are the traditional old-world, chopped-onion, butter-drenched, no-frills pierogies you grew up with. Diners wait in a cafeteria-style line to be served, launching them into a wood-paneled dining room with walls full of photographs and community-style tables. Established in 1923, it's the oldest family-owned and operated restaurant in Cleveland, and received the prestigious James Beard "American Classics" Award in 2014. Tell Mary my grandma sent you!
Ohio City
These handmade pierogies have been served at Stand E-5 in the historic West Side Market for years. Sold fresh by the dozen in plastic bags, there are more than 70 fillings to choose from, and they have boasted up to 100 different varieties in the past. Pizza, Rueben, horseradish-potato, eggplant, seafood, bourbon meatball, and German potato salad-stuffed: Just reading the list is enough to make your mouth water.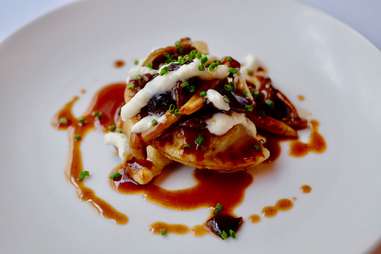 Downtown
For truly high-end pierogi, look no further than the ones being turned out at Chef Michael Symon's Lola, made with beef cheek, mushrooms, and a horseradish crème fraîche. It'll run you a cool $14, but the tender, rich filling is well worth a taste test on your pierogi cruise.
Stockyards
Built in 1910, the hall was served as a German social room for immigrants in the area, rented out to this day for everything from weddings to live music concerts. The beer is served in three sizes, the bartenders are friendly, and the kitchen serves up a different dive bar delicacy to patrons each day of the week -- Friday's the day to swing by for old-fashioned pierogies with all the fixin's.
Tremont
My favorite here is the loaded potato pierogies, pan fried and baked with Cheddar cheese, bacon, frizzled onions, then served with a drizzle of bacon aioli, which a waiter one time assured me were made by the oldest Russian Orthodox woman that they could find in the Greater Cleveland area. Of course, the regular potato pierogi with ricotta cheese, sour cream, and caramelized onion is also delicious.
Ohio City/Hingetown
Jukebox's menu is saturated with a variety of pierogies and dipping sauces that you can mix and match to your liking, all of which are made in-house. Flavors like Buffalo chickpea and smoky black bean & sweet potato, with a French onion or creamy mustard dip, keep things exciting even for vegans. There's also a dessert pierogi option featured each month, most recently with pumpkin cheesecake filling -- swing by on Thursdays to grab three pierogies for $5 with two dipping sauces, or any other day of the week for $7.
Flats West Bank
Every Monday, this nano-brewery teams up with Rudy's Strudel to sell a selection of freshly made pierogi at the bar. They might warn that it's not anything fancy, but the folks at Rudy's have been serving Northeastern Ohio for over 68 years, so it's safe to say they know what they're doing. Classic potato & cheese pierogi, the Kielbasy Kid pierogi (aka the "Big Chuck") stuffed with sauerkraut and three types of kielbasa from Cleveland sausage shops, and cabbage rolls are available for purchase along with a kolachke bar.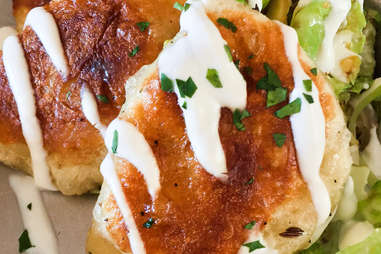 Gordon Square
This beer/wine shop and eatery offers sausages, poutine, and fried cheese curds on the menu, but its hometown dish, appropriately named the "Cleveland," is a kielbasa topped with pierogi, sauerkraut, and stadium mustard. While there are plenty of variations of fillings and toppings in the city, this is the only place that'll dish up a pierogi on a kielbasa hot dog.
Lakewood (various locations)
Melt is the originator of the pierogi-topped grilled cheese sandwich, and as such the "Parmageddon" has had a place on its menu since the very beginning. Topped with a potato and onion pierogi, fresh Napa vodka kraut, sautéed onions, and sharp Cheddar, it's a monster inspired by the depths of Parma, OH. If you ripped out Drew Carey's soul, this is what might be inside.
Middleburg Heights
The acronym "P.O.C." takes on a different meaning these days in "Pierogies of Cleveland," but this place is still synonymous with Cleveland pride. The business makes 34 different pierogi varieties, with its more adventurous fillings including yam & walnut, goat cheese & mushroom, sloppy Joe, and chicken paprikash. It also offers a "pierogi of the month" in additional flavors, which can be bought either wholesale or in packages of six pierogi.
Sign up here for our daily Cleveland email and be the first to get all the food/drink/fun in town.
Rachel Hunt is the contributing food editor at Scene Magazine and likes to eat, a lot. You can see some photos of her "research" by following @workinggoth on IG.