Located in the heart of The Heart of It All, Columbus is a city with many overlapping identities: state capital, college town, and, yes, food city. The town that gave us buckeye candies and Jeni's Splendid Ice Creams isn't just a town for sweets, though; from delis and Italian joints to the greatest veggie burger you'll ever eat, this Midwest gem is filled with the kind of culinary surprises and delights you'd expect to find out on the coast. Let's break it all down: Here are the best eats that Columbus has to offer.
Recommended Video
Acquired Taste: Blood Rice Cakes With Timothy DeLaGhetto and Justina Valentine
215 North 4th Street
While it's true there are many excellent brunch spots in the Columbus area, there is only one that lets you order a beer called Cinnamon Toast Brunch right where it's brewed. Live your best morning life with the tender Sakura Beef Cheek Hash, or the Smoked Salmon Tartine with sourdough. If you're looking for something heavier than a daybreak beer, you can order the Dire Wolf imperial stout, which weighs in at a brunch-enhancing 10.4% abv.
Best fried chicken: The Eagle
Short North - 790 North High Street
We almost felt bad putting a restaurant that started in Cincinnati on here -- almost. Then we remembered the perfectly golden chicken (a miracle balance of crispiness and juiciness), and the fun bar menu (bloody mary mix and Guinness go together shockingly well). And then of course, there's the spicy honey sauce we've all tried to replicate in our kitchens, without full success. Maybe it's not such a bad idea after all.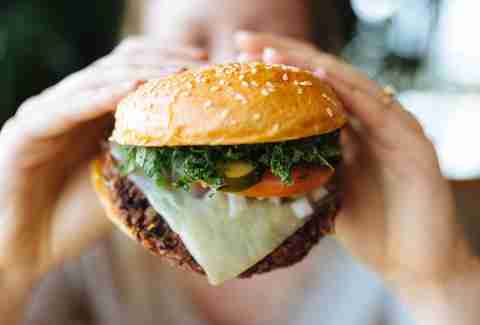 951 North High Street
We should note here that Northstar does serve some meat -- the place lives by Michael Pollan's "Eat food. Mostly plants." maxim -- but if you're not going for the veg, you're doing it wrong. All of the salads are excellent, but the Chopped Salad in particular (made with avocado, blue cheese, almonds, apples, and optional turkey & bacon) is a local favorite for good reason. The Northstar Burger, simply made from black beans, beets, and brown rice, could convince the most ardent carnivore to go meatless. If I could eat it every day, I probably would.
2250 North High Street
Perhaps you want a cup of coffee in a quiet spot north of campus. Perhaps you want a literary-themed cocktail or a craft beer. Perhaps you want all three while you enjoy a house-baked pastry, browse books and records, and maybe catch a comedy show. You can do all that and more at the beatnik-inspired Kafe Kerouac, which is truly, as the website says, "many things to many people."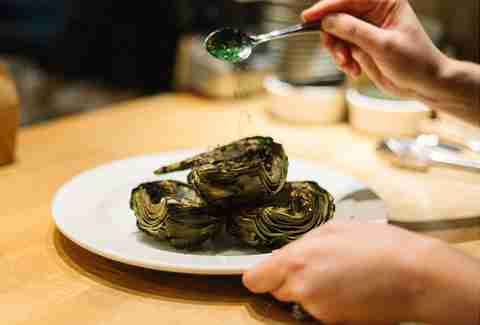 1433 Grandview Ave
The folks at Third & Hollywood are doing it right: no gimmicks, no frills, just great American food and classy, dark wood vibes. You can bet that whatever you order is going to arrive on your plate looking pretty, whether it's the Leaning Tower of Deliciousness that is the Pimento Cheese and Chips, the pork chop from Niman Ranch, or the utterly Instagrammable Iron Skillet of Herbed Cheddar Biscuits.
976 North High Street
Making the most of its cool Short North space, Nida's is a place that's not afraid to venture into some deeper cuts of Thai food. In addition to the Pad Thai and Larb you'd expect, you'll also encounter seafood dishes like Pad Priew Wan Pia (elaborately prepared whitefish) and soft crab you won't find at most other Ohio Thai establishments. Nida's also knows how to keep things inviting for its Midwest clientele, serving up concoctions like the Tom Yum Bloody Mary and the Heart Attack Roll: spicy tuna sushi with cream cheese and mayo that's been deep fried.
1998 North High Street
Are there better donuts in all of Central Ohio? We're asking for real. We've never had them anywhere else, because you can't get them in an open-24-hours, classic diner setting like Buckeye Donuts anyplace else. Nor can you pair them with gyros and crinkle fries on the cheap. Go with friends, pair some maple bacon donuts with people-watching down High Street, and let lifelong memories ensue.
473 South 3rd Street
Katzinger's is where old school goes to meet the new in a classically Midwestern style. The sandwiches are Shag-and-Scoob enormous, but far from your uncle's cold cuts sandwich: The roast beef is rosemary- and garlic-seasoned, the chicken comes marinated in balsamic vinegar, and the enormous, flavor-bursting pickles come in a barrel straight from the Old Country. Don't skip the cheese and olive oil shop inside, either.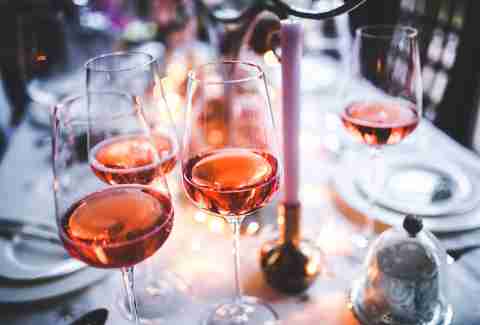 445 North High Street
Let's face it: You could write this up with only Cameron Mitchell restaurants, and it would still be a damn good selection. As a representation of "modern Italian," Martini eschews the meatball excesses of sister restaurant Marcella's (which are, let's be clear, still amazing) in favor of craft cocktails and trendier dishes like butternut squash tortellini in parmesan cream, or short rib over mascarpone polenta. All this under the swanky chandeliers and amid the club-like atmosphere makes for an enduring spot in the Mitchell pantheon.
475 North High Street
Columbus' greatest purveyor of late night pizza is starting to grow up a bit: The food truck and walk-up spot has expanded into an honest-to-goodness sit-down restaurant across from the Convention Center. That said, we still prefer our slice consumed in the traditional manner: while sitting on a curb at 3 in the morning, our fingers bathed in Unicorn Sauce (they did it before it was cool).
Best graduation dinner spot: G. Michael's
595 South 3rd Street
Low country in Buckeye Country? Yes please. Located on one of the most scenic blocks in the city, this bistro in German Village does upscale Southern fare in an elegant-yet-relaxed setting. It's the kind of place with the credibility to pull off having duck confit fritters and broiled watermelon on its menu, without seeming the least bit precious or pretentious. The Pork Duo with peach gastrique is hard to pass up, and of course, it features the best bowl of shrimp and grits along the Olentangy.
895 North High Street
With its low-lit, loungey vibes and Art Deco-style bar, The Rossi infuses its proceedings with an effortless kind of cool that's perfect for making a great first impression. The lamb lollipops might get the most press at the moment (and justifiably so), but the kitchen serves up more than just novelty, as the short rib & polenta gnocchi or bacon-wrapped meatloaf with shiitake madeira sauce will prove.
Best ice cream: Jeni's
714 North High Street
We owe so much to Jeni Britton Bauer, founder of Jeni's Splendid Ice Creams -- not just for her delicious dessert concoctions, but for making ice cream interesting enough for grown-ass people to enjoy. Whether you opt for a pint of salted honey pie, a trio of scoops with a waffle wedge, or a classic chocolate single-scoop cone, you're bound to find an instant favorite on the menu. As Jeni's continues to innovate and spread its delicious wares across the nation, remember that it started right in a stall in Columbus' North Market.
Sign up here for our daily Cleveland email and be the first to get all the food/drink/fun in town.