Although it's true that these days Cleveland boasts a restaurant concept to match pretty much any taste (pig head platter, anyone?), there's something to be said about a good old-fashioned steakhouse. Or, in lieu of a full-blown steakhouse, a good old-fashioned steak. Here are eight of the best places in Cleveland to grab an honest hunk of beef.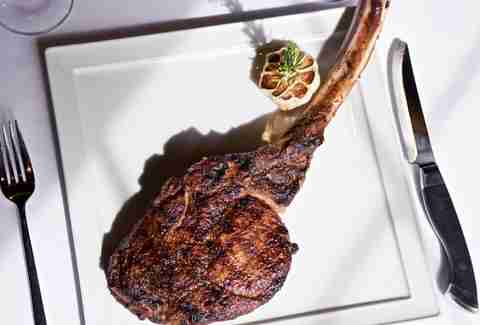 Multiple locations
Featuring USDA prime-aged beef exclusively, XO is one of the best places in town to cut into a high-quality, high-end steak. The upscale, modern atmosphere tends to attract the who's who of Cleveland (if you're into that kind of thing) for glittery, special occasion dinners that last well into the late hours.
Downtown
For those who enjoy their steak with a side of flair, Urban Farmer dishes up delicious food in a stylish, rustic-meets-mid-century-modern decor. The restaurant prides itself on local, organic sourcing, and the state of origin is listed next to each steak on the menu, divided by cut. You'll want to order the killer charcuterie or cheese board to start -- just don't spoil your appetite for the much-anticipated main event.
Shaker Square
Of course, anything that comes out of chef Doug Katz's reputable kitchen is bound to be fantastic, but Fire's signature wood-fired ovens help to take some dishes one step further than that. Don't miss the tandoor ribeye, currently served with cauliflower fritters, braised leeks, Mackenzie goat cheese, tomato chutney, garlic aioli, and burgundy jus, for a twist on a classic steak dinner.
Tremont
For days when you want to snuggle into a homey atmosphere -- that probably feels remarkably similar to your grandparents' house -- with a big plate of hearty food, Sokolowski's has your back. This Cleveland institution dishes up some seriously good Salisbury steak, as well as other meaty specials, accompanied by heaping portions of rotating sides, including not-to-be-missed pierogies. There's a reason the line snakes out the door and around the corner on Friday and Saturday nights: sometimes a generous helping of comfort food simply can't be beat.
Multiple locations
Expect to pay a pretty penny for a meal at Red, but also expect to walk away fully OK with having done so. Don't miss the raw oysters to start, followed by an expertly seasoned steak (no need for fancy sauces or toppings) and a bevy of tempting sides, including truffled & whipped potatoes and perfectly seared mixed mushrooms. When it comes to luxury dining, this is truly money well spent.
Downtown
If there's one thing hometown hero Michael Symon knows and loves, it's gotta be meat. So it should come as no surprise that his flagship restaurant's steak selections, including beef hangar, strip loin, and the ultra-deluxe bone-in ribeye for two, are the best of the best that Cleveland has to offer. Trust us, Lola is most definitely the place to indulge your carnivorous cravings.
Strongsville
A gorgeous gem of a house sitting smack in the middle of suburbia, stepping into the Pomeroy House feels like stepping back into a much fancier time. Although the patio and pub are apt for less formal occasions, the true star of the restaurant is the main dining room. From filet mignon to Champagne surf and turf, New York strip to Texas sirloin, you really can't go wrong by ordering any steak at this longstanding locale.
Multiple locations
Now with 11 locations (seven of which are in Ohio), this Cleveland-based empire has crafted a recipe for national success by serving up generous portions of traditional and specialty steaks in a swanky setting. The speakeasy-like atmosphere, consistently good service, and, most importantly, tender steak, make Hyde Park an excellent setting for all kinds of occasions, from business dinners to romantic dates.
Sign up here for our daily Cleveland email and be the first to get all the food/drink/fun in town.
Beth Phillips is a Cleveland-area writer whose grandparents' house looks EXACTLY like the inside of Sokolowski's (no, seriously). You can follow her on Twitter @CraveableCLE.