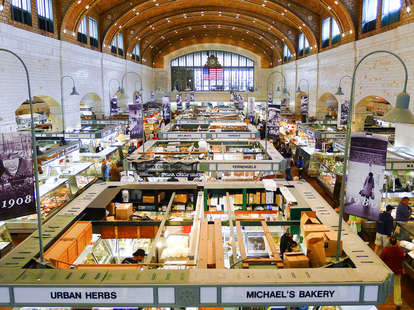 West Side Market

| Michael Gardiner/Thrillist
West Side Market

| Michael Gardiner/Thrillist
The fires on the Cuyahoga River have long since been put out. Not, mind you, before they burned through Cleveland's psyche and economy, leaving behind a shell of a once-great city with little in the way of hope, and a nation only too happy to laugh about its downfall. What had left -- the Browns, the economy -- has in time returned. But living on its own plane through it all has been the city's food. Good food -- really good food.
And yet, one can't help but wonder if Cleveland sees it. In an essay for the October 2016 issue of Cleveland Magazine, Alex Baca counts the food culture's earned national accolades, but ponders whether it can "hit the big time without a distinctive identity." The Los Angeles Times hails Cleveland as a "hot new dining city," as Baca acknowledges; TIME ranked it the seventh best food city in the country, and Cleveland responds, "Maybe we don't deserve it." The scorched earth, underdog syndrome clearly runs deep.
We likely wouldn't be talking about the rising Cleveland food scene if it weren't for Michael Symon. Cleveland had good food before he came along and will continue to after he's gone, but Food Network, which got its extremely influential hands around the hometown hero, has flung and molded Symon into a nationally-renowned chef. And not just any chef -- an Iron Chef. Once the title was bestowed upon Symon, back then a talented chef known only locally, to Michael Ruhlman's readers, and the James Beard Foundation, was flung to national celebrity chef status and de facto ambassador for the city of Cleveland.
Before Symon was a superstar with his own daytime TV show, he was a very good chef. And his Lola Bistro is a great restaurant entirely on its own merit, even if were only judged on the beef cheek pierogi with wild mushrooms and horseradish crème fraiche alone.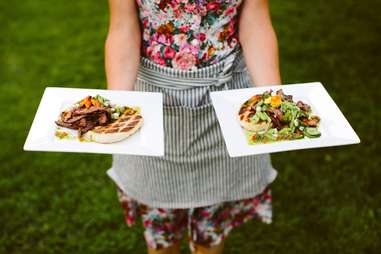 And Symon might not even be Cleveland's greatest chef. His protégé Jonathon Sawyer has emerged as a powerhouse Cleveland restaurateur with two flagships: Greenhouse Tavern (right next to Lola) and Trentina. Greenhouse Tavern plays as a more muscular, energetic take on similar themes as Lola. Trentina, on the other hand, is an opulent take on the rustic flavors of Northern Italy and yet deeply grounded in Northeastern Ohio through its local sourcing of ingredients.
Symon and Sawyer may be Cleveland's best-known high-end chefs, but they're certainly not the only ones doing notable things. There's Doug Katz, Eric Williams, Karen Small, and Ben Bebenroth, for example. At his Spice Kitchen & Bar, Bebenroth features the kind of intense localism that is foodie-bait: many of his ingredients come from the restaurant-owned farm a few miles down the road. Go a little further afield -- Vermilion, to be specific -- and you have Chez Francois Restaurant offering unreconstructed, old-school French elegance.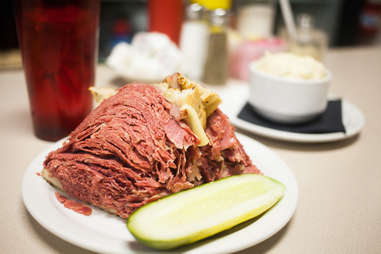 But it truly is impossible to understand Cleveland's food scene solely by examining the top end, and so we must travel to below the mulchy surface, to the city's Eastern European roots. Sokolowski's University Inn, the old-style, family-owned, classic Polish fixture, has all the things your grandmother would have made if you called her babcia: gołąbki (stuffed cabbage rolls), pierogi, and kielbasa, both fresh and smoked. Slyman's Restaurant is the kind of deli that highlights that what we think of as a Jewish deli has broader Eastern European roots. That overstuffed corned beef sandwich is the stuff of legend.
Eastern European cuisine is not the only ethnic food Cleveland offers, however embedded it may be. In recent years, a burgeoning Asian scene has taken root around Superior Avenue just east of 90. Superior Pho may be named for the road, but it might as well be named for the beef noodle soup too. It is as good a bowl as any I've sampled anywhere. Miega Korean Barbeque, on the second floor of an Asian food mall, features top quality meats, a smokeless table barbeque system, and creative banchan. Sichuan Gourmet is just the sort of regional Chinese place one might not expect to find in Cleveland, or the Midwest at all.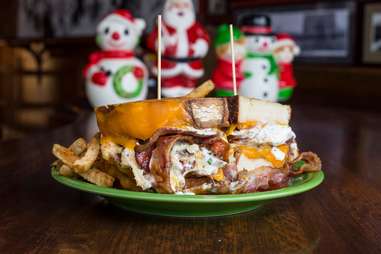 More recently, a new breed of lower end cuisine has taken fresh root in town. Melt Bar + Grilled has built a seven restaurant chainlet around the concept of interpreting nearly every kind of classic (and not-so-classic) sandwich through the lens of hefty grilled cheese. REBol offers ridiculously healthy takes on a dizzying array of cross-cultural fusion dishes in "bol" form over rice with crispy wonton chips. The bone broth, with a hit of spice, is even better. Happy Dog (its menu designed by Eric Williams of Cleveland's top modern Mexican restaurant, Momocho) offers hot dogs and a dazzling selection of 50 toppings ranging from "alien" pickle relish and habanero-pickled red onions to Sriracha and chimichurri sauces, peanut butter, and fruit loops. Yes, fruit loops. It is, in a way, an homage to the over-the-top zaniness applied to the already over-the-top ideas of Seti's Polish Boys, the deep fried grilled kielbasa drowning in French fries, barbecue sauce, and coleslaw.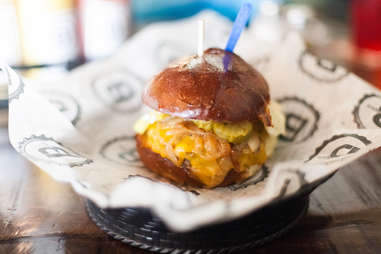 Even Symon and Sawyer are in on the act. In addition to Noodlecat, Sawyer's casual noodle spot inside the West Side Market, he has places in two of Cleveland's three pro sports venues: Sawyer's Street Frites in the Browns Stadium and SeeSaw Pretzel Shoppe in the Q. Symon, for his part, has four locations of his beloved B Spot.
For me, perhaps the key to understanding Cleveland's food scene lay in an exhibition I saw at the Museum of Modern Art in New York in late 1990. Called "High and Low: Modern Art and Popular Culture," it explored the relationship between the individual artistic imagination and the world of popular and commercial culture in the modern era. From Picasso and Marcel Duchamp to Jenny Holzer and Jeff Koons, it asked probing questions about the differences -- and values -- of popular culture on the one hand, and high culture on the other. It challenged prevailing notions of cultural superiority by highlighting the counterintuitive parallels of each end.
These considerations are inherent in nearly every enjoyable meal any of us will ever eat. Is a Michelin-star tasting dinner more enjoyable -- or objectively better -- than a bowl of the best soup your mother made, one you dearly recall from childhood? Does the chef of a great restaurant actually have a hankering, every once in awhile, for a fast food hamburger? Symon's B-Spot suggests otherwise.
But it is Symon's recently-opened Mabel's BBQ, right next to Lola, that brings everything into focus. Neither Kansas City barbecue, Carolina, nor exactly Texas barbecue, what Symon did with Mabel's was create a uniquely Cleveland barbecue. At Mabel's, Symon slings food influenced by Texas but also draws liberally from the food traditions, ethnic and otherwise, of Cleveland. Kielbasa makes a prominent appearance on the menu, as does smoked pork belly (in the place of pulled pork) and a "Polish Girl" sandwich.
To understand the Cleveland food scene, you have to take the high and low and view them in the same glance. Mabel's isn't the only place where Symon's food is grounded in Cleveland's "lower" traditions. That terrific beef cheek pierogi at Lola's is Sokolowski's potato and cheese pierogi refined. Sawyer's roasted pig's head at Greenhouse Tavern does much of the same. At the "low" end, there are restaurant-inspired innovations and variations on classic themes unique to Northeast Ohio. The "high" end, meanwhile, still has strong foundations in Cleveland's ethnic and working class traditions.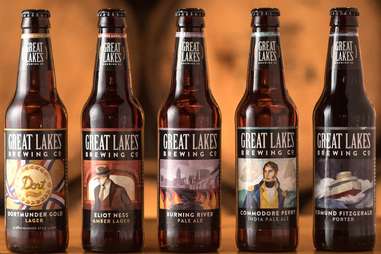 With every passing year, fewer actually remember seeing the Cuyahoga River on fire. It will soon become one of those myths that no one can really say is truth or fiction: a river burning, that's impossible! But Great Lakes Brewery not only named one of its beers Burning River Pale Ale, its founders created the Burning River Fest summer musical festival. Many other Cleveland businesses have adopted the "Burning River" moniker as an act of healing and ironic pride. For others, though, those scars are still painful from the burns.
They should not, however, be allowed to obscure the fact that Cleveland sports a food scene that is easily Top 10 in the nation. It does so its own way -- Cleveland's way. It has one foot in the "high," the other in the "low," and the whole significantly greater than the sum of its constituent parts.
Sign up here for our daily Cleveland email and be the first to get all the food/drink/fun in town.