Everyone knows that winter doesn't slow most Clevelanders down, and the momentum of our growing dining scene is no exception to that rule. This season has had its own bumper crop of restaurants open, giving us the perfect excuse to drag our homebody friend out of the house to venture out for taste tests -- snow be damned! Here are the must-try spots -- both freshly minted restaurants and new locations of old favorites -- that are heating things up in the bitter cold.
Gordon Square
It's late, you're bundled up, and you just came from one of the growing Gordon Square Arts District's many shows. You want poutine and sausages. This winter, Banter gave us the refuge and sustenance we needed. Veggie-friendly, lamb stroganov, and heritage pork poutine are all here to warm your belly. Their "breakfast" dish is built around Ohio maple sausage, but you can grab it up until the late night kitchen call.
Ohio City
Though it may be shiny and new, this hot dog-themed restaurant is rooted in the sock hop days of yesteryear. It took over the former Deering Vintage storefront and, fittingly, picks up on retro chic where Deering left off. Right along the W 25th strip, Weenie a Go Go is all about bubbly Coca Cola and drive-in movie dates as much as they are about authentic Chicago dogs. Keeping it Cleveland, the wieners are straight from local Wolf Boy Provisions.
Little Italy
In the heart of Little Italy, this newcomer adds an American flair to the traditionalist neighborhood. The main drag is already a sight to behold on snowy days, and now, we were given a whole new reason to visit. Retaining the feel of the historic surroundings, the tavern brings life to its 100-year-old building. Deep fried spaghetti inside meatballs and hangover tortilla soup are slam dunks. Flatbreads, salads, and ice cream with house-made chocolate sauce offer something laid back for everyone. For a casual winter warm up, a nice variety of wine and craft brews are on tap. Did we mention the bacon sriracha onion rings? Those exist.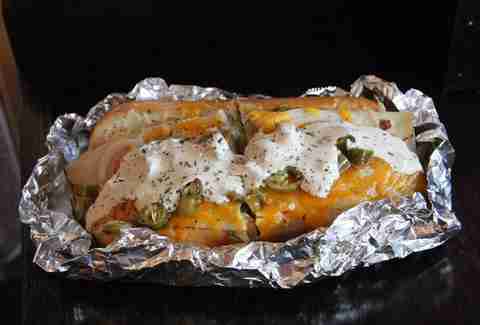 Downtown
The Hermit Club is by no means new; established in 1904, it's been operating as a private club for more than a century. Now attached to the Hofbrauhaus, the space swung open its doors to the public this year. The more upscale, fine dining wing serves a special menu. As an added bonus, it makes for a quick place to steal away for a post-show hang with its proximity to Playhouse Square.
Akron
Nothing warms us up quite like fresh baked bread, and Brimfield is at the top of its game. Wood-fired rustic rolls, country sourdough, pepperoni rolls, and olive and herb focaccia are just some of the breads baked daily. Pastries, such as scones and croissants, are also available for a quick early day snack. Build-your-own pizzas and house favorites like the margherita and veggie are bound to only grow in popularity.
Ohio City
On our coldest days, there's nothing like a hearty sandwich, and Herb'n Twine doesn't skimp on the fixings. Another foodie addition to the growing Lorain Rd strip, this grab-and-go sandwich shop took over the former Speak In Tongues nightclub space. Fried chicken with Korean barbecue sauce, sesame slaw, and cilantro makes an appearance, as does a porchetta sandwich with chilichurri. Daily specials, veggie options, soups, and salads round out the menu.
Waterloo
We already told you why Citizen Pie's wood-oven Neapolitan pizzas were one of the best new things we ate last year, but we're especially grateful for it this winter as we slush through the Waterloo Arts District. No cold can impede the Beachland Ballroom's concerts, and nothing can hold us back from shuffling from gallery to gallery in Collinwood's buzzing art scene. Between it all, Citizen Pie has quickly grown into a go-to destination before our favorite shows and events.
Akron
As if we didn't already eat our weight in grilled cheese at the Lockview, they've gone and opened up a taco shop next door. Serving up street tacos, burritos, and salads, this only makes our munchies worse. For true late night eats, try an order of Disco Fries covered in chihuahua cheese, guacamole, and sour cream.
Willoughby
Call it a kitchen, call it a cantina. Or do as Local Sol does and call it a "cantiki." Whatever it is, cocktails are what we need right now, and the latest newcomer to Willoughby's growing dining scene is bursting with Latin fare with the likes of mariquitas, Spanish sausage, and piri piri wings. Rancheros and a Spanish take on eggs Benedict heat up their brunch -- not to mention the build your own Bloody Mary bar.
Solon
This smokehouse serves up BBQ favorites like ribs, pulled pork, and brisket. Burgers like The Deep South topped with fried green tomatoes pay homage to its roots. Those not looking to douse their palates in barbeque sauce can opt for the pizzas, like the meaty Little Italy and veggie spinach and artichoke. Or order up the smoked chicken and roasted corn pie with BBQ sauce for the best of both worlds.
Akron
This winter we're thankful for bakeries that opened in time for Paczki Day. Follow your nose to the first floor of Greystone Hall, where you'll find fresh-baked, scratch-made seasonal baked goods. Savory quiches balance out all the sugary goodness. While you're there, snag a French press from local coffee favorites Bent Tree.
Downtown
One of the city's favorite coffee shops has finally made its way Downtown, and this season we couldn't be more relieved to grab a hot cup of Joe. Factor in that this year that Humble Pie Baking Company began partnering with Rising Star shops to carry the delicious pies, and you have a match made in Cleveland winter heaven.
Sign up here for our daily Cleveland email and be the first to get all the food/drink/fun in town.
Nikki Delamotte is a Cleveland-based freelancer who can be persuaded to call you her favorite place to eat in the winter depending on the quality of your paczki. Follow her on Twitter at @nikkidelamotte.