Classic rock pours from the speakers above. Morrison, Hendrix, and Elvis float overhead in a psychedelic swirl of a ceiling mural. "We were just a band that made it very big," reads a painted Beatles quote hanging on a soda pop cooler.
If the Beatles were the little band that hit it big, Dave's Cosmic Subs is the little Cleveland sandwich shop that could.
Nineteen years and 21 stores in four states later, the Dave's chain has more of a cult following than Ken Kesey and his Merry Pranksters. The tie-dye walls, decorative gold records, British invasion flags, and concert posters send you straight back to that one smoked out college hangout, also known as Dave Lombardy's California past.
Every store looks like it's straight from Further's DayGlo painted bus on the magical mystery tour, and at any moment, the Pranksters could spill out of the doors, stoned and chomping down on Turkey Daves. Dave's trippy logo has become iconic and synonymous with cheesy, meaty subs slathered in savory Cosmic Sauce on flaky Italian bread.
"Space Oddity" by David Bowie (RIP) is playing when Dave Lombardy saunters into the Fairmount Circle store, the very first of the Dave's franchises; the original, which opened on March 5, 1997, is planted in Chagrin Falls. Hair still long and dressed in black, he's as ready to talk about his rock 'n' roll heyday as he is about building a sandwich empire.
"I saw Bowie while I was living in California," Lombardy says. "Some stars don't have the charisma, and some do. And some reek with it. He reeked with it."
Lombardy is a musician turned actor turned musician (again) turned sub entrepreneur. Growing up, his father owned the wholesaler, Seaway Foods (responsible for Giant Eagle's existence). He could have followed in papa Lombardy's footsteps, but instead, he shirked the family business, however momentarily, and opted a for rock and roll lifestyle.
In the end, he combined them both to build an empire on his own terms. Each shop is a mirror of Lombardy, the type of guy who counts The Electric Kool-Aid Acid Test, Zen and the Art of Motorcycle Maintenance, and Buzzed: The Straight Facts About the Most Used and Abused Drugs from Alcohol to Ecstasy essential reading. The type of guy who lived below Jerry Garcia in San Francisco. The type of guy who shared the stage with Steppenwolf.
With more stores opening across the country, Dave's is poised to be larger than life, like the piece of Pete Townshend's smashed guitar Lombardy caught at a Who concert, or the way he describes Freddie Mercury when he saw him live. "It's only a matter of time before we're big," he says.
The Early Years (pre-1972)
Before he even hit his teenage years, Lombardy was bit by the acting bug. His dad's company sponsored plays at Cain Park that little Dave would watch from the front row. After, everyone would go to the tiny classic Italian joint, Geraci's, and party until they shut the place down.
At 15, he was in his first band, The Collection. They played with the James Gang at St. Paschal's Church and tickets went for $2.50 a pop. Fittingly, the band that started it all is represented in the place that started it all -- look closely and you'll find a Collection poster in the Dave's shop in Chagrin.
By driving age, he was playing at Beachwood High School, and Case Western Reserve and John Carroll frat parties with his new band, The Other Side. "My bass player went to London for a month and came back with Jimi Hendrix's first album," recalls Lombardy. "He said you have to hear this guy. So we learned a couple of the songs and it blew everyone's mind."
He became a diehard music fan, going to shows throughout the city. One of his fondest memories was a 2,500 capacity show at the Musicarnival on July 2, 1969 featuring a barely drinking aged (in America, anyway) Led Zeppelin. As legendary rock critic Jane Scott remembers, "[Robert] Plant shakes his shoulders, jumps high in the air, stomps his $60 python boots, twirls the mike like a lariat, does the bumps and grinds like a flat-chested sexy headliner. And the standing-room-only audience was with him all the way."
California Dreaming (1973-1983)
Lombardy made the jump to the West Coast to be an actor. He studied at the American Academy of the Dramatic Arts in LA during the day, and trained with famed acting coach Lee Strasberg until the early morning hours. He ended up in more than 50 productions. While he was performing as Tony in West Side Story in LA's Simi Valley, a man approached him about a band he was managing that was looking for a lead singer. He sang for them in their North Hollywood studio once, and was hired on the spot.
Performing under the name Anthem, the band lived in a group house in West Covina, but eventually, the quartet changed their name to Foreplay and moved up to San Francisco.
Lombardy landed in the scene epicenter of Mill Valley, the same neighborhood Jack Kerouac and the other Beat poets lived in during the late '50s. Foreplay shared stages with the likes of Steppenwolf, Eddie Money, and Huey Lewis and the News.
"I had hair down to here," Lombardy says, pointing mid-chest. "It was just another world, another time. We were rock and rollers."
Being in Mill Valley, Lombardy lived for seeing shows as much as playing them. The nearby Sweetwater Music Hall, which he describes as not much bigger than Rick's Café in Chagrin (so, tiny), was known for acts to do a set or two before they hit the road.
"Imagine you and I are there, having a drink one night; it's two bucks a drink, we're having a good time," he recounts. "Not many people. All of a sudden, roadies come in with equipment, they set up. Guess who sings for six hours and you and I are sitting there and it doesn't cost us nothing except our beers? Van Morrison."
But he recalls one of the best concerts he's ever seen at the Whisky a Go Go in West Hollywood. "The place is packed," he says. "Guy comes down on a pole, he's got no shirt on. Van Halen. I'm watching Van Halen play at the Whisky, they're not even signed. They're a garage band. And they're MIND-BLOWING."
The Sub Empire (early '90s-now)
Lombardy returned to his hometown and met and married his wife, Mary Ann. He continued his acting career and wrote, directed, and starred in his play This Time Around at the River Street Playhouse.
And then he told Mary Ann he wanted to open a rock and roll sub shop. As Lombardy recalls, "She said, 'Are you out of your f------ mind?'" He ran with the idea, and in 1997, they opened their first shop in a renovated house in downtown Chagrin Falls, around the corner from the titular falls themselves.
Dave's stores started popping up throughout Cleveland before eventually franchising. Little has changed from the early days of the menu, except the addition of the insanely addictive Dave's Cosmic Sauce and house sodas. Sandwiches shouldn't be this good, but topped with a pile of banana peppers and thickly shredded provolone cheese on perfectly crunchy bread, they are. And that peppery, piquant Cosmic Sauce is good on anything (Dave's bottles and sells is now, too).
Eleven years ago, Dave's made a bold move: it broke out of the Ohio market and planted a store in Atlanta, Georgia, and the revolution continues to expand outward. Dave's landed in Texas five years ago, and bought enough property to add an additional near-dozen shops in the upcoming years. Most recently and appropriately, Dave's took root in California -- and more west coast shops are soon to come. The next state Dave's will conquer is Florida.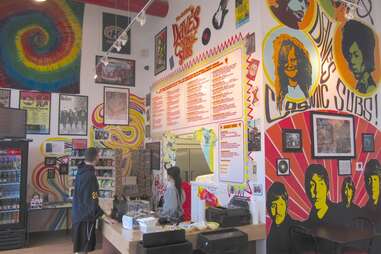 In 2008, Lombardy received a phone call: Rolling Stone was at the Chagrin shop. Dave's was written up in the magazine as one of the best tuna sandwiches in America. "I tried so hard for so long as a rock star to get in," Lombardy says. "And never did. Then my tuna gets written up."
Even though his bands never took off in the way he dreamed, the sandwich venture has been way more lucrative than being forever the opening act. Try talking to your mom about your favorite local band; you'll probably be snubbed with a disinterested yet motherly saccharine, "That's nice, honey."
But you'd be hard pressed to find a Clevelander who hasn't tried a cosmic sub. "When I opened the first Chagrin shop, I had people saying, 'What are you doing here?'" remembers Lombardy. "I said, 'I'm gonna have a chain.' They looked at me like I was crazy. They don't look at me like that now."
Sign up here for our daily Cleveland email and be the first to get all the food/drink/fun in town.
Nikki Delamotte is a Cleveland-based freelance writer and sandwich historian. Follow her on Twitter at @NikkiDealmotte.