Brunch: it might just be the greatest merger in history. It takes the most important meal of the day, and makes it available at a not-so-ungodly hour. But if you're also going to get it in a not-so-ungodly location, you need to know where the best ones are around the city. Well, we're here to help with that.

Battery Park
Graffiti: A Social Kitchen
Address and Info
Pancakes and omelets certainly have their place in our brunch-loving hearts, but what better time than the weekend to try something out of the box? Featuring a seriously inventive menu of must-try dishes including chorizo Pop-Tarts and Brie-stuffed French toast, Graffiti offers diners plenty of reason to break free from standard brunch fare.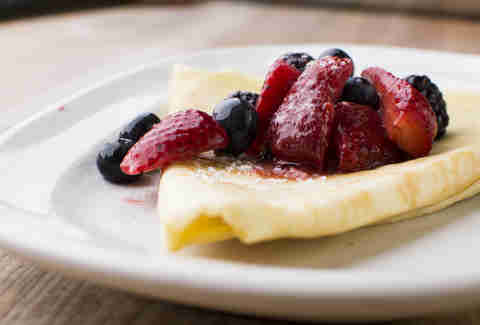 Cleveland Heights
Luna Bakery Cafe
Address and Info
Offering excellent baked goods all week long, Luna's a great place to nip into for a quick pastry and hot cup of joe on the way to work. Come the weekend, it's an ever better place to relax over the newspaper with a frothy latte and house-made crepe, oozing with rich fillings such as fresh mozzarella and pesto or Nutella and bananas.
Downtown
Urban Farmer
Address and Info
There's nothing quite like a good steak, but then of course good steaks don't come cheap. For an Urban Farmer experience without the steakhouses prices, weekend brunch is a sound option. Whatever you order, make sure it comes with one of the not-to-be-missed, pillow-soft, house-made English muffins.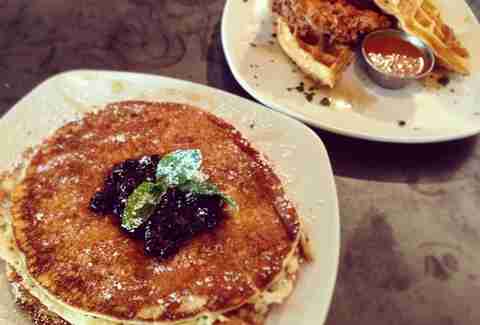 The Flats
Flip Side
Address and Info
Despite an impressive crop of new restaurants helping to spearhead The Flats' revival, finding a worthwhile brunch spot in the area can be tricky. Luckily, the team behind Flip Side is now offering weekend brunch in this new location, extending their locally sourced, owned, and brewed concept well beyond the evening hours.
Gordon Square
Spice Kitchen + Bar
Address and Info
Proving that farm-to-table fare is equally delicious in the light of day, Spice does an excellent job translating its local, sustainable concept into a truly excellent weekend brunch. Featuring warm beignets, fluffy omelets, and some of the best cocktails in town, Spice's brunch is easily the best in the area.
Lakewood
Pier W
Address and Info
Some brunches are best enjoyed in sunglasses and sweatpants while nursing last night's hangover, while others should be saved for truly special occasions. Representing the latter, Pier W's ultra-fancy brunch offers everything from a carving station to a raw bar, plus truly spectacular views of our glittering Great Lake.
Little Italy
Washington Place Bistro & Inn
Address and Info
You don't have to be an overnight guest at this historic inn to enjoy what the kitchen has to offer. With a tempting menu of brunch favorites taken to the next level, Washington Place is worth the trip to Little Italy.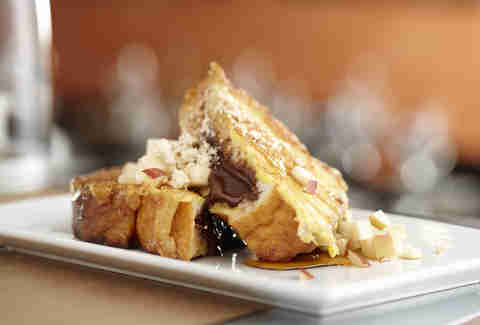 Moreland Hills
Flour Restaurant
Address and Info
Take this restaurant up on its bottomless mimosas offer and lock yourself in: from Nutella-stuffed French toast to bubbly wood-fired pizzas, Flour's brunch is definitely worth a sit-and-savor kind of morning.
Ohio City
Jack Flaps
Address and Info
Playful takes on pancakes, waffles, and French toast are the backbone of this ultra-creative breakfast menu. If your tastes lean sweet, try the "Fat Elvis," a waffle with peanut butter whip, banana, and bacon praline. Savory-seekers should try the "Real F'ing Breakfast Burrito," with adobo-braised beef, hash, scrambled egg, manchego, smoked tomato salsa, and crema.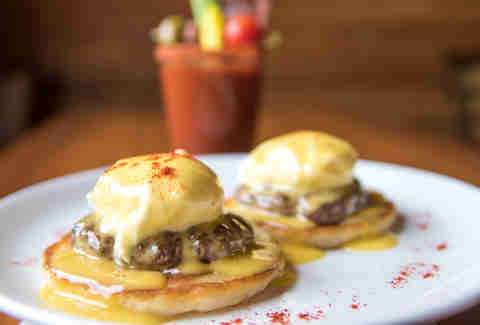 Rocky River
Market
Address and Info
Market's welcoming yet spacious interior makes the restaurant a great spot for large parties, while the menu's diverse offerings include something to please every taste. And don't miss the real crowd-pleaser: Market's Bloody Mary-making "adult salad bar."
Shaker Square
Fire Food and Drink
Address and Info
This Shaker Square mainstay has stood the test of time by turning out consistently great food in a sleek yet comfortable setting. Fire offers an extensive menu with a keen focus on high-quality, locally sourced ingredients. The reasonably priced weekend brunch is the perfect opportunity to roll up your sleeves and dig on in. We'll take one of those sticky buns, please.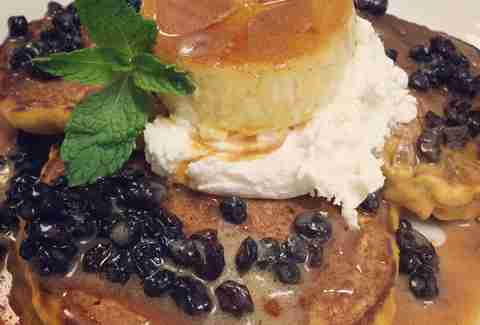 Tremont
Lucky's Café
Address and Info
Set in a quaint yet comfortable old house, Lucky's is crazy adorable and more importantly, crazy delicious. Pop in for fantastic coffees and tempting pastries to go, or just sit and linger over one of the best brunches in the city.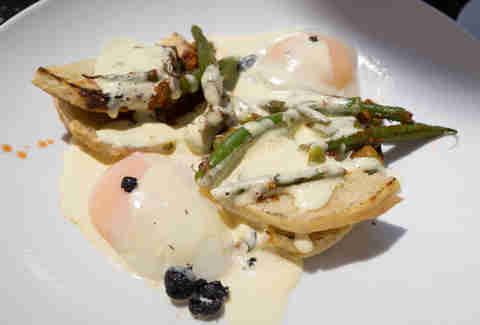 University Circle
Trentina
Address and Info
Part food, part entertainment, Trentina's innovative menu caters to those who are hungry for a meal that's slightly out of the ordinary. Diners can select from a rotating menu of brunch classics with seriously inventive twists (eggs are roasted over embers, etc.). No matter what you order from this University Circle spot, expect to be surprised... in the very best way.
Sign up here for our daily Cleveland email and be the first to get all the food/drink/fun in town.
Beth Phillips is a Cleveland-area writer who is still searching for an answer to the eternal brunch dilemma: savory or sweet? You can follow her on Twitter: @CraveableCLE.