Pizza is the perfect meal for any season. When it's warm out, you're too busy to eat anything but the ideal grab-and-go option. When the cold inevitably returns, it pairs perfectly with an entire bottle of wine for hunkering down indoors. Plus, pizza lends itself to leftovers, minimizing the number of times you have to leave the house, if you're into the whole hibernation thing. Whether you're craving a cozy evening out at one of Cleveland's best restaurants or a night in with delivery and a blanket, these are Cleveland's go-to pizza joints to keep you feeling full and warm.
Lakewood
Neapolitan pies and affordable wine in a romantic atmosphere
Three words: Get the Lardo. OK, yes, we are suggesting you order a pizza topped with cured fat. But honestly, just give it a shot: It's a can't-miss, especially when paired with roasted garlic, fontina, Taleggio, and rosemary. Wash your pie down with a quality selection of (as the restaurant's name would suggest) reasonably priced wine, craft cocktails, or beer, in a casually romantic setting.
Cleveland Heights
Cozy bistro serving chewy pizzas and all-Italian wines
With a dimly lit, European bistro-like atmosphere, Marotta's is the kind of neighborhood spot you wouldn't mind settling into night after night for a good glass of wine and a generous serving of quality Italian comfort food. Although it's hard to pass over the tempting array of homemade pastas and entrees, pizza aficionados are wise to head straight for the pies. Ample (but not-too-thick) crust serves as the perfect vehicle for transporting a bevy of delicious toppings, such as fresh mozzarella, salty prosciutto, and roasted garlic, straight into your mouth.
Collinwood & Ohio City
Neapolitan-style pizzas in an open kitchen
At Citizen Pie -- a small cafe equipped with a giant pizza oven -- there is no mistaking what you're in for when walking through the doors. Ultra-high-quality ingredients grace the top of doughy, charred crust, resulting in one of the best Neapolitan-style pizzas you can find anywhere in town. Don't miss the classic smoked pepperoni with mozzarella and oregano for a taste of perfection, pure and simple.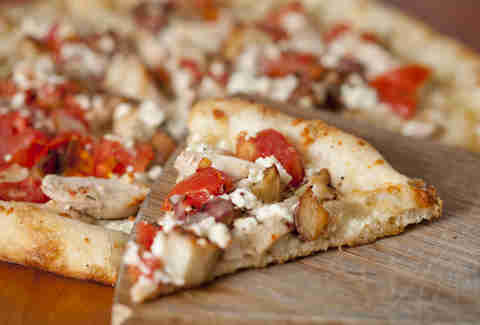 Tremont & Midtown
Creative pies and truly giant slices
After gaining acclaim in a more humble spot, Crust has upgraded their Tremont location to a roomier space with a full bar, PLUS added a lunch location in the midtown corridor. The team is turning out some legitimately inventive pies, giving umami-minded diners a host of off-the-wall pizza options to sink their teeth into. Try the Mixed Mushroom, topped with goat cheese, fresh thyme, garlic, caramelized onion, balsamic reduction, Pecorino Romano, mozzarella, and, oh yes, an indulgent drizzle of intoxicating white truffle oil.
Strongsville
No-frills takeout shop slinging eclectic pies
Situated smack in the middle of the suburbs, A Slice Above can be easy to drive right past, but it sure is a shame if you do. This long-standing shop cranks out piping-hot pies that range from ultra-traditional to ultra-decadent, all on puffy crusts. Don't miss the Veggie Patch, a combination of mushrooms, onions, green peppers, broccoli, sliced tomato, and black olives, all buried under a heap of mozzarella and provolone. Almost healthy, but not.
Tremont
Late-night spot for specialty pies or to-go slices
Edison's gooey, thick pies are just what the doctor ordered after an indulgent night of drinking. Generous slices are available for those in a hurry, though Edison's specialty pies are definitely worth the wait (and it's open late). Try the BBQ chicken with homemade sauce, onions, a blend of cheeses, and a side of honey for some oh-so-necessary dipping.
Gateway District
NY pizza made by legit Big Apple transplants
Of course New Yorkers know their stuff when it comes to great pizza, and Vincenza's is about as close as you can get to a classic NY slice here in Cleveland. Lunchtime is prime time at this joint, which is only open during the week, and closes at 6:30pm. So get in line, and don't mind the wait -- we promise you'll be deliciously rewarded for your patience.
Cleveland Heights
Neapolitan pies made with fresh, handmade dough
Vero's owner does not mess around -- this dedicated fella makes each batch of dough, each pizza, every day. These seriously delicious Neapolitan pies are made from simple ingredients, hand-rolled, and cooked in a wood-fired oven for just 90 seconds. The result is crispy on the outside, chewy and soft inside, meant to be eaten straight out of the oven, and left uncut. Mangia!
Lakewood
Doughy crusts and plentiful toppings
Light-as-air thin-crust pies certainly have their place in our pizza-loving hearts. But when you're in the mood for something more substantial, Angelo's has you covered. Thick, saucy crusts are generously topped with plenty of cheese and a generous shower of toppings. Sometimes we like our pizza abundant, and Angelo's does it right.
Lakewood
Ultra-thin-crust pies, pasta, and of course, sandwiches
Tomori's has gained a loyal following for its tasty, thin-crust pizzas that can't quite be classified in one specific genre. Try the Tomori's Favorite, topped with prosciutto, homemade sausage, tomato, Kalamata olives, extra Parmesan, provolone, and mozzarella cheese. Clearly this guy knows his pizza, so we'll take what he's having.
Lakewood
Buckeye-style pizza and arcade games
New York has its own style, Chicago has its own style… it's high time our region gets a pizza style of our very own. Enter Poor Junior's with its unique "Buckeye Style," which, according to them, has actually been around since the 1930s. Crispy crust is loaded with high-quality toppings, including crushed tomato sauce, smoked provolone, and old-world pepperoni. The pie is tavern-cut into small squares, making it all too easy to grab "just one more" slice. You'll want to opt for takeout over delivery, as the pizza shop's arcade games are a draw of their own.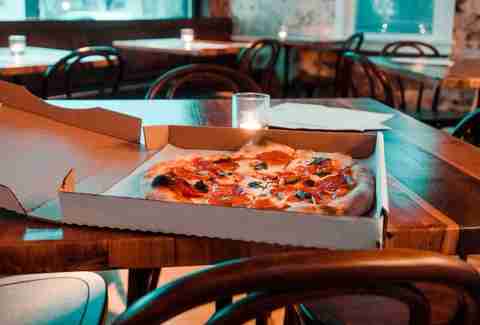 Gordon Square
Great atmosphere, plus superb pies and drinks, make for a near-perfect evening
Not only is this one of the best pizza joints in Cleveland, it's also one of the best restaurants in town. With good reason: This stylish spot features an ultra-cozy interior, charming alleyway patio, and an enticing menu of thoughtfully prepared salads and pies. Try the Speck pie with lemon ricotta, pistachio, and hot honey. Or, if you're feeling more spicy than sweet, opt for the Diavolo with mozzarella, Calabrian chilies, spicy salami, and red onions. Ask for a small dish of their olive oil for crust dipping -- so good you may want to drink it. Instead, pair your meal with a selection off the small-but-mighty Italian drinks list.
Lakewood
A curated selection of wood-fired Neapolitan pizza in this minimalist spot
The restaurant is small, and the menu is smaller, with a selection of just five pizzas and a handful of beverages. Yet Harlow's narrow focus pays off, because their Neapolitan-style pies are easily some of the best in the CLE. Try the Margherita with San Marzano tomatoes, mozzarella, extra-virgin olive oil, fresh basil, and sea salt. In a place like this simple is better, where careful preparation enables beautiful ingredients to truly shine.
Sign up here for our daily Cleveland email and be the first to get all the food/drink/fun in town.