The Best BBQ Joints in Cleveland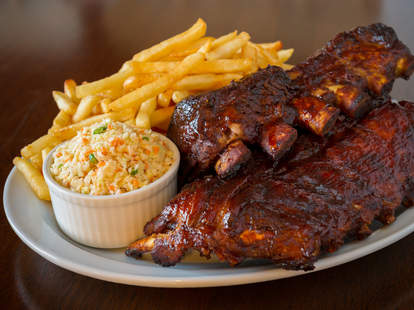 At first glance, it may seem as though Cleveland is seriously lacking in quality BBQ options, especially when compared to our friends down south. And that's because... well, we kind of are. Luckily, the allure of delicious, slow-smoked meats and stick-to-your-ribs sides seems to be catching on up north, thanks to a handful of establishments doing it right. Here are nine of the best BBQ spots in Cleveland (plus one coming soon):

Fairfax
There is perhaps no name more synonymous with Cleveland barbecue than Hot Sauce Williams. This Cleveland institution first gained national notoriety when Anthony Bourdain and Michael Symon visited for an episode of No Reservations. Since then, it's made rounds on national TV, with appearances on Man vs. Food and a nod on The Today Show. Aside from the barbecue, don't miss the famous Polish Boy, a kielbasa sausage covered in fries and slaw, stuffed in a bun, and doused in spicy barbecue sauce.
Fairfax
Behind Cleveland Clinic's mammoth campus, it's easy to miss Doc and Lennies, but it sure is a shame if you do. It's quietly pumping out superb homestyle meals with Southern flair, including dripping smokehouse ribs. The portions are huge and the staff is super friendly. This is one of Cleveland's best-kept saucy secrets.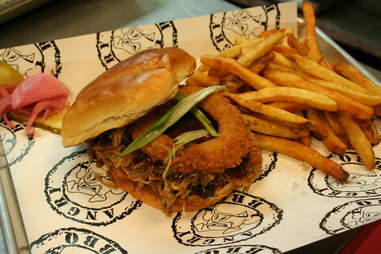 Courtesy of Angry Barbeque
Canton
Pitmaster William Boyd has a passion for fresh food, and that passion is evident in most everything that emerges from Angry Barbeque's kitchen. Friendly staff are happy to walk you through a lengthy chalkboard menu, featuring all of the usual meaty suspects, each cut smoked in its own secret marinade, plus creamy mac and cheese (that you can and should get topped with brisket and BBQ sauce), and kick-ass cornbread.
Courtesy of The Brew Kettle
Strongsville
Let's face it: the primary allure of The Brew Kettle is, well, the brews. But if you give a man a beer, he's going to ask for a plate of food... eventually. Luckily, The Brew Kettle makes standout pulled pork and barbecued ribs, alongside all the rest of its bar-food staples. Those who are feeling brave should try the barbecue spaghetti, pasta tossed with slow-smoked pork and secret sauce, topped with cheddar cheese and scallions, and served with a side of slaw. It's like Cincy-style chili, but way, way better.
Cleveland Heights
Small and ultra welcoming, The Rib Cage could easily serve as every local's favorite neighborhood bar. But it's the food -- locally sourced, sustainable, St. Louis-style smoked meat dishes, plus a bevy of sides, including bourbon baked beans and crunchy, sweet corn on the cob -- that entices you to stick around for much more than the booze (meaning bourbon). And don't pass up on an order of the flavor-packed wings, easily some of the best in Cleveland.
Lakewood
This tiny takeout place is seasonal and primarily known for its hot dogs and ice cream. But trust us: you'll want to forego those in favor of the absolutely delicious barbecue. Strap on your bib and tuck into a messy Jimbo sandwich -- slow-smoked beef brisket, topped with horseradish sauce, Gorilla BBQ sauce, mozzarella, and pickles. Or try the Bird Town sandwich, which is smoked chicken breast with chipotle cheddar cheese sauce and pineapple.
Akron
All of the elements are in place here to be everyone's favorite barbecue restaurant: a clean, comfortable atmosphere, friendly staff, and most importantly, some damn fine barbecue. Opt for the tender beef brisket and a sampling of sides, including rich mac and cheese and crispy fried okra. Whatever you do, don't miss out on a gigantic slice of the peach cobbler, which you definitely won't need, but certainly must have.
Courtesy of Proper Pig/Indie Foundry
Lakewood
Since launching a food truck more than two years ago, owners Shane Vidovic and Ted Dupaski have quickly gained notoriety for their legit slow-smoked, Texas-style barbecue (just look at the charred crust on that brisket), so much so that Proper Pig is set to open its own shop in Lakewood this spring. That's great news for those who prefer their barbecue stationary, with a cool side of beer, or bacon on a stick.
Medina
At first glance, this smokehouse and microbrewery may appear to be planted in the middle of nowhere. However, the hickory-smoked meats and secret recipe barbecue sauce, excellent craft brews (mostly made on location), and some crazy good wings (really, though, don't miss those wings), make Lager Heads well worth the trek.
Courtesy of Mabel's
Downtown
OK, so this is more of an honorable mention, since Mabel's doesn't open until April 11. But since pretty much everything local celebrity chef Michael Symon touches turns to gold, we're certain this will be no different. Therefore, no "Best BBQ in Cleveland" round-up would be complete without mention of one of this year's most anticipated restaurant openings. We'll be first in line.
Sign up here for our daily Cleveland email and be the first to get all the food/drink/fun in town.
Beth Phillips is a Cleveland-area writer who argues vehemently in favor of wet barbecue (with extra sauce on the side). You can follow her on Twitter: @CraveableCLE.