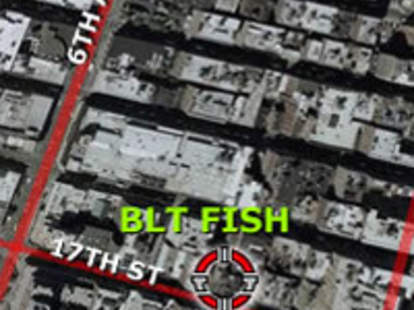 Crab cakes are delicious. Delicious enough to kill for. Find out who lives and who dies this Sunday, during the Crab Cake Battle Royale at BLT Fish's First Annual Crab Fest.
The CCBR pits some of NYC's top chefs in remorseless crustacean competition. Representatives from Nobu, Aquagrill, Brasserie Ruhlmann, and others'll be there, hoping to earn immortality. Judges include food writer Andrea Strong, "Top Chef" host Katie Lee Joel (Billy's life/drinking partner), and a real crab fisherman flown in from Alaska -- who, having lost fingers retrieving the delicious beasts from the icy depths, won't have sympathy for anybody screwing up the mango aioli.
Though you yourself won't be battling, you'll enjoy the spoils: your ticket covers all the beer, cocktails, and wine you can drink. There'll also be tables heaped with exoskeletoned chow, from Crab Cakes to Crab Cannelloni to Crab Oyster Rockefeller. You can scarf as much as you can hold down -- though if you must discreetly vomit to continue eating, that's totally acceptable
This event was sold out, but we've convinced BLT to open up a ticket block. Just RSVP to crabfestival@bltfish.com and put "CrabFest: Thrillist" in the subject line -- they'll send you an order form to fax in, then email you a printable ticket. If you can't RSVP quickly enough, just join the hungry mob outside, ready to storm in and make the streets run red. With crab.