Local resto heavyweights hire a cocktail killer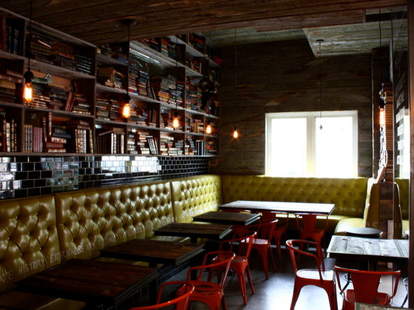 For special jobs, heavy hitters bring in an even heavier hitter, like when Avon Barksdale flew down Brother Mouzone, or Dalton told Wade Garrett everything was all right -- a cry for help Garrett was able to interpret despite not having an NYU philosophy degree. Or having foreplay-free sex with Kelly Lynch. Bringing in an NYC cocktail-hitman, the partners behind Craft & Commerce.
C&C's headed up by Noble Experiment's founding duo, who tapped Phil Ward of NYC's vaunted Death & Co speakeasy to serve as apothecary to the drinks program; the space itself's like a literary cabin, with bookshelved classics fronting broken mirrors and randomly scrawled quotes from Steinbeck, Kerouac, and D.F. Wallace, all enclosed by a roof & walls paneled with actual Wyoming snow fence, itself draped in authentic moss -- i.e., high on junk, but the magazines can't say no to it. The "simple American" fare ranges from snacks like Devils on Horseback (an Applewood bacon wrapped smorgasbord: smoked pepperjack-stuffed Medjool dates and green apple w/ blue cheese, plus poached garlic, mushroom & asparagus) to filler-uppers including the pepperjack fondue-paired Berkshire Hot Dog Trio, a threesome garnished with everything from pickled daikon to chicharrones, stars of MTV's dearly departed The Rind. Ward's good work includes the Paloma de Jerez (jalapeno-infused tequila/dry fino Sherry/grapefruit & lime juice/salt), the Darkest Storm (dark Jamaican rum/fresh ginger syrup/lemon juice/stout topper), and the punch-bowled gin/lemon/grapefruit/black tea-infused sweet vermouth/champagne "Mother's Ruin Punch", though usually they accomplish that by not letting you put alcohol in it.
For those that love their beer, they've also got a plethora of bottles and 25 taps spewing out the likes of various Lost Abbeys, Bear Republic Racer 5 IPA, Stone Levitation, and Green Flash Xtra Pale -- or, Wade Garrett's face once it became clear he wasn't as heavy as he used to be.