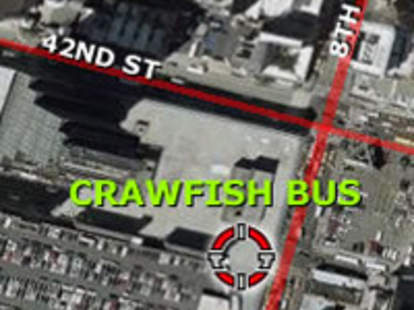 Crawfish are mean, ugly, and breed in pools of sludge, but despite having three strikes against them, they're incredibly tasty. To celebrate their delicious triumph over adversity, head to Michael Arnone's 17th annual Crawfish Fest, like Jazz Fest, but in Jersey.
Less than an hour from Manhattan, the Fest draws 20,000 drooling revelers for two days of Cajun excess: eating, drinking, and ignoring hundreds of port-o-potties in favor of peeing on trees. Besides beer, vendors'll be selling jambalaya, southern fried chicken, hot roast beef po-boys, alligator sausage, and, of course, Louisiana mudbugs: five tons of them trucked up from the bayou, then boiled alive -- much less unsettling than it sounds, as crustaceans aren't particularly loud screamers.
For entertainment, there'll be 13 New Orleans Jazz Fest regulars on three stages, notably the Radiators, Rebirth Brass Band and Little Feat. As for transport, Festival buses depart the Port Authority at 10:30am, and head back to NYC 30 minutes after the last band's done. Camping out's also an option, but if you're willing to sleep in a urine-soaked Jersey field, you're no better than a crawfish.