Cronkite Pizzeria and Wine Bar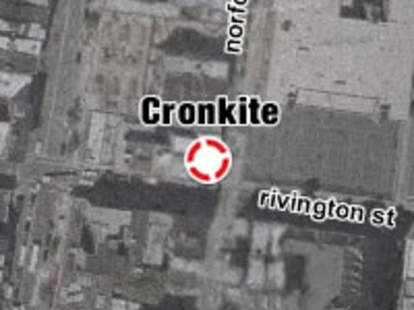 Brooklyn's famous for its quaint brownstones, big-hatted Messianic Jewish community, and pizza. But now, if quaint, bearded men want the latest, greatest Brooklyn pie, they'll have to come to Manhattan: Cronkite, officially opening Monday.
Cronkite's the latest venture from Michael Ayoub, the #1 man on the Grimaldi family's hit list after critics tapped his Williamsburg joint Fornino as the Borough's best pizza. The new spot's setting is extremely LES (a low-ceilinged cavern lurking beneath Norfolk St), but the menu'll be blessedly similar to Fornino: 25 pies featuring tomatoes flown in from Italy, herbs organically grown in Ayoub's own greenhouse, and hogs organically whacked in Canada. Alcohol's beer/wine only but includes a 75-bottle vino list created by Red Cat alum Raoul "Canned By Red Cat For Drinking 75 Bottles" Segarra.
Since there's never a bad time for hog/cheese/dough, the restaurant'll stay open from 5pm-2am on Fri-Sat. A sampling of what you can devour early or late:
Gamberi E Pesto:

Rock Shrimp, Zucchini, Parmesan

Funghi E Prosciutto:

Shiitake, Prosciutto, Bel Paese

Patate E Salsiccia:

Fennel Sausage, Fingerling Potato

Trevisana:

Radicchio, Pancetta, Goat Cheese, Roast Tomato
Cronkite'll be serving friends/family only this weekend, and Ayoub says scoring a table before Monday's grand opening is unlikely (apparently his family's enormous). But you'll know it's worth waiting if you consider the fact that Ayoub actually blew his own glass fixtures for this restaurant: because if there's anyone who understands pie craving, it's a glass-blowing, herb-growing, 2am gorger.