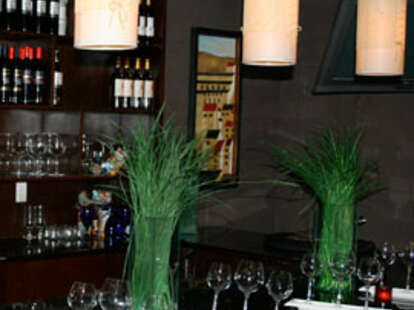 Marriages can be much sweeter the second time around -- just look at Larry King and Playboy bunny Alene Akins, who divorced after two years in 1963, only to tie the knot again in 1968 and make it last 50% longer. Remarrying the Caribbean and Europe in order to colonize your mouth, Crudo, officially opening next Thursday.
From the owner and El Bulli-trained exec chef of UES Latin joint Don Pedro's, Crudo hits up Puerto Rican/DR/Cuban foodgoods with European techniques to create tastily newfangled raw plates, tapas, and mains, all in a sparsely decorated, classically Latin dining room (subdued yellow walls, dark brown banquettes, tropical flora, wood-and-marble raw bar), plus a 75-seat back garden lorded over by a fountain adorned with a brow-furrowing sun, who has no shoulders, and so will never be happy. Raw offerings range from tuna tartare, to Chilean sea bass ceviche, to Salmon tiraditos (Peruvian ceviche sans onions), complemented by kitchen apps like chicken/beef/cheese empanadas, piquillo peppers stuffed w/ braised oxtail, and Mediterranean dates strewn with duck pancetta and cabrales (mushroom lovers beware: these dates have no morels). Meaty mains include Capellos de Pechuga (chicken breast medallions w/ mofongo timbalitos, garlic confit & saffron blend) and Churrasco a la Parilla (grilled skirt steak & yuca fries w/ chimichurri), while oceanic action runs from the lobster sauce-based seafood stew "Codicias del Mar" to a cod filet with roasted tomatoes and Nora peppers called the Abadejo Vizcaino, too delicious to spend its career as a backup.
Things to swerve you include Caribbean suds, a small-but-affordable Tempranillo-leaning vino list, and a not-yet-finalized specialty cocktail list composed by big swinging mixologist Junior Merino, who plans to kick up drinks with everything from hibiscus to eggplant, the very vegetable that Larry King unwittingly just wedded, because he's into some next-level marrying shiz.