Local, organic meats & cheeses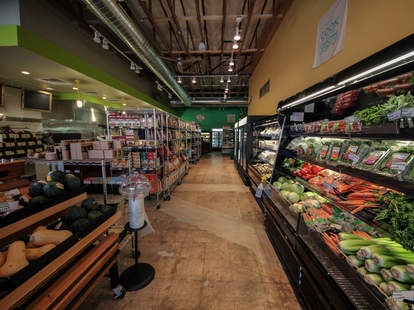 From a "people, food, and booze" loving husband and wife duo who first found success with their hyper-local market concept in Chicago, Green Grocer's Dallas outpost (opened in partnership with Artizone) has set up shop on Greenville Ave, presumably because they couldn't pass on such insane street name synergy. What they're stocking
Meats: They're slipping you all sorts of sausage, like Luscher's Red Hots, Creminelli's (free-roaming wild boar, summer truffle-laden tartufo & garlic-infused sopressata), plus grass-fed meats brought in from Local Yocal, whose freshness will leave you slack-jawed

Cheese: Select from native fromagerie Mozz Co, along with other just-outside Dallas dairies like Full Quiver, Eagle Mountain, Mill-King, and Lucky Layla. What'll you do when you get lonely? Eat a ridiculous amount of local cheese

Also don't miss out on seasonal seafood, like scallops, rainbow trout, and Scottish salmon (that's British Isles Scottish, not Seann William Scottish)

Of course they've got a full selection of organic fruits and veggies, but before you veer too dangerously towards a healthy lifestyle, know they've also got Blanco Valley chips, Becerra's salsa, Texas Honeybee Guild... honey, and Dude, Sweet Chocolates, ensuring that next time Seann William loses his car, he just might think it's you.