A hot dog giant comes to Dallas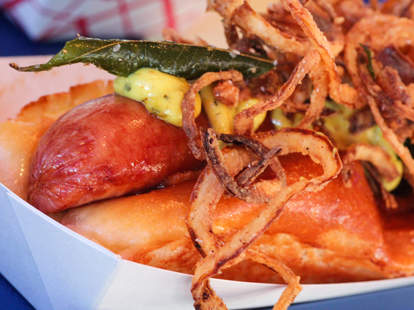 Crossing a bridge both metaphorically and physically just across the MHH in Trinity Groves, Hofmann's Hots, the 134yr-old wiener-slingers from upstate NY, are finally opening their first brick & mortar resto, but not a brick and Mordor resto, as their dogs aren't that precious
Inside, it's your basic '50s gas station diner layout with concrete floors, bar stool seating, The Beach Boys on the radio..

... and directions on the walls that'll get you arrested if you take things too literally

Naturally, the menu's centered on Hofmann's MSG-free, never-frozen dogs, so go for numbers ranging from the Himalayan (pictured up top, with onion chutney, toasted curry aioli & fried onion straws), to this Asian (slaw, cilantro, sweet chili sauce), to the Reuben, because a Russian dressing is a foolproof way to cover a wiener. Hey, new sign idea

Or, go for burger dogs (1/2lb burgers made lengthwise), like the Hofmann Special (fried onion straws, smoked Gouda pimento spread, ranch). There's also a fried cod Sea Dog and an open-faced 'knife & fork' number made with chili mac, baked beans, diced kielbasa, fried onion straws, and cheddar sauce called the Blame It On The Dog, which you'll definitely do after eating. Also, farting.