Expanding their horizons in a must tastier (and more tasteful) way than the participants in a Girls Gone Wild shoot, the tamal titans behind La Popular have just launched Peak & Elm, where they're raising their tamal game and delving into other tastiness at the intersection of... Peak & Elm.
The place is right along the old trolly line from Junius Heights to Downtown, and is basically an homage to old East Dallas, complete with the number bar off a trolly, pics by local artists, wood from area houses...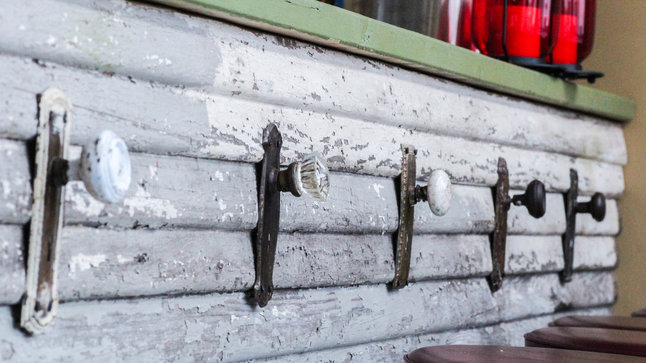 ... and, of course, a bar lined with knobs.
Locally sourced comestibles go way beyond the tamales La Popular is known for, kicking off with this ceviche del mar (sea bass & shrimp cured in lime & pico), plus pizza Mexicana (flour tortilla, tomato sauce, chorizo, queso fresco), and alas puras: salsa roja and crema compuesta (a crema/ mayo combo) over natural wings that're nonetheless big and showing no signs of sagging.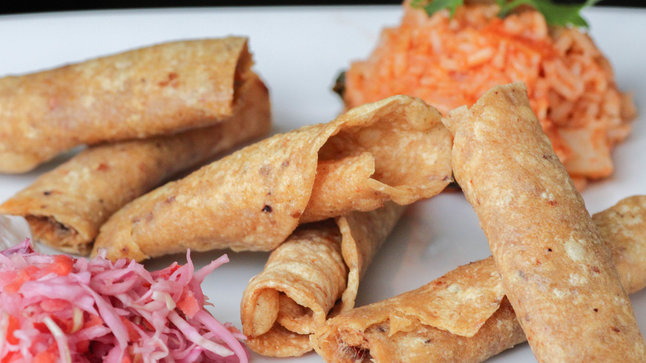 Go for mains like tamale pie (pictured up top, with La Popular's tamales covered in chili, fritos, queso fresco & onions) or these tacos tapatios: prime beef taquitos with that aforementioned CC and a cabbage/ carrot/ pepper slaw that's pickled in red wine vinegar, unlike the Spring Break girls who usually find themselves in a pickle after too much tequila.