#BDOYL. It's here, Dallas.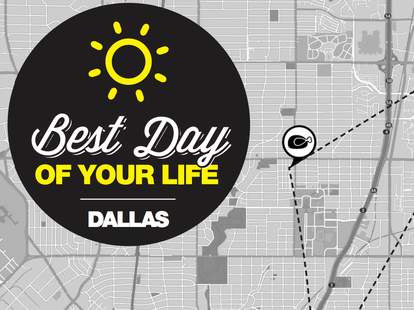 You've been waiting for weeks, months, years, or possibly just since we tipped you off 40 days ago, and finally the Best Day of Your Life has arrived. And to make sure that this day lives up to its don't-mind-if-we-call-it-ambitious name, we've hooked you up with this butt-kickin' itinerary (plus this mobile version, which'll let you save the whole thing to your Foursquare app) that maps out your plan for this best of days. The stops include hook-ups like:
Free drip coffee with a breakfast purchase at Ascension.*
20% off your total bill when you buy two entrees at Buzzbrews.*
A free beer, side, or donut bag when you buy a sandwich at East Hampton Sandwich Company.*
We're buying drinks at Meddlesome Moth for folks who get there early (starting at 430p).**
$4 Foursquare beers at Meddlesome Moth after we're done buyin' 'em.*
You'll want to
follow along with all the action right here
, and to tell the world about your goings-on with the hashtag #BDOYL on Twitter. Hide yo' kids, hide yo' wife (well, actually, bring them along! Bring everyone!). It's time to get your BDOYL on.
*You'll need to check in on Foursquare to take advantage of these.
**While supplies last on the freebies at Meddlesome Moth -- first come, first served.