Sure, you can go to a nice restaurant and have a fabulous meal and a lovely glass of wine. And yes, you could also go to your favorite dive bar and knock back some Old Fashioneds, then hit a hot dog cart before you Uber home. But what about that magical unicorn, a cool bar that also has fantastic food? We've got the handy rundown of the rainbows at the end of which those unicorns can be found.
Recommended Video
Thrillist's Best (and the Rest): What You Actually Need to Know About Natural Wine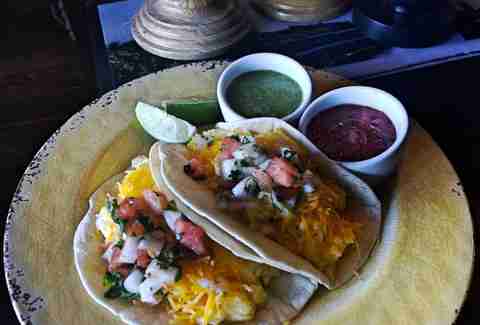 Exposition Park
The younger sister to Bishop Arts District's Ten Bells Tavern, this bar had quite a culinary reputation to live up to. Instead of trying to mimic Ten Bells' gastropub fare, Eight Bells instead offers sandwiches and a variety of curated tinned Spanish seafood delicacies. Scallops or mussels in paprika sauce with a side of crusty bread or crackers are particularly shareable, especially once the 100-degree "springtime" weather arrives.
Lakewood
This place is worth it for the retro movie posters and never-ending loop of VHS movies showing behind the bar. But the food offerings have become nearly legendary, too, with the most legendary being that treat to start the week off right, Banh Mi Monday. The no-frills, wildly popular Vietnamese sandwich is only available on Mondays, and makes the start of the work week a little less soul-crushing.
Lower Greenville
While Lower Greenville grows, expands, changes, and hopefully doesn't become too bro-y, The Libertine Bar will continue to be a beacon of sanity, good beers, and better food in a sea of change. As Dallas was a town built on a foundation of brunch, The Libertine's brunch is particularly noteworthy for its ability to tranquilize even the most feisty of elephants.
Oak Cliff
There are bars that have pretty good food, and then there's Small Brewpub. Chef Misti Norris consistently knocks Small's innovative, ever-changing menu out of the park, with everything from chicken feet to pickle boards to pâtés. Her innovation has not gone unnoticed, as the food at Small has already won multiple national awards in the year since the bar opened.
Lakewood
If Small Brewpub's food is adventurous and challenging, Lakewood Landing is the opposite. But are you really going to complain about something like midnight jalapeño corn dogs or loaded nachos? The food at the Landing perfectly matches the dive's decor of ripped vinyl booths and pool tables. And when it comes to a good, honest burger, the Landing is awfully hard to beat. Keep an eye out for specials which usually consist of whatever the hell someone felt like cooking a big batch of that week.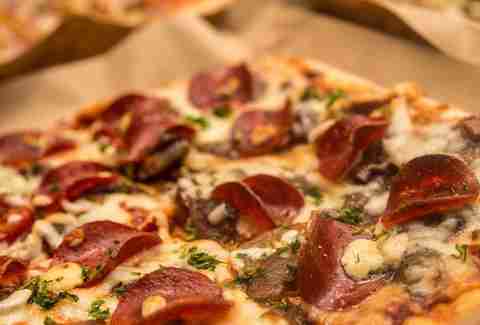 Deep Ellum
For years, pizza in Deep Ellum has come in the form of a slice hastily purchased from a window after a few too many frozen Irish coffees at Twilite Lounge or a show at Three Links. But Stonedeck has brought a respectable gourmet pizza menu to the bar scene of Deep Ellum. Bar-hoppers nearly lost their minds when Stonedeck recently announced it would open for a lunchtime pizza and booze all-you-can-eat buffet.
Uptown
The gastropub concept has been done -- and done to death -- but the ones that do it well remind you why the idea of savory, European-inspired pub fare perfectly complementing an English stout or German Pilsner is a good one. The Idle Rich Pub does that, with a gastropub food menu that offers enough hearty soups, stews, fish & chips, and classic pub dishes that you might feel like you are actually across the Atlantic.
East Dallas
Again, sometimes a cigar is just a cigar, and good bar food is just good bar food. Just because you're drinking doesn't mean you have to tolerate chewy wings or school cafeteria-like pizza. In fact, wings and pizza are where Bryan Street Tavern really shines. How do you know that its pizza is particularly good? When people who don't even drink make it their go-to takeaway pizza place.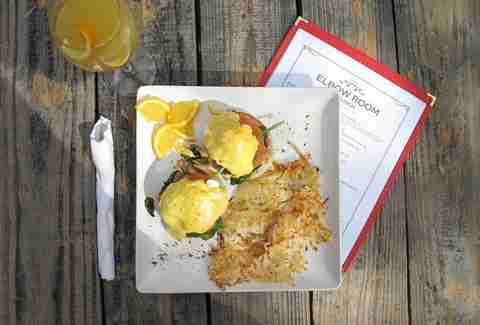 Deep Ellum
This bar, which caters equally to the Deep Ellum crowd and the all-hours doctors and nurses on staff at Baylor hospital down the street, features affordable and hearty subs and pizzas which are served until 1am. If you were curious how proud it is of its pizza, make sure to check out an Elbow Room brunch one day, if only to order the pizza omelet.
Lower Greenville
No matter what, if you are hungry and drinking at Truck Yard, you will be A-OK. Most likely, there will be three to four food truck options that rotate, offering everything from sushi, to sliders, to BBQ, and more. Don't forget the in-house Philly cheesesteak window inside the bar, open at all times. It's literally impossible to not be eating something delicious at any given time at Truck Yard.
Henderson Avenue
The long-established watering hole popular with those in the East Dallas know, Louie's is most famous for its "Waukegan-style" thin-crust pizza, the brainchild of the brothers (and Chicago natives) who opened the bar back in the early 1980s. Louie's is old school, so old school that it only accepts American Express and cash, and the pours are generous. And don't dare say a bad word about any Chicago sports team, the memorabilia for which hangs on every wall.
Sign up here for our daily Dallas email and be the first to get all the food/drink/fun DFW has to offer.
Amanda Cobra has eaten so much good bar food that she may eventually need to be removed from her house with the use of a forklift and a tuna-catching net. Follow her extraction on Twitter at @amandacobra.