A perfect biscuit sandwich is a reward. It's the Oscar statue of the food world: a mile-high, golden biscuit with fried chicken or bacon and spicy greens, bookended by another crusty biscuit bottom. It's something you hold up in front of loved ones. You might tear up.
In Dallas, biscuit sandwiches come in all shapes and time zones, from some seriously Mount Rushmore-sized fork-and-knife sandwiches to the more modestly sized, pre-7am, bacon, egg, and cheese breakfast biscuit. These are the best biscuit sandwiches in Dallas. They are your new rewards.
Fork and Knife Chicken Finger Biscuit Sandwiches
Chicken Scratch
Address and Info
West Dallas
I don't know what we all would do if we didn't have Chicken Scratch's colossal chicken biscuit sandwiches, but I know we would be lost. Start by ordering "The Foundry," which is confoundingly juicy and crunchy fried chicken topped with mashed potatoes, beer-spiked whole-grain mustard, a slice of American cheese, and -- wait for it -- oregano-vinegar honey. It's stacked a mile high, blackout-good, and, if eaten before a trip into the wilderness, will nourish you for days.
The Amy
Hypnotic Donuts
Address and Info
Lakewood
It may be a donut spot, but Hypnotic isn't skimping on the glory of the fried chicken biscuit sandwich. The Amy sandwich is chicken that's been marinated for 24 hours in advance of you shouting "I must have the chicken biscuit!" at them, crisp bacon, pickles, a "Southwest spicy mustard," cheddar, and a drizzle of honey. It's not good for you; don't even bother wondering. Just close your eyes, and enjoy Texas on a biscuit.
Fried Chicken & Biscuits
The Skellig
Address and Info
Henderson/Lower Greenville
One of Dallas' newest bars, sister spot to The Old Monk, has focused and fun bar food. Try the brats on pretzel bread, the better-than-fast-food double stack burger, or the addictive trio of fried chicken sliders on house-made biscuits. For 11 bucks, this trio comes with a smoky chipotle dipping-mayo, fries, and biscuits that are like delicious Devo hats. And get a cocktail, for fried's sake.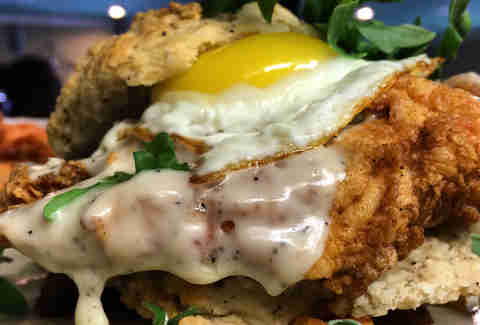 Chicken and a Biscuit
Jonathon's
Address and Info
Oak Cliff
Between diner comfort food, Texas summers, and honest-to-goodness pepper heat, there's an undeniable belly warmth at Jonathon's. It's like a Christmas sweater. The chicken is deep fried in a shattering-crisp breading of itself, after a Tabasco-warm buttermilk brine. The gravy and biscuits are scratch-made, a delicious sandwich that's head-to-toe joy.
Biscuit Sandwich with Bacon
Bubba's Cooks Country
Address and Info
Highland Park
If you're on Hillcrest, just go ahead and drive right past Chick-fil-A -- you don't need a meal with a trademark symbol. Swerve instead into Bubba's, part of the Babe's Chicken House family, where buttery, crusty biscuits have been ladled with warm gravy and topped with bacon for decades. Their sausage, egg, and cheese sandwich is great, but their bacon, egg, and cheese biscuit (add a little butter if you're celebrating) is even better, and under three bucks, too.
Chicken in a Biscuit
Ida Claire
Address and Info
Addison
Among the very good things that happening at Ida Claire is this towering chicken biscuit. The chicken is beer battered, hit with a seasoned flour of salt, pepper, garlic, and onion powder, and lots of smoked paprika. Ida Claire GM Benjamin Woodring confirms that the gravy is house-made, a roux of bacon fat, butter, and coarse-ground black pepper, and the biscuits are made in-house everyday. "We aren't shy about the butter," says Woodring. "We mix them as little as possible to achieve the tallest biscuit we can. The goal is 3ft tall." Crispy, beer battered chicken, peppery gravy, cut by spinach, in between a towering biscuit is all you'll ever need.
Chicken Biscuit
Jack Mac's Swill & Grill
Address and Info
Richardson
Chicken, like humans, like a good soak in the tub. At Jack Mac's Swill and Grill, which is as much fun to say out loud (try it) as it is to read, their chicken gets a buttermilk bath. A big, painterly, over-easy Vital Farms egg -- "The freshest egg I can find in TX!", says owner Jack MacDonald -- tops this 10 buck sandwich. It's straightforward and delicious.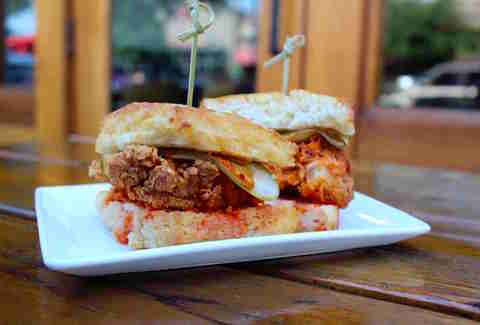 Spicy Chicken Biscuit
Rapscallion
Address and Info
Lowest Greenville
There's a raw sensuality to everything at Rapscallion. There are briny oysters, which are always George Clooney-level sexy, and a "duck and dumplings" dish that will raise your body temperature. For brunch, skip the fruit parfait, get the spicy chicken biscuit, which is a crispy chicken thigh topped with a honey-mala sauce and a shaved pickle. It's surrounded by a house-made buttermilk biscuit, and, wait, why haven't you already ordered it? You're blushing.
Sign up here for our daily Dallas email and be the first to get all the food/drink/fun DFW has to offer.