Dallasites love their brunch, but the undisputed king of hybrid meals is more than just an excuse to drink before noon. Indeed, food is an indispensable part of the experience as well. Otherwise that booze might cause problems. Here are the 12 most essential brunch dishes in DFW, always there to help set you right for a productive day, or (more likely) pave the way for an afternoon nap.
Cheddar Biscuits Benedict
Boxwood Tap and Grill, Uptown
Eggs Benedict are a brunch staple for a reason -- runny eggs, cured meat, impossibly unhealthy hollandaise -- it checks so many boxes. This rendition amps up the carbs part of the equation with deliciously rich cheddar biscuits in place of the serviceable-but-usually-unspectacular English muffin. Throw in their house Bloody Mary and nothing can stop you.

Cowboy Waffles
Zenzero, North Dallas
Close your eyes for a second and imagine… actually wait, now you can't read -- open your eyes back up! Envision two homemade Belgian waffles topped with chipotle sour cream, sautéed red onions, and bacon, plus the crowning glory of a fried egg. Seems like these Cowboy Waffles must have been a Nate Newton fave. Couple them with a bottomless cup of their Oak Cliff Roasters Coffee because A) it's delicious and B) you won't be able to move for a while.
Heavy Handed Blueberry Pancakes / Smoked Brisket Cornbread Hash
Smoke, Bishop Arts
At some places, there's just no way around it: you have to bring a companion in order to divide and conquer a pair of indispensable dishes. Smoke is one such place. The Heavy Handed Blueberry (and house-made Ricotta cheese) Pancakes with vanilla poached apricots and cream are so good you might finish them in less time than it took to order them. But what of the Smoked Brisket Cornbread Hash blanketed with green chili rajas and a poached egg? This is what friends are for.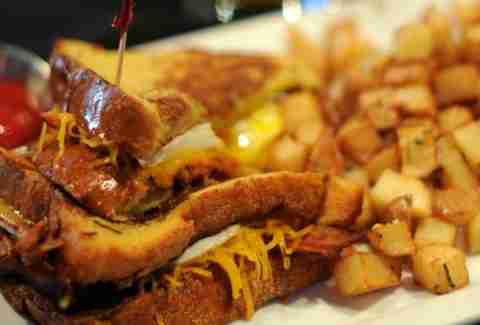 Challah French Toast Sandwich
Coffee House Café, North Dallas
Far too many sandwiches skate by with "bread" when they could be using slightly sweet, egg-enriched French toast. This breakfast sandwich is beautiful in its simplicity -- just a cage-free egg, some bacon, and some cheese -- but that French toast makes the total package beautiful.
Enchilada Omelette
The Original Pancake House, Multiple locations
You might be tempted to get pancakes for obvious reasons. However, there is a secret omelette you can order that's stuffed with onions, peppers, cheese, and sausage, and then doused with enchilada sauce. It's not available at all locations, or all the time, so call ahead to be sure, then block off the afternoon for a nap.
Red Velvet Belgian Waffle
Del Frisco's Grille, Multiple locations
Dessert for breakfast alert! The waffles on their own are impressive, but what really makes this dish is cream cheese spiked with vanilla bean, which should clearly be done to more of the world's cream cheese supply. It comes paired with thick-cut, hickory-smoked bacon, which does an amazing job of balancing out the sweet and salty elements of this dish.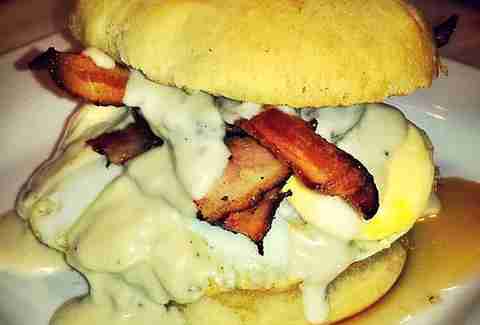 The Hangover
The Woolworth, Downtown
A dish so good it didn't even spawn a pair of questionable sequels: a jumbo buttermilk biscuit, habanero fried chicken, vanilla maple syrup, fried eggs, country ham, sausage, pecan bacon, hash browns, and pepper gravy. No amount of night-before debauchery can stand up to it, Ken Jeong's involvement notwithstanding.

Classic Cheeseburger
The Grape, Lower Greenville
There's no wrong time for a burger, but when The Grape's much-lauded Classic Cheeseburger resides squarely on their Sunday brunch menu, brunch becomes an incredibly right time for a burger. 10oz of fresh ground beef, house-peppered bacon, Vermont cheddar... there's nothing all that flashy here, just burger perfection.
Huevos Pochados
Komali, Uptown
This Mexican riff on eggs Benedict pairs poached eggs topped with a pasilla hollandaise sauce, spinach, black beans, and chorizo -- and in lieu of English muffins it all rests on two corn sopes. Want to class it up a bit? For a five-spot you can get some filet mignon thrown on there.
Migas
Vickery Park Bar, Multiple locations
We already touted Vickery Park for their biscuits and gravy (which are never a bad move), but we'd be remiss to not talk about their migas: corn tortillas sautéed with two eggs, cheese, spices, and roasted green and red bell peppers, served with two warm flour tortillas. The people at Vickery also encourage day drinking, whether you are at brunch or not, so pair your migas with as many beverages as you would like.
Sourdough French Toast
CBD Provisions, Downtown
If you don't like Nutella, then go be sad/ lonely/ allergic to nuts somewhere else. For the rest of you, this masterpiece puts housemade pecan Nutella atop French toast made with house-baked bread topped with bananas (for your health!).
Hangover Helper
Kozy 2 Day, North Dallas
Yet another dish that unapologetically caters to the true reason you're seeking out brunch this morning. The Hangover Helper has grass-fed buffalo, sautéed spinach and mushrooms, scrambled eggs, and is topped with house-made salsa and guacamole. Just mix it all up and go to town. You'll feel better.