Whether it's a Bloody Mary bar with unlimited add-ons or a plate of French toast so decadent that it will make you weep, brunch is indisputably the greatest meal of the week. So we found the kings and queens of Brunch Mountain in the DFW metroplex. If you're looking for a patio to serve as a meet-up spot for friends, or want to treat your significant other to a weekend feast, these are the restaurants you need to hit up.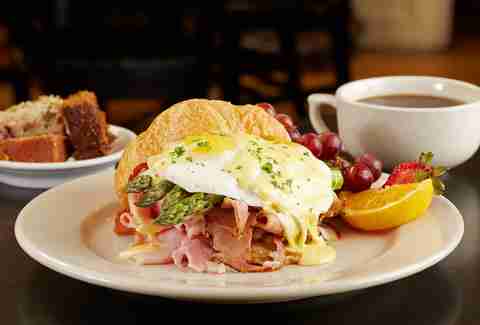 Uptown
Some might say that Bread Winners is the undisputed brunch champion. With a legendary selection of unique French toasts and savory sweet treats such as jalapeño bacon and cheddar waffles, there's plenty of delicious choices to help you blot up any overindulgences from the night before. Also, four simple words: frozen blood orange mimosas.
Bishop Arts District
You know that this upscale Southern food paradise isn't gonna skimp on the good stuff when it comes to a hearty brunch. The jewel in the Hattie's crown is the Low Country Shrimp and Cheddar Grits dish with a Tabasco-bacon pan sauce. But maybe some cornmeal griddlecakes are more your speed. Just like at your grandma's house, there's no chance that you leave Hattie's without falling into a light, but glorious, food coma.
Lower Greenville
Sometimes, sitting on a bright and sunny patio on a Sunday morning/early afternoon doesn't sound like the best idea. While The Libertine does offer sidewalk seating, its interior, where you're safe in the embrace of a dim pub, is where this brunch shines. The hefty menu can live up to that hangover that sent you into the dark in the first place: the chicken-fried steak & eggs is a Dallas rendition that can hang with our city's best, while the World's Greatest Sandwich, loaded with fried egg, bacon, gruyere, and plenty more, truly deserves its title.
Fort Worth, Oak Cliff
Yes, one of the best restaurants in North Texas is a vegan restaurant. In a town that boasts of its stockyards, the original Spiral Diner in Fort Worth has turned many a meat eater into a veggie believer. Part of the reason that Spiral is so beloved is that it challenges diners to even notice that they're not eating a meat-filled greasy spoon breakfast with offerings like migas, pancakes, biscuits & gravy, and breakfast quesadillas.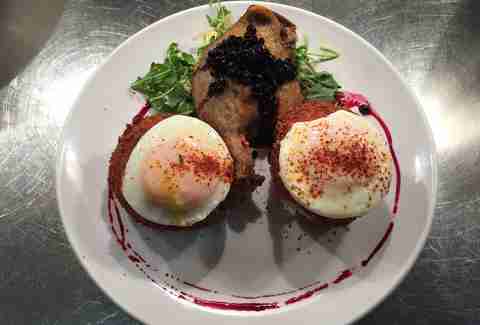 Bishop Arts District
This upscale French bistro is the kind of place you get dressed up for, even if it is brunch. If you're looking to impress your foodie friends, you'll be hard-pressed to beat Boulevardier's Eggs Meurette, with bone marrow, or Legs and Eggs, a duck leg confit with stone-ground grit cakes and huckleberry preserves. It even has a specialty brunch cocktail menu with offerings such as the Chai Spiced Pimms Cup.
Lower Greenville, Fort Worth
All right, all this talk of stacks of pancakes and bacon-wrapped sausage sandwiches is great, but what about those who prefer their brunch on the healthier side of a heart attack on a plate? HG Sply Co. specializes in hearty yet healthy brunch options like the House Bowls, which allow customers to choose lean proteins to pair with veggie and grain combinations. As a bonus, it carries many freshly squeezed organic juices with which its delicious brunch cocktails are created.
Plano
Plano's Whiskey Cake brings its reputation for hearty and savory offerings to its brunch menu with offbeat brunch dishes such as BBQ banh mi and fried green tomatoes. Another restaurant that offers specialty fresh-squeezed or -pressed juices, Whiskey Cake caters to those looking for booze-free options with drinks as the Jessica Wabbit, a lime, carrot, lime, pineapple, and ginger concoction. But for those who need a hair of the dog, there's trusty options like the Corpse Reviver #2 (Lillet fortified wine, gin, Cointreau, absinthe, lemon juice) or Irish coffee on hand.
Oak Cliff
The list of awards that this small, charming neighborhood bar's food has won is pretty staggering. But nine times out of 10, if someone is headed to Ten Bells for brunch, they are ordering a Country Breakfast, an ungodly concoction of fried chicken breast, over-easy eggs, white-pepper gravy, and homestyle fries. You should make certain to block off the rest of your day if you choose to take on the Country Breakfast challenge.
NorthPark Center
If eating at the mall invokes images of soggy food-court fries and soft serve, you clearly have never been to The Theodore at NorthPark Center. An upscale restaurant which resembles the set of any given Wes Anderson movie, The Theodore's brunch offerings are equally quirky, unique, and obsession-worthy. After all, when was the last time that you had a Warm Newport Lobster Roll for brunch?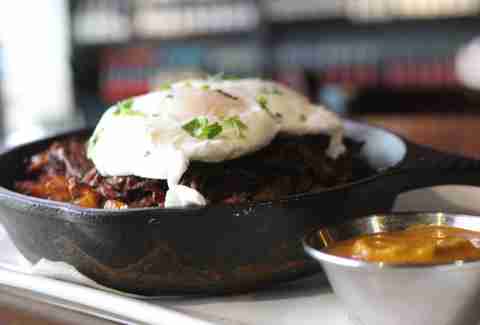 Uptown, Fort Worth
In case you were wondering what you're getting into at MAX's, this is probably a good time to remind you that its motto is "FRIED CHICKEN AND CHAMPAGNE... WHY THE HELL NOT?" Much of the menu does in fact heavily rely on MAX's signature fried chicken, including the epic Honey-Butter Benedict. Yes, that's fried chicken on two homemade buttermilk biscuits, drizzled with honey butter, then topped with a fried egg and jalapeño cream gravy and served with a side of fries. Don't say we didn't warn you.
Sign up here for our daily Dallas email and be the first to get all the food/drink/fun DFW has to offer.