Dallas Dallas is obsessed with its burgers. Not only have burger joints popped up all over the place in the last few years, but it seems like nearly every one of our favorite restaurants -- whether super casual or upscale -- has a burger on its menu. To help you navigate the cheese covered influx, we've been keeping up with all of the newbies that have joined the crowd. These are the best new burgers in Dallas that you need to order immediately. Like, today, for lunch. More Stuff You Will Like
Recommended Video
This Taco Costs as Much as a Car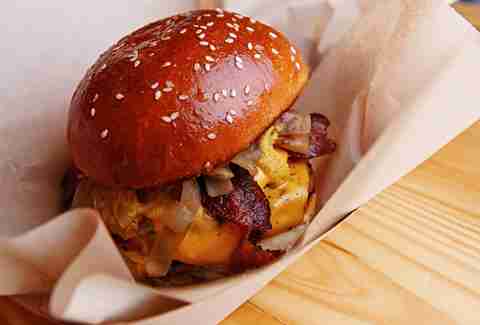 The Uncle Herky Burger
Luscher's (address and info)   Deep Ellum It almost seems like chef Brian C. Luscher can't help but create burgers that go viral. After the success of his brunch-menu bacon cheeseburger at The Grape, he crafted this endlessly craveable sandwich at his hot dog eatery in Deep Ellum. Two Texas wagyu beef patties are dressed in American cheese, mustard, mayo, a horseradish pickle, and a ton of grilled onions. Pop in on a Tuesday and pair this with the daily special: beef tallow-dunked French fries. Continue Reading
Cheeseburger
Remedy (address and info)   Lower Greenville If you figured a place with a throwback soda shop-theme that cranks out modern versions of your favorite foods as a kid would make a killer burger, you wouldn't be wrong. American Kobe beef, American cheese, veggies, and creamy mustard play nice together on a fluffy challah bun. Order this with a fizzy drink from the bar, be it virgin or boozy.
Ida Like a Burger
Ida Claire (address and info)   Addison This plate has Ida Claire's Southern-food influences all over it. That old-timey favorite, pimiento cheese, is slathered on top, along with a perky black pepper aioli, and the sweet potato bun brings a touch of sweetness reminiscent of the famous pie.
B&B Burger
Barley & Board (address and info)   Denton A grilled beef patty is stacked with sweet onion, house-made pickles, good ol' American cheese, and a homemade special sauce. Couple this with one of the beers made here at Denton's first brewpub, and you've got a situation that's worth making the trip for.
Cheeseburger
The Mitchell (address and info)   Downtown Downtown cubicle rats, rejoice: there's a new lunch service in your vicinity -- and what better way to forget the workday than by lunching in a dazzling cocktail lounge? The Mitchell is known for its oyster selection, but serves up a mean cheeseburger for lunch, featuring 1/3lb house-ground beef patty, a slab of American, veggies, and a zesty aioli accented with lemon and a hint of anchovy.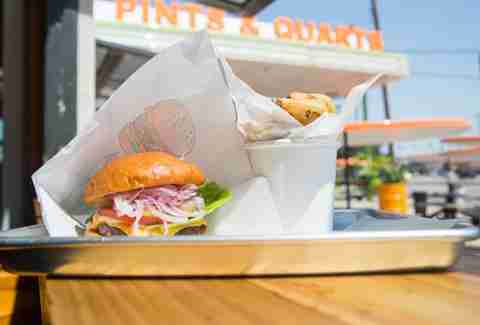 Brooke's Burger
Pints & Quarts (address and info)   Lowest Greenville Greenville Avenue's auto-shop-turned-burger-joint turns out a number of handhelds, including hot dogs, but it's the beef patties nestled in potato buns that have been earning raves. Brooke's Burger, named for the eatery's founder, keeps things simple with American cheese, the so-named Standard Set (lettuce, tomato, pickles, and purple onions), and a secret sauce.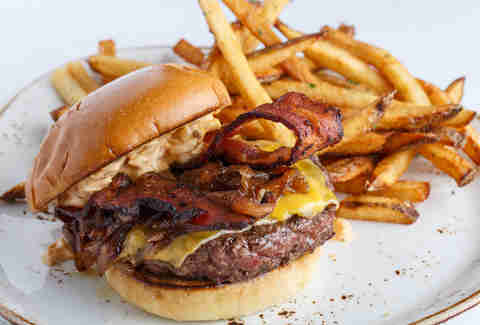 TSF grilled chuck burger
The Second Floor (address and info)   North Dallas The dark-lit, sexy spot inside the Westin Galleria crafted an edible homage to an In-N-Out burger with this hearty sandwich. Griddled house-ground chuck, applewood-smoked bacon, cheddar, and "uppity Thousand Island" dressing sit on an Empire Baking challah bun. It makes for perfect padding while you partake of one of the restaurant's many whiskey flights.
TX grass-fed beef burger
CBD Provisions (address and info)   Downtown Speaking of In-N-Out tributes, this upscale biz-district tavern is another salute to the Cali-born classic, with two beef patties, two slices of cheese, "fancy sauce," and veggies. The best part is it comes with CBD's incredible Kennebec fries, for just $10. That's pretty much cause for HH celebration every weekday.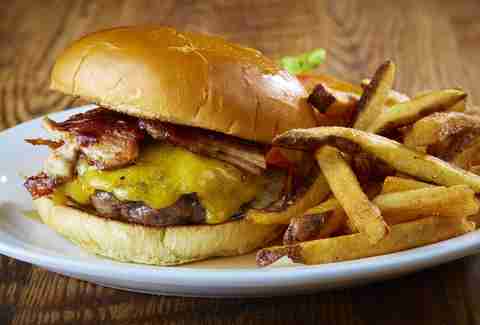 SB Burger
Sugarbacon Proper Kitchen (address and info)   Downtown McKinney One of our two burgers worth a jaunt out of Dallas, this Texas Wagyu burger boasts a slab of the restaurant's eponymous ingredient: house-smoked Berkshire pork belly. Garlic mayo adds some zip and aged cheddar and bread and butter pickles bring out the meaty contrast.
The Hot Bastard
Rodeo Goat Dallas (address and info) Design District On the other end of the spectrum from your classic burger is Rodeo Goat Dallas' spicy number. The Hot Bastard is loaded with heat, from habanero cheddar cheese, marinated peppers, and house-made Fresno chile aioli. If you're a true badass, you'll load that sucker with grilled jalapeños.
Mediterranean lamb sirloin burger
Hickory (address and info)   Plano The menu at celebu-chef Kent Rathbun's new barbecue restaurant has an entire hamburger sub-menu, and this Greek-inspired creation struck our fancy. A lamb patty is adorned with feta tzatziki, lemon, and a mound of arugula, and set on a griddled pita. Scream "opa" all you want -- just don't break this plate.
The Bistro Burger
Paul Martin's American Grill (address and info)   Oak Lawn This new bar and grill has descended from California with a heckuva burger. Yes, fresh-ground Angus beef cooked to order and black pepper aioli go great to together, but go the distance and throw in bacon, mushrooms, and Tillamook cheddar for added punch. Sign up here for our daily Dallas email and be the first to get all the food/drink/fun DFW has to offer. Farah Fleurima is a Dallas-based word wrangler who loves her gin and tonics as crisp as her bacon. As a professional food stalker and beer/cocktail/straight-liquor tippler, she loves to write not just about her culinary conquests, but also her frequent travels. You can check out more of her musings at TheDallasDiva.com.