The Best Burgers in Dallas for Takeout & Delivery
You could probably use some comfort food.
Courtesy of JAXON Texas Kitchen & Beer Garden
In the Dallas we knew and loved before March 16, getting a burger to-go typically consisted of a trip to a fast-food drive-thru because, well, we saved our top-notch burger cravings for eating at our favorite restaurants. Of course, takeout and delivery have become the new normal for procuring eats from our favorite establishments and even though restaurants are welcoming diners inside at 50% occupancy, many of us continue to play it safe and stay home. Fortunately, superb specimens of meat-between-two-buns can be enjoyed right from the takeout box -- or on a plate if you're feeling fancy.
Courtesy of Good Citizen
East Dallas
When Goodfriend Beer Garden & Burger House switched up their business model to adapt to the COVID-19 changes to the restaurant industry, they created Good Citizen along with a whole new website, socialdistancingnow.com. This temporary re-brand has conjured a considerably streamlined menu, but one thing you'll still find is a truly amazing burger. Simply called "Burger" it features a four-ounce smashed beef patty topped with American cheese, shredded lettuce, tomato, onion, ranch mayo, and spicy beer pickles. Even when Goodfriend reopens in its original version with multiple burger options, this will still be one worthy of your appetite.
Call 214-324-3335 for pickup and takeout or order delivery directly through the company website.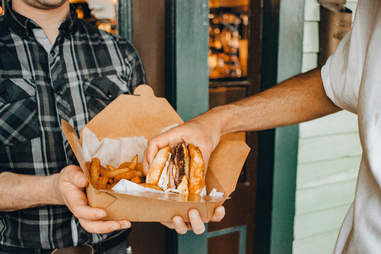 Courtesy of Bowen House
Uptown
It doesn't get much more all-American than the Bowen Cheeseburger inside this historic home known mostly for its craft cocktails and lively happy hour. Do your patriotic duty and order the double-meat treat that comes loaded with American cheese, lettuce, tomato, onions, and pickles on a kaiser roll with ketchup and mayo. Served with a side of killer house-cut fries, it's practically perfect in every way.
Call 214-484-1385 for takeout and curbside pickup or order delivery from Uber Eats, Favor, and Postmates.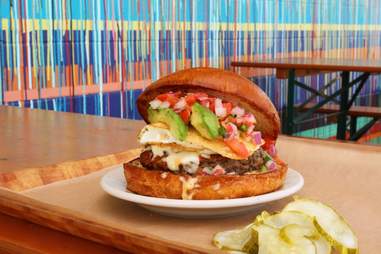 Courtesy of Rodeo Goat
Multiple locations
With more than a dozen burger choices on the menu and the ability to customize with your choice of ground beef, chicken, turkey, or an Impossible patty, it's easy to discover several favorites. A surefire hit for Tex-Mex lovers is the Chaca Oaxaca, a titillating combo of avocado, pico de gallo, a fried egg, queso fresco, and Tabasco mayo atop a beef/chorizo patty. Add on an order of Cheese Fries Surprise, which comes loaded with all the usual toppings plus brisket chili, and your hunger will be cured for hours.
Call your nearest location for takeout and curbside pickup or order delivery from DoorDash and Uber Eats.
Courtesy of Dog Haus
Richardson and Arlington
Given the restaurant's name, one might think the greatest hits are limited to options of the frankfurter variety. But one would be wrong. Dog Haus offers more than a half dozen burgers on the regular menu (in addition to limited time offers), but their best-selling burger would be a great place to start. The Little Mule starts with a Black Angus beef patty before merging with melted white American cheese and crumbled cotija, fresh avocado, pickled jalapeños, a fried egg, and chipotle aioli all stacked high on a King's Hawaiian bun.
Call your nearest location for takeout and curbside pickup or order delivery from Uber Eats and Postmates.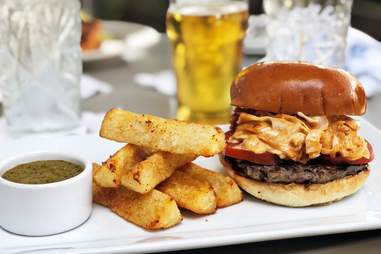 Courtesy of Miriam Cocina Latina
Uptown
Chips and queso, tacos, enchiladas. All the usual south-of-the-border favorites can be found here, but tucked away between the whole fried fish and braised goat is La Dominicana Burger. The tribute to flavors of the Dominican Republic brings together an Angus beef patty with sauteed cabbage slaw with rosa sauce, tomatoes, and Dominican-style chimichurri, all served with crispy yucca fries. It's an unlikely combination for burger purists, but a flavorful adventure absolutely worth embarking upon.
Call 214-855-5275 for takeout or delivery from DoorDash and Uber Eats.
Courtesy of III Forks
Far North Dallas
Never, ever underestimate the greatness of the burger offering at a Prime steakhouse. The Certified Angus Beef Burger here is no exception, despite its utter simplicity. Iceberg lettuce, purple onion, and a thick slice of tomato crown a hefty patty obscured almost completely by gooey cheddar cheese. Best of all, from now until the end of July, if you order the burger on Monday, III Forks will donate one to a first responder. Each week they'll select a hospital, police or fire station to gift with all the burgers from the Monday orders.
Call 972-267-1776 for hands-free curbside pickup or delivery from DoorDash.Multiple locations
Known equally for its cheese fries and poppy seed buns, Snuffer's has been a staple of the Dallas burger scene since 1978. You can always opt for the classic cheeseburger (only $5 on Tuesdays), but venturing beyond the basics builds character. Try the Dr Pepper BBQ Bacon Burger featuring a BBQ sauce infused with the Dublin, TX-born soda slathered on a fresh Texas beef patty. That's all topped with American, pickles, diced red onions, mayo, applewood smoked bacon, and a handful of crispy bacon crumbles.
Call your nearest location for takeout and curbside or order delivery from Uber Eats, DoorDash, and Favor.
Courtesy of Zoli's Pizza
Addison and Fort Worth
Pizza made them famous, but the O.D. Burger ("Obligatory Dallas Burger") should not be underestimated. It starts with a 1855 Certified Angus Beef chuck, brisket and shortrib double stacked, smashed and griddled for a nice crust on the exterior of the patties. That's all layered with farmhouse cheddar, American cheese, horseradish pickles, and a signature Zoli burger sauce. But for the ultimate indulgence, order it up "Gigante style," and they'll throw in a slab of fried mozzarella and a sweet-and-spicy soppressata marmalade. Consider making it a one-meal day when you try this one.
Call your nearest location for takeout and curbside pickup or order delivery from Uber Eats.Downtown
Located in the new AT&T Discovery District, this relative newcomer focuses on the flavors of the Lone Star State, so naturally the JAXON Burger fits that requirement. The classic interpretation features shredded iceberg, tomato, pickles, red onion, and American cheese with a tangy housemade burger sauce. It's ideal for pairing with a local beer to-go.
Call 214-838-1422 for takeout and free delivery within a 5-mile radius or order delivery from Grubhub, Caviar, and DoorDash.
Maple & Motor

| Caviar
Medical District
A traditional Texas approach has made this a go-to spot for burger enthusiasts ever since it opened. You get two choices here: a burger or a cheeseburger. Sure, you can add on chili, bacon, fried eggs, and griddled onions along with your choice of fromage, but it all starts with a half pound of ground all-American beef, flat-grilled in its own juices, then dressed up with mustard, pickles, lettuce, and red onion on a toasted bun hot off the griddle.
Call 214-522-4400 for takeout or order delivery from Caviar.
Courtesy of Knife
Mockingbird Station/SMU
Celebrity chef John Tesar, known most recently for his
desire to jump naked into the ocean
after life gets back to normal, has a passion for burgers and always has one on the menu at his restaurants, including one dedicated solely to the sandwich. At his signature steakhouse, however, the Ozersky (named after late food writer and longtime friend Josh Ozersky) takes a classic approach with only four components: a pure 44 Farms five-ounce beef patty, thinly sliced red onions, a slice of American, and a squishy white bun.
Call 214-443-9339 for takeout and curbside pickup.
East Dallas
Everyone's favorite, self-proclaimed "upscale dive" lures people in with its stiff drinks, cold beer, and fully loaded jukebox, but the Landing Burger has a devoted following all its own. It all starts with ⅓ pound of ground beef with lettuce, tomatoes, pickles, onions, and mayo, mustard, or both, plus your choice of cheese (bleu cheese with jalapeños can't be beat). Fries come standard, but for an extra 50¢ you can upgrade to fries and onion rings.
Call 214-823-2410 for takeout or order delivery from Grubhub, DoorDash, and Postmates.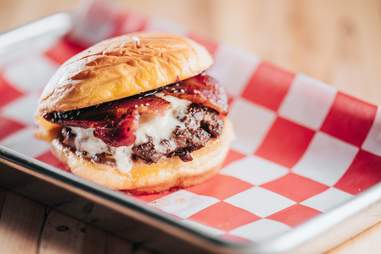 Son of a Butcher

| Kathy Tran
Plano
Though not the first to offer a crazy-sounding peanut butter and jelly burger, Son of a Butcher might have perfected it. The PB+J starts with a 3-ounce, locally sourced A Bar N Ranch Texas Wagyu beef patty and tops it with creamy peanut butter, bacon, blackberry jam, and caramelized onions. It's a flavor combination that definitely shouldn't work, yet somehow does. Prepare to replace your childhood nostalgia with an entirely grown-up revamp.
Order in person for takeout or order delivery from Grubhub and Uber Eats.
Courtesy of Village Burger Bar
Multiple locations
It's all about the burgers at this local chain as you can see right there in the restaurant name, so you trust they're going to do things right. And right they do. Among many popular burgers, one can't-miss selection is the Dougie Burger, which starts with a special blend of brisket, chuck, and tenderloin that's topped with Cheddar, crispy bacon, a cage-free fried egg, lettuce, tomato, red onion, and VBB's special secret sauces on a pillowy, locally sourced brioche bun. Don't forget to add shoestring truffle-parmesan fries.
Call your nearest location for curbside, takeout, or order delivery from Uber Eats, DoorDash, and Favor.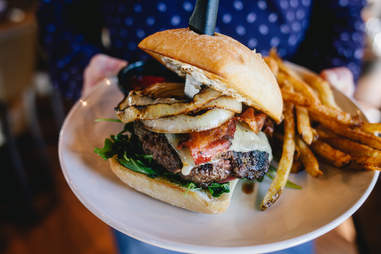 Thirsty Lion Gastropub & Grill

| Emily Piraino
Euless and Irving
Even in times of limited menus, Thirsty Lion owners made sure to keep the fan-favorite Gastropub Burger as an offering. The creation begins with a beef patty that's been infused with Gorgonzola cheese, which gets balanced out with sweet onions and maple-pepper bacon, white cheddar, arugula, and horseradish cream sauce. As if that's not enough, it's loaded onto a toasted bun with lettuce, tomato, onions, and a side of handcut fries, Napa slaw or a small house salad.
Call your nearest location for takeout and curbside pickup or order delivery from Grubhub, DoorDash, and Uber Eats.
Sign up here for our daily Dallas email and be the first to get all the food/drink/fun DFW has to offer.
Steven Lindsey has lived in Texas his entire life and been covering the food scene in Dallas-Fort Worth since 2002. He loves stiff cocktails -- even weak ones in a pinch -- and loves to travel, which he writes about for several publications and his own travel review website devoted to vacationing without children.