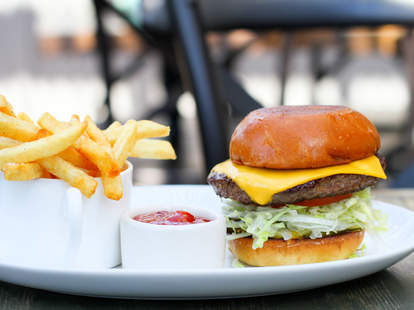 The Best Burgers in Dallas, Ranked by Our National Burger Critic
Editor's Note: This story is the 10th entry in Thrillist's Burger Quest, Kevin Alexander's yearlong mission to find America's best cheeseburger. Follow along @ThrillistBurgerQuest, and use #ThrillistBurgerQuest to let Kevin know places he needs to hit.
Dallas was a bit of a homecoming for me. I spent my formative years (or, well, elementary school) living in Plano, that giant suburb-city fusion experiment to the north, and so every visit to Dallas recalls days wandering around Tom Thumb grocery stores and begging my mom to take me to the Galleria so I could "look at the ice rink."
But the Dallas burger scene is even more happening than that cool-ass rink. I can say with some confidence that Dallas -- on a whole -- had one of the strongest lineups of burgers I've come across on this quest. Nearly every burger I tried was good, and most were exceptional. It shouldn't be a surprise that a steak town like Big D would make glorious burgers, but still, I was impressed.
Anyway, I came up with this list with help and recommendations from a few chefs, our local editor, and local writers, most notably Bradford Pearson from Southwest Magazine, whom I harassed constantly. I was looking for a good mix of old and new spots, of classic and newfangled, of fancy and not. Also, the incredible Dallas photographer Shana Anderson came with me to a few of these places, and even sometimes tried a burger.
In case you're new to my rankings, here are some guidelines: if the restaurant had multiple burgers, I tried to order the closest to a classic cheeseburger (unless they have a certain signature burger), and if it came with options, I always picked American cheese and grilled onions. I wasn't able to eat the famous burger at The Grape (because it's only served at brunch), though I have had it before, and it is quite wonderful.
Of course, I was only in town for 24 hours, and so I will have missed some burgers and you will be upset. This is natural. So please feel free to vent in the comments, or go to the Galleria and hold up a sign by the ice rink. In the meantime, here is my Dallas Burger Ranking:
Shana Anderson/Thrillist
8. Uncle Herky Burger
The first things you notice when you get into Luscher's are the accolades. Many of them, all over the wall en route to order. Two D Magazine covers! It's intimidating. And so is the Uncle Herky Burger, a two patty behemoth that is every bit the mess promised in the pictures.

Unfortunately, there were some issues -- the double patties lacked good griddle char, and the meat was underdone. The grilled onions were undercooked as well, so they hadn't yet reached that caramelization point. The condiments were heaped on -- so you got a lot of yellow mustard taste, along with a sloppy amount of mayo. The seeded bun actually somewhat miraculously held up to most of it because it was griddled well, and the horseradish pickles tasted good on their own, but this was a case where the quantity of mustard actually meant that there was almost too much acid. Even with all those criticisms, it was still pretty good, but you could see the potential if there was a little more restraint. I don't think I've ever typed those lines before.
Kevin Alexander/Thrillist
7. Cheeseburger with American
Maple and Motor is one of the first places I recall being quasi-famous for its burger, a place I remember marking down in a very informative email I sent to myself in 2010 titled "Burgers to eat in Dallas FYI." It's a simple spot -- a couple of booths, a small space at the bar, a few tables.

The burger is really well constructed with balanced flavors between the pickle relish, onion, tomato, and cheese. But this is the biggest burger I've had on my trip. Unlike steakhouse burgers, in which they just seem to try and make your jaw ache with the height of the burger, Maple still looks like a normal cheeseburger, it's just the diameter of the bun is twice the size of any other I ate on the journey. It's seriously huge. At one point an entire patty-sized portion falls out as I try and bite into it. It's insane.

As for the little details, the burger meat is well-seasoned and freshly ground, and they double the cheese in a way in which one is melted and one stays relatively cold, which actually creates a pretty good flavor combination in your mouth. The uncooked red onions are too much (and they would be on any burger), and soon the sharp tang from the onion overwhelms some of the more subtle flavors, but all in all, it's a good burger, even if I could barely manage to eat a third. My suggestion is to come early, and bring a partner.
Shana Anderson/Thrillist
6. Royale with Cheese
Rodeo Goat (which should be a band name by now) has tricks. And not just rodeo-based goat tricks -- most of the burgers have some sort of flair component, which I tend to shy away from. But alas, the Royale with Cheese is their closest-to-traditional cheeseburger, and so I begin there.

There are several winning components to this burger: the good mix of the mustard, "spiked ketchup," chopped onion, and jalapeño bacon, which is absolutely delicious and something I've never seen before. The extra-salty meat adds a kick of spice during the swallow, so you get hit with the initial flavors of the other condiments first, and then it sits back, ever patient, and kicks you in the throat. I want to buy it by the pound. The meat itself is a great temperature with good char, but the only issue is the bun: though griddled well, it's dry in the middle and flakes off in portions, but not so much that it ruins the overall experience.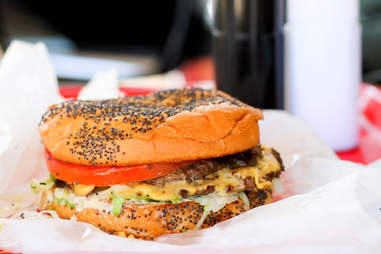 Shana Anderson/Thrillist
5. "No. 5 Special"
God, I love Keller's (read my story for more on the classic drive-in). I could fill a book with things I love about the space, the covered drive-ins, the older ladies methodically carrying trays filled with burgers and Lone Stars, the jukebox in an outhouse, the perfect mix of clientele from all walks of life. But let's focus on the burger, shall we?

Keller's is a total diner burger. The No. 5 offers up a thin double patty, with decent grill on the meat, which melds with that cheese and a tangy sauce and the crunch of shredded lettuce to really work as perfect diner burgers do. The bun is perfectly toasted, standing up to the creaminess and the burger juices. The only issue I had at all was the poppy seed bun. I understand that it's sort of a Dallas thing, but the poppies give off a slightly nutty sensation I mostly associate with bagels. Not that I'm knocking the burger; I could probably eat at Keller's and play that jukebox everyday.
4. Bacon Cheeseburger
Fancy, fancy! I visited NS on a Wednesday night, the last of a long line of burger expeditions. It was the only burger spot I made a reservation at, and the only burger spot teeming with dates -- many blonde women with Dallas hair laughing politely and cooing impressively as many not-necessarily blonde men wearing expensive jeans with Dallas belt buckles told the stories of their football heydays at Highland Park or McKinney Boyd or Southlake Carroll.

The meat at NS is special -- it comes from Southeast Family Farms in Florence, Alabama, and the restaurant is apparently the only place in Dallas where you can get these cuts. And the quality shows. Though, much like an offensive line in football (local reference!), each component seems too large when they first bring out the burger, but, like a talented line, these things all work in tandem.

The meat, which is aged chuck, has a bit of funk; the aged cheddar adds to the funky component, and the caramelized onions seem like they could be spooned out of a particularly delicious soup. The bun is quite pliable and soft, and holds up well to the juices, thanks to the bottom stacking of the cold elements and mayo. My one small criticism would be that all that funk doesn't have quite a worthy acid adversary to balance it out in the pickles, but that is a minor quibble: this is a great burger.


Shana Anderson/Thrillist
3. Cheeseburger
Imagine you took the necessary parts of a Big Mac, broke them down to their core elements, upgraded each one, and switched out the special sauce for a creamy mustard and lost a patty. That is almost exactly what you get when you bite into the cheeseburger at Remedy. The mad geniuses at this quite delightful and hip Lower Greenville spot (they have drinking vinegars, aka Shrubs, y'all) shred the lettuce, chop sweet white onion, and slice dill pickles razor thin and put them all together with a creamy, tangy mustard along the bottom of a fresh challah bun from Village Baking Co.

The bun itself is a marvel, really soft and sweet and doesn't crumble or flake like most challahs. The meat is salty but a good firm medium. The griddle on the beef is nice. If you're looking for me to say I don't like something about this burger, I am sorry to have disappointed you (again, Dad). The burger competition in Dallas is fierce.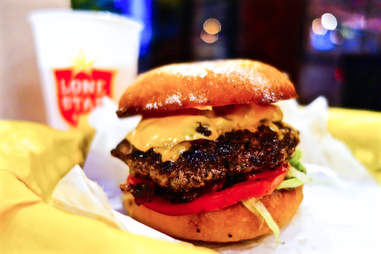 Kevin Alexander/Thrillist
2. Do It Murph-Style
I like every single thing about Off-Site Kitchen. I like the entire wall of glass fridges showcasing local beers and tiny grenades of Mickey's along the wall when you walk in. I like the outdoor seating area with the pool tables and those glittery lights that you only seem to find in the patios of Texas restaurants.

I went slightly off my normal course here, due to a recommendation from Bradford Pearson, and got the Do It Murph-Style, and I'm ever so glad I did. The char on the burger is perfect -- blistered pockets of heat bubbling up and hardening all over the top and bottom of the patty. The jalapeño-bacon relish gives a subtle spice kick and combines with the acid from the dill pickles to cut through the secret sauce. The roll is sweet, not cloyingly sweet, but sweet enough that you might feel perfectly at home eating it from a basket with a pat of honey butter. My one complaint (if at all) is that, while the bun was griddled perfectly on one side, the other side was nearly cold, which threw me off slightly. But that is small potatoes -- if I can be honest with you, friends (and I want to, I think we're there), this is one of the best burgers in Texas. It just happens to have the misfortune of being in the same town as another one.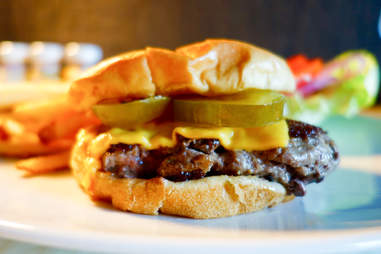 Kevin Alexander/Thrillist
1. The Ozersky Burger
Though I've read nearly all his stuff, I unfortunately never met Josh Ozersky before he passed away at the way-too-early age of 47. But a few of my current colleagues worked with him in the past at Esquire, and their stories of his excesses and quirks are delightful (read one here). One the things I always liked about him was selfish in nature -- his taste in cheeseburgers reflected my own, and I'd often hold it up as evidence that I was actually quite refined in my distaste for fancified cheeses and sleight-of-hand preparations that belonged in those magician movies Jesse Eisenberg likes to make.

And so when Chef Tesar first made the Ozersky burger, I laughed at the novelty of naming a burger after a food journalist (though it's not the only one -- there's a John T. Edge burger at Hog & Hominy in Memphis) but thought to myself, "Damn, I really want to try it." And so when I came to Dallas, I even went so far as to stay in the hotel where Knife is located, so I could be close to the source. So yes, let's just say expectations were high. Unrealistic even. But then, friends, I ate the burger.

What shocks me, even as I've already eaten over a hundred burgers on this trip, even as I swear I won't eat read meat when all of this is done, even after my blood thickens and my belly fattens and my brain clogs, is that the right burger can send me into a gleeful near hysteria. And this is what happened when I first bit into the Ozersky. It was pure unadulterated burger, with meat from 44 Farms in Cameron, and unbelievable char. It was thick and the right amount of salty. The meat tastes so pure, it's nearly spiritual -- you feel like you're eating meat right out of a butcher's hand. And the spartan toppings -- just some thinly sliced red onion and delicious bread and butter pickles that offer up the right acid to combat the cheese and meat -- make it exquisite. It's a burger that honors the man behind the name, and the man behind the grill. It's the best burger in Dallas, and Texas, and, shit, maybe just America, too.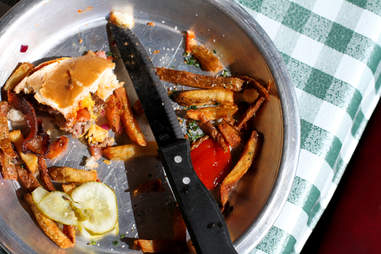 Shana Anderson/Thrillist
Sign up here for our daily Dallas email and be the first to get all the food/drink/fun DFW has to offer.