Hamburgers are delicious always but even more so when you can save a few bucks (which you'll inevitably spend on... more delicious burgers). When looking for cheap eats, sure you could stay glued to value menus OR you could dig into this handy list of the seven best budget burgers around town.
Uptown
Happy hours are a good thing, especially when such happy hours include food -- real food. Appetizers are good to snack on and all but sometimes you need sustenance in the form of a half-priced burger day at Quarter Bar every Saturday from 12-6pm. Order the green chile jalapeño bacon burger with Beeman Ranch Akaushi beef, pepper Jack, green chile salsa, lettuce, tomato, and mayo. Wash it down with a half-priced tapped local brew.
North Dallas
Imagine for a minute what it would be like to consume burgers all day long and pay only half-price? Okay, so maybe that outlook doesn't look so good for your intestinal tract, but you can do exactly that at Jack Mack's Swill & Grill on Wednesdays where burgers are half-off all day long. Order the Basic Burger topped with American, cheddar, Jack, blue, or goat cheese. Just refrain from actually eating them all day. Contrary to recent headlines, DiCaprio is the only one who can pull the "dad bod" off because he is, in fact, DiCaprio and sadly, you're not.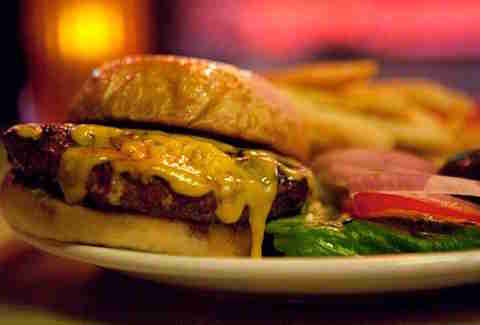 Downtown
Lee Harvey's is known for its dog-friendly patio and laid-back atmosphere but what it's not known for are its most excellent happy hours. Come in any Tuesday from 3-10pm and get a half-priced burger and fries if you order a drink. Oh yeah, there are drink specials too, $3 wells and domestics from 3-7pm. This is what is referred to as a "win-win" situation. The same cannot be said for the person the bar is named after.
Downtown
The best burger deals don't have to be about price. How about value? If you want the best burger value in Dallas then this is your bet. There are not any burger specials at CHB and that's because they are well underpriced at $5.95, about the same as a McDonald's value meal. Order the original Chop House Burger with Certified Angus, black summer truffle sauce (yes, the mushroom that is expensive and super hard to find), shaved red onion, vine-ripened tomato, and green leaf lettuce. On the upside there's a daily happy hour from 5-7pm which will save you a buck on beer and wine, so go ahead and indulge yourself, you've earned it.
Greenville
It's not every day you get to try the appropriately named "Best Burger in Texas," unless that day is Sunday and it's brunch at The Grape. The burger is $14 but before you snarkily question why this is a burger deal, allow us to explain... remember the $5 milkshake from Pulp Fiction? Vince Vega said it was "a pretty good fucking milkshake!" You pay for what you get and what you get is $14 of pure ecstasy. The burger comes equipped with 10oz of fresh-ground patty, house-made peppered bacon, Vermont white cheddar, horseradish sour pickles, and Dijonnaise, all on a toasted bun au lait with house-made frites.
Uptown Dallas
Every Tuesday after 4pm stop into Three Sheets and get half-off burgers. Order the "Prima Donna" Burger specifically in the Uptown location, especially if you're on a date with an actual prima donna. Don't worry, she'll never know you paid half-price since you'll be footing the bill anyways. Besides, she'll be too enamored with the blend of beef and pork with caramelized onions, Prima Donna cheese, and crispy romaine lettuce.

Oak Cliff
Order the Hangover Burger which is half-off any Tuesday. It comes loaded with a sirloin patty topped with bacon, grilled jalapeños, cheddar cheese, and a fried egg served on a bun with habanero mayo. After you finish your burger you can break the news to your mom that instead of pursuing your PhD you just ate a Hangover Burger at a restaurant called PhD and you have an actual hangover. Sorry mom.
Sign up here for our daily Dallas email and be the first to get all the food/drink/fun DFW has to offer.