Some of the best burgers in the world have flavors that you already know. It's the burger that tastes like the one you made at home -- a beef patty on the smoking-hot grill (or better, on the skillet) -- with American cheese, lettuce, tomato, pickle, and onion.
However, simplicity doesn't always mean that the burger comes cheap. The best versions of "simple" burgers are executed with a precision that could splice an atom. Cheeseburgers like the ones at Knife ($12 and up) and Remedy ($14) are honest, incredible homages to great roadside-diner burgers, with squishy buns and sheers of red onion and dill pickles and melty cheese.
Thankfully a few of the best burgers in Dallas are both simple and inexpensive -- some enjoyably under six bucks -- so you can save your money without sacrificing that homey feeling that stirs up from a well-executed cheeseburger. Sometimes all it takes is a hot griddle, some love, and a cheap slice of American cheese.
The Liberty Burger ($6)
Liberty Burger
Address and Info
Multiple locations
Have you been to Liberty Burger yet, and what's wrong with you if you haven't? To put it honestly, Liberty Burger is a chain that doesn't suck. The namesake burger, with curtain-y lettuce, red onion, and pickle, is one of Dallas' most reliable and cheap burgers next to Hopdoddy. Ask for it with a little pink, and you'll wonder how in the name of the meat gods it could be so good for the price of six bucks.
Stock Cheese ($4.95)
Off-Site Kitchen
Address and Info
Trinity Groves
One of the best things about waiting for your burger at Off-Site Kitchen is hearing the hiss. Behind the register, OSK slides house-ground burgers -- Angus chuck and shoulder -- onto the smoking-hot flat top. Salted nicely, the Stock Cheese ($4.95) gets a hard sear, letting that magical crust form, and American cheese curtains around the patty.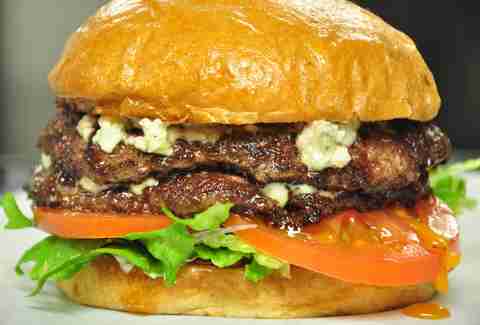 Single cheeseburger ($4.32)
Uncle Uber's
Address and Info
Deep Ellum
Uber's specializes in great sandwiches that are so good you'll experience swear-they-were-real visions of ranch dressing waterfalls and dancing naked in ketchup, but they also have a spot-on cheeseburger. Across the street, Angry Dog is making thicker cheeseburgers, but Uncle Uber's has a drop-dead good, better than Angry Dog's, single ($4.32 after tax) and double cheeseburger ($6.48 after tax with cheese) on a puffy-soft bun. It's OK, embrace the visions.
Cheeseburger ($4)
Dairy-Ette
Address and Info
White Rock Area
Dairy-Ette knows what you love. A drive-thru that has given a damn since 1956, they're nailing it -- flat-top-sizzled beef with American cheese, chopped white onion and lettuce and pickle -- with heartfelt accuracy and ingredients that you probably already have in your kitchen. Don't pull into Dairy-Ette expecting anything designer or artisan. There are no aiolis or foams here: just good, old-fashioned four buck cheeseburgers and crunchy tater tots.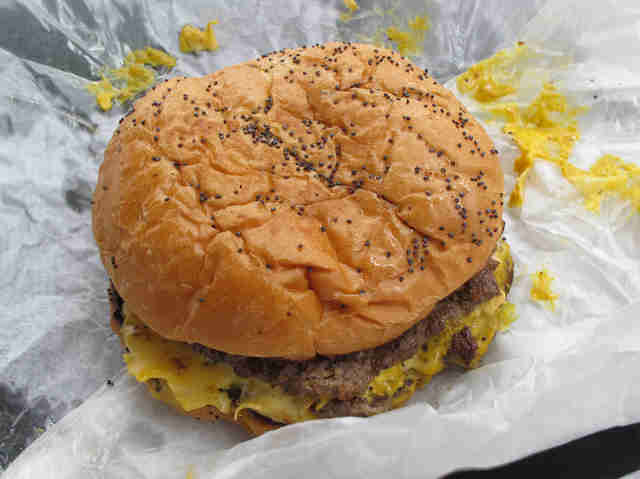 Cheeseburger ($2.65)
Keller's Drive-In
Address and Info
Lake Highlands
You already know this, but the original Keller's Drive-In is a must stop for anyone that loves sandwiches, humans, eating in cars, bacon, toast, or Texas. The speckled-poppyseed bun and disc of white onion below their thin patties makes Keller's simple burgers pop. It's a cheeseburger delivered without irony (this is important) right to your window for less than a Frappuccino at $2.65 after tax.
Hamburger ($5.90)
J's Breakfast and Burgers
Address and Info
Addison
Let's talk about what you can do at J's. At the three-decade old, 24/7 greasy spoon, you can smoke real cigarettes, and eat hamburgers. You can drink coffee from a real mug, read the paper, smoke, and eat a lot of burgers. It's diner heaven, basically. J's burgers come with perfect grillmarks and arrive hot and juicy. It's everything you want in a just-under-six-buck burger ($5.90). Add cheese if you have a couple of dimes floating around.
Sign up here for our daily Dallas email and be the first to get all the food/drink/fun DFW has to offer.