Even though we are a city with a silly number of millionaires and billionaires, sometimes it's nice for those of us with just one comma in our yearly salary to just keep it simple and cheap. With the help of this list you can keep both your stomach and wallet full. So, leave the sport coat at home, grab a few bucks, and prepare to have some of the best food in Dallas that's all under $10.
Bishop Arts
What you're getting: Slice of hot soppressata, $3
Bringing a little New York-style pie right here to Dallas, Zoli's makes different pizzas daily that they drop into their display case. Like any good Samaritan, you would hate for that pizza to have to sit in that case all by itself, so alone, so afraid, so you free it and give it a good home, your belly. It's cheesy, greasy, and topped with plenty of spicy cured pig.
Lake Highlands
What you're getting: No. 5 Special, $2.69
Ahhh, the simple things in life, a fresh-made double-meat hamburger with cheese, lettuce, tomato, and special dressing... oh, and don't forget the signature poppy seed bun. You can add French fries or tater tots, grab a drink and a shake, and still walk away for less than $10.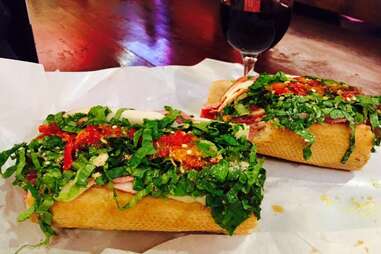 East Dallas
What you're getting: Italian Stallion, $4.99/$7.99
Depending on how hungry you are you can eat for five bucks or eight bucks. Either way, you're winning this deal. Mortadella, capicola, soppressata, pepperoni, provolone, porchetta, coppa, mozzarella, and prosciutto await you as all of that meaty and cheesy goodness rests peacefully on a white or wheat bun, with any of the vegetables you want and sweet and tangy cherry peppers. You really can't go wrong with any sandwich there and you can't really complain about a quaint little place where you can drink a good beer or grab a bottle of wine, eat a sandwich, and take away some awesome goodies to boot.
Deep Ellum
What you're getting: Spicy beef noodle soup, $8
You pay your $8 and then you are handed a comically large "cup" of a deep-brown sauce, with bits of spicy oil floating around the top. Below the surface lies slow-braised beef shank, fresh herbs, and those insanely good house-made noodles. Once you grab your bowl you can hang around the front and watch more noodles being hand spun, then you can decide if you want more food. You do. Get the pork dumplings.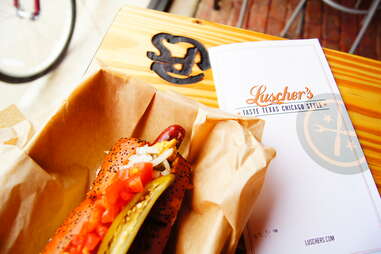 Deep Ellum
What you're getting: Luscher's Post Oak Red Hot, $5
Merely an Abraham Lincoln separates you from hot dog glory; a pork-and-beef smoked weenie, poppy seed bun, onions, spicy brown mustard, tomatoes, pickled sport pepper, and piccalilli. It's a filling dog with loads of flavor and at only five bucks it leaves you a little bit of cash to grab an order of onion rings as well, because you're going to want those.
Lakewood
What you're getting: Olivia chicken biscuit... and probably a donut, $6
A huge breaded chicken breast nestled between a house-made biscuit and topped with honey. It's simple, but sometimes you don't need any frills for it to be just what you need. High-quality, juicy on the inside, crispy on the outside chicken and a soft, warm, buttery biscuit. You might want to grab a donut or two as well, don't hold yourself back, or you could also opt for the Jim and have your donut and chicken at the same time.
Oak Cliff
What you're getting: Cheesesteak, $5.25/$5.75
This is not a "feel good about yourself" kind of meal. This is the kind of thing you eat when you a) don't care, b) just went through a break up, c) are fighting a grizzly bear the next day, or d) like good food and don't let people tell you what to eat. This thing is like a utopia of meat resting between a fresh soft bun that is being overwhelmed with meat juices. You can add bacon, jalapeños, and many other toppings fit for beef and cheese. You should also get a side of chipotle mayo to throw on top as well, consider yourself warned though, it's addicting.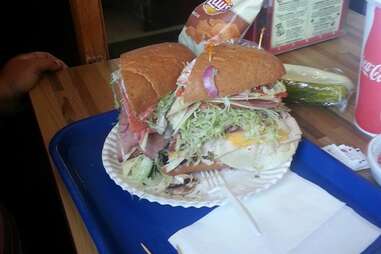 Oak Lawn
What you're getting: The Great American Hero, $5.95
Sometimes you just need a good old-fashioned sandwich, it's clean, it's somewhat healthy, and it just hits the spot by taking you back to your childhood when a sandwich and bag of chips was all you needed to fuel you for the rest of your day. When you eat at a new place it's always good to eat the namesake meal, in this case the Great American Hero is Genoa salami, baked ham, bologna, and provolone cheese OR if you got your Christmas bonus, you can opt for the Super Hero which is all of the same things with the addition of Swiss cheese, pastrami, capicola, and pepperoni at the low price of $7.25.

Lakewood
What you're getting: Sandwich Cubano, $7.99
A classic example of a stellar Cuban sandwich here; homemade pork, grilled ham, provolone cheese, mayo, pickles, mustard, and tomatoes, all served on toasted ciabatta bread. The sandwich comes with roasted potatoes and a whole lotta love, cliché, but true. The restaurant is quaint and clean and feels very low-key, and there are plenty of other sandwiches to tempt you if Cubans aren't your thing.
Garland
What you're getting: Tai Nam Gau Gan Sach, $4.95/$5.95
If you want a proper bowl of pho sometimes you have to travel outside of your zone and this one is worth it. The broth is flavorful, fresh, and beefy, all the things you want in your bowl of pho. You can also ask for "nuoc beo" which is a fattier broth that is a little richer in flavor. In that broth will be eye of round, brisket, tendon, and omosa, along with all of the traditional veggies on the side. While it's frowned upon to some degree, definitely throw in a bit of Sriracha to spice things up. Take in the authentic feel of the restaurant and slurp that soup down to the last drop.
Oak Cliff
What you're getting: No. 17 sour cream enchiladas, $8.95
This is Texas, y'all -- Tex-Mex is where it's at and Herrera's does it really well. Go with a plate that's filled with beans, rice, and two big ol' tortillas stuffed with tender chicken and topped with creamy and tangy sour cream sauce. In true Texas fashion though, you will probably gorge yourself on chips and salsa because this spot has some of the best around, so go ahead and grab a to-go box.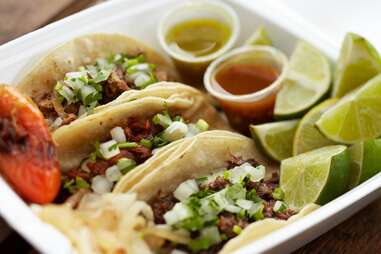 Downtown Dallas
What you're getting: Tacos, duh!, $1.69
Pick your favorite protein, pick your favorite salsa, and load it up with onions, cilantro, and fresh lime juice. You have, or course, heard of Fuel City, but it's a bit of an institution here in Dallas and deserves a shout-out for consistently putting out excellent tacos for many years now and hopefully many more to come. Pro tip: hit up the corn stand in front of the gas station for a nice little side for your tacos.
East Dallas
What you're getting: Pastor tacos, $1.50
It's hard to beat that delicious pig-flavored meat called pork. The pastor tacos at Come Taco are some of the finest you will ever come across. Like many of the awesome tacos that are out there, these are "street"-style tacos on corn tortillas with onion, cilantro, and limes to squeeze on them.

Uptown
What you're getting: #1 phat ke mao, $7.99
What's not to love about Thai food? Full flavor, fresh herbs, spicy peppers, amazing textures with soft and chewy noodles, crispy vegetables, and sweet, spicy & garlic sauces. CrushCraft Thai serves its ke mao or drunken noodles with ground beef in lieu of chicken breast or steak, gotta keep the cost down, right? But there's an amazing amount of flavor packed into this dish, and if you're a fan of Thai food, CrushCraft is a must try.
Oak Cliff
What you're getting: Gordita, $1.49
Not exactly a taco, but close enough! The gorditas at Cesar's are one of the greatest things you will stuff in your beautiful face. The shell is crispy on the outside and soft and chewy on the inside and you can fill it with fajita beef or chicken, pastor, or taco meat, plus it has some good veggies and cheese, too. The hot sauce is on point and a perfect complement to this culinary masterpiece.
Sign up here for our daily Dallas email and be the first to get all the food/drink/fun DFW has to offer.