The best damn wings in Dallas
With the exception of Jessica Simpson, pretty much everyone in Dallas knows where they can find a good chicken wing. In the ocean, right? But at which eight spots can you find the best ones? You know, like the ones that come with Point Reyes blue fondue or are stuffed with crazy stuff and fried?
Angry Dog's Facebook Page
Angry Dog
Deep Ellum
Get the superhots with ranch if you HATE AMERICA, or stick with their blue cheese and chase everything down with Dallas Blonde.
TenBellsTavern.com
Ten Bells Tavern
Bishop Arts District
You wouldn't think an English pub filled with Jack the Ripper homages would be the type of place that'd have great wings, but you'd be WRONG, 'cause this place totally does, and they're accompanied by Point Reyes blue fondue.
Aaron Miller
Sauced Wings & More
Plano
It's always funny when restos use names like "Instant Death" to describe their wings, since you know they're not going to kill you. Or are they?!?! (They're not.)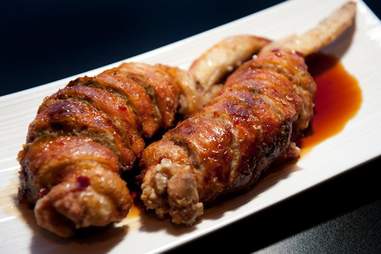 Sakhuu's Facebook Page
Sakhuu
Knox-Henderson
Boneless wing? Bo-ring... unless (!) you're talking about a wing that's been de-boned, stuffed with spices and rice, then fried and served over a pool of chili sauce. Which this one totally is.
Union Park's Facebook Page
Union Park
Downtown
UP's formula's pretty simple: take some big-ass wings, fry 'em up, toss 'em in sauce, and serve 'em with cold beer downtown. It works. Also: doesn't it look like they're hugging??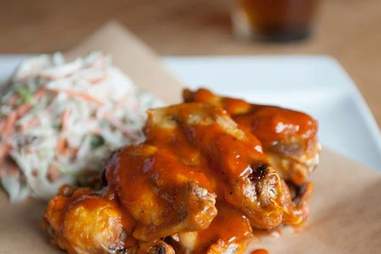 Henry's Tavern's Facebook page
Henry's Tavern
Plano
Country-fried wings? Cheddar waffles? Maple syrup and ranch? So many questions! So many delicious answers, pictured up above.
Aaron Miller
Vernon's Grill
Far North Dallas
Dallas's long-standing Packers-haven's got plenty of punch with their sweet red chili wings, even if they're not quite as hot as Kaepernick was when the Niners torched the Pack in the divisional round. Buuuuuuuuurn!
Buffalo Bros' Facebook Page
Buffalo Bros
Ft. Worth
The good: classic, vinegary wings fried in nothing but pure canola oil at an off-TCU college bar. The bad: they'll never win a Super Bowl, and they like the Sabres. Shudder.