Jalapeño-chive hushpuppies
Lower Greenville
Before any sizeable meal can proceed at this modern soda shoppe-themed spot, you absolutely must start with these spicy-sweet spheres of fried cornmeal. If the pepper flecks aren't enough of a kick, take these puppies for a dunk in the accompanying North Carolina-style hot sauce butter.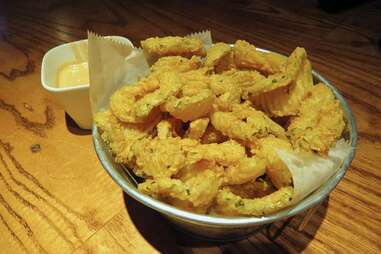 Fried pickles
Frisco
One Southern specialty that Texans adore is the thin-sliced fried pickle, so it's only fitting that this purveyor of that other Texan obsession -- barbecue -- should serve it. Here, the dill pickles are cut daily and hand-breaded to order, so you can be sure that your batch is fresh, sizzling-hot, and primed for pairing with your brisket.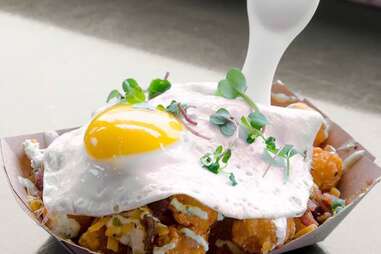 Crisp tots and local egg
Knox-Henderson and Fort Worth
You wouldn't expect much in the way of fried fare from a taco spot, but Velvet Taco's got just enough American in it to make that a thing. Fresh-out-the-fryer tater tots are tossed with shredded cheese and topped with a sunny side-up egg, which can either make for the best breakfast ever or an incredible side to any number of tacos on the menu.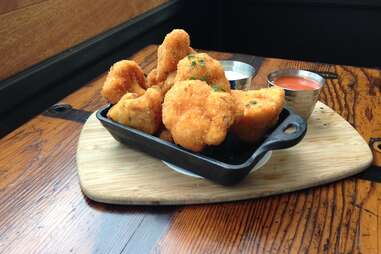 Crispy buffalo cauliflower
Uptown
In case you're ever craving the tempting flavors of Buffalo wings without the mess (or the meat), PS214 has you covered. This wildly popular appetizer sees cauliflower tossed in red-sauce flavor and breadcrumbs, fried and served alongside blue cheese aioli and Buffalo sauce. One taste and you'll see why it's easy to forget drummies and flappers.
Danger Dogs
Oak Cliff
The only danger these dogs pose is of the gastronomic kind: you might find yourself overstuffing your face with them. It's pretty hard to resist sausage links dipped in pancake batter and deep-fried to crunchy perfection. They come with a side of spicy mustard for dipping, but, trust us -- pancake syrup makes for a finer companion.
Sopapillas
Downtown, other locations
Nothing tops off a fantastic Tex-Mex meal than a plate full of steaming-hot sopapillas, and this legendary local legend has perfected the fried-dough dessert. Tossed in its traditional cinnamon-sugar mix, it's a hit, but El Fenix dolls up the classic all year round, with timely twists on the original, including different shapes and colored sugars to match certain holidays and even special seasonal toppings like summer peach and ice cream.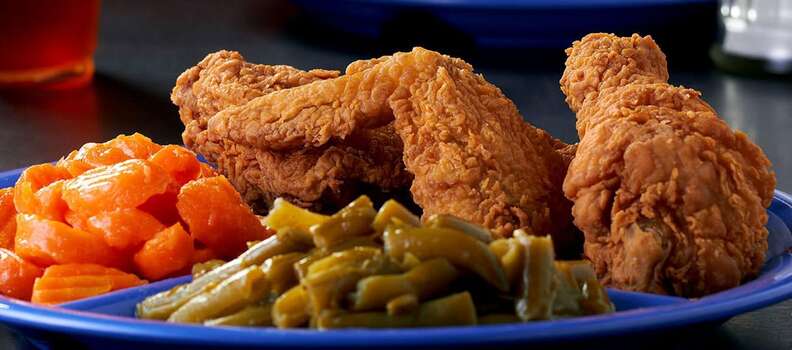 Fried chicken
Park Cities
Fried chicken has got to be the granddaddy of deep-fried awesome things, and this SMU-adjacent, Airstream trailer-looking spot serves an incredible rendition. And since Bubba's is famed for its classic bird, it's fresh-fried on an almost endless loop and steaming-hot, whether you pick it up in the drive-through or eat it inside the '50s-styled diner.
Fried hard boiled egg
Design District and Preston Hollow
This appetizer at the local Thai micro-chain is an unusual but satisfying starter to an authentic southeast Asian meal. Hard-boiled eggs are fried, split in half and topped with a sweet-and-sour tamarind glaze, onions, and herbs. Don't knock the candied-eggs thing until you've tried it; the talented kitchen makes it work.
Blue Balls
Preston Hollow and Fort Worth
In addition to having the most scandalous name, this small plate is easily the most exotic on this list: spicy crab is stuffed into aged tofu shells that are then wrapped in a strip of sushi seaweed. Then the whole shebang is tempura batter-coated and deep-fried. The result is a sweet-savory union that makes for a light snack and begs for an unfiltered sake.
Kennebec French fries
Downtown
We know -- fries are the simplest of all deep-fried delicacies. But that's why we all love them so. And upscale gastro-tavern CBD Provisions has the best around, using a two-step process to turn out the most sinfully crispy-outside-fluffy-inside French fries we can find.
Sign up here for our daily Dallas email and be the first to get all the food/drink/fun DFW has to offer.
Farah Fleurima is a Dallas-based word wrangler who loves her gin and tonics as crisp as her bacon. As a professional food stalker and beer/cocktail/straight-liquor tippler, she loves to write not just about her culinary conquests, but also her frequent travels. You can check out more of her musings at TheDallasDiva.com.