When it comes to fried rings of deliciousness, not all pastries are created equal. Donuts in recent years have become a blank canvas for some of the most creative edible masterpieces imaginable and folks can't seem to get enough. From simple, traditional glazed numbers served warm to insane-sounding concoctions topped with everything from ghost peppers to cotton candy, these little pastries are guaranteed to put a smile on your face and make your taste buds dance. We've rounded up nine of the best shops in Dallas-Fort Worth help you get your fix, whether you're gearing up for Fat Tuesday or simply trying to make it through a regular old Thursday.
Bishop Arts District
The donuts at this Miami import begin with a 24-hour brioche base (except for the gluten-free and vegan options, of course), then go the extra mile with unique flavors like horchata, Texas sheet cake, and chocolate caramel pretzel. The Brown Butter + Salt—a brown butter glazed vanilla bean cake donut topped with Maldon sea salt—is the perfect salty-sweet collaboration. Add on an eye-opening cappuccino or cold brew and your day will be off to a fantastic start.
How to book: Stop by for counter service, order take-out online, or get delivery via DoorDash, Uber Eats, and Postmates.
Frisco & Fort Worth
Based in Springfield, Missouri, Hurts Donuts' gallery of cheesy photos repurposed to showcase crazy donut flavors fashioned to match the personality folks pictures is enough to land it a permanent spot on this list. As for the 70-odd donuts themselves, the sugar rush-inducing cotton candy edition is bound to have you nostalgic for the Texas State Fair, the Reese's Pieces-topped E.T. will have you phoning home, and a Fruity Pebbles-laden original has elicited many a yabba-dabba-doo.
How to book: Stop by for counter service or order delivery via Seamless, Postmates, and Grubhub.
Frisco
In addition to a regular roster of traditional yeast and cake donuts, Detour creates a few extraordinary, limited-time flavors that rotate through on a near monthly basis. Current specials include orange and lavender, strawberry-clementine shortcake, and key lime pie, complete with brûléed meringue on top. And if you ever see fig and mascarpone on the menu, ask for a dozen.
How to book: Stop by for counter service, order take-out online, or get delivery via Grubhub.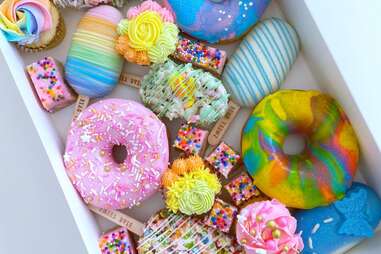 Richardson
No matter what time of day you step into this sweets shop, you're guaranteed to find something irresistibly tempting. They've already made our best ice cream list and now we're shining the spotlight on their designer donuts, which include the Galaxy (a space-themed creation that'll make you a true believer in donut-shaped planets), the eye-catching 24K Marble crafted to resemble a glistening white marble countertop adorned with an edible gold leaf, and a pastel tie-dye option with edible glitter for kicks.
How to book: Stop by for counter service.
North Dallas & Lakewood
Instead of eating your feelings (hey, we've all been there), why not express your feelings with donuts courtesy of this playful dual-location bakery. Jarams' alphabet donuts let you spell out anything you wish, whether you're making a righteous proclamation ("FREE BRITNEY!") or confessing something special to someone special ("WILL YOU MARRY ME?"). You can also choose from a variety of "Average Joe" donuts, as well as specialty offerings like donuts topped with cream cheese and fresh mixed berries, Fererro Rocher candy, or maple frosting and crispy bacon strips.
How to book: Stop by for counter service, order take-out online, or get delivery via DoorDash and Grubhub.
Sherman
Tucked away in the northernmost section of the Dallas-Fort Worth metroplex, this hidden gem is a hub for both local regulars and road trippers eager for a change of scenery and a few delectable donuts to go along for the ride. The Mexican-inspired sopapilla and apple pie donuts are standouts worth the extra mileage, as is the M&M fatty (a glazed donut topped with peanut butter frosting and plain M&Ms).
How to book: Stop by for counter service.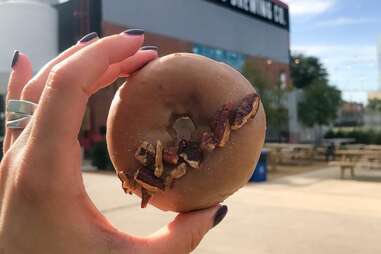 White Rock Lake
Come for the crazy donuts, stay for the gigantic chicken biscuits. The groovy, '70s-themed shop located less than a five-minute walk from White Rock Lake was one of the first in North Texas to offer wild-and-crazy craft donuts and they're still a hugely popular destination for hip pastries. Case in point? See the Peace-stachio with brown butter glaze and crushed pistachios, Jenny's Evil Elvis with peanut butter, bacon, banana, and honey, or the Ski Accident, a longjohn stuffed with raspberry filling and rolled in powdered sugar. They've also been known to throw fresh jalapeños or ghost peppers onto their baked goods for an extra early-morning pick-me-up.
How to book: Stop by for counter service.
Deep Ellum
It doesn't get much better than a simple, fresh, glazed donut from this Deep Ellum spot, but make them the base for all sorts of sandwiches and you've got yourself a 'Gram-worthy meal worth 10,000 likes. Try the sweet and savory grilled cheese with bacon on a glazed donut, or the Grand Slammed made with egg, bacon, sausage, cheese, and maple glaze on a French toast-ified glazed donut. Or if you prefer to go all-sweet, load up on a donut ice cream sandwich made with Jim Beam bourbon vanilla ice cream. Enough said.
How to book: Stop by for window service or order take-out via Facebook and Instagram.
Uptown
Channel your inner Cake Boss at the DIY Design Bar inside this Uptown favorite. Start with a yeast ring, longjohn, bismarck, apple fritter, cake (chocolate, vanilla, red velvet, or blueberry), cinnamon roll, or brownie before choosing a filling, frosting, or icing. Then go crazy with toppings ranging from Oreos and Nerds to organic gummy bears and cookie dough. And you can always let the pros handle things by choosing from a vast array of carefully crafted flavor combinations, including a donut made especially for dogs.
How to book: Stop by for counter service or order take-out and delivery online.